Courtney Walsh's latest book is a sweet tale about second chances and finding out and following your true dreams in life. This novel had me longing for fall and a bite of a delicious apple cider doughnut!
This post contains affiliate links, please see disclosure statement for more details.
About the Book:
Beth Whitaker was the one who was supposed to move away and become "someone" in the big city. She never dreamed that she would be stuck in the small town of Willow Grove, working at her late father's company. She has many regrets, and a big mistake she made has forced her to stay put to try to make up for it any way she can. Beth's sister Molly announces that she has purchased Fairwind Farm after the death of the owner, and she wants Beth to help her restore the once-bustling center of fall family activity back to the way it was when they were children. The farm needs so much work that Beth is immediately overwhelmed, but she also feels a tug at her heartstrings that this might be the right thing to do.
Drew Barlow used to be a regular fixture at Fairwind Farm when he was younger, hanging out with the owner's daughter over long carefree days of summer. But a tragedy chased him away, and now as an adult he is determined to return to the farm to figure out just what happened once and for all. He gets hired as a handyman to help Beth and Molly restore the farm, and as he searches for clues about his past, he is also drawn to Beth, although she too is hiding secrets. As the two of them work on the farm, they begin to open up and let the other in so that they can move forward with their lives.
My Thoughts:
I really enjoyed reading this book. There are so many wonderful themes, I just loved exploring Beth's life in particular, because don't we all wonder if we could have been or done something different, bigger, better? We suffer under the weight of expectations of others and the ones we put on ourselves. I guess that's why I identified so much with Beth, because she is going through some of the same things that I have gone through and things I continue to struggle with–identity, coping with failure as a perfectionist, and many other issues. The progression of Drew and Beth's relationship was very natural and realistic, I believed in the two of them and although it was pretty obvious they were meant to be together, I also could see the draw of Michael. The symbolism of the loss of that relationship was more to Beth than just a failed romance, it was an internal failure too. As a whole, the characters are so well described that they come across as authentic, real people that readers will want to get to know as much as I did.
The mystery of Drew's past propelled the story forward and was what really kept me turning pages to find out what happened. The author does a great job of balancing the storylines so that one doesn't bog down the rest of the tale, it all flows together well. The restoration of Fairwind Farm was fun to read about, the people of the town coming together to bring the place back to life could describe just about any small town community. And I can't end without talking about the food! My stomach growled more than once with the descriptions of pies, fudge, and oh-my-goodness apple cider doughnuts. I just had to go make something similar, I found recipes for cake, quick bread, and doughnuts and kind of mashed them all into my own recipe for apple cider doughnut bread. See below, it is so moist and delicious, I recommend making the bread to enjoy while reading the book because believe me, you will want it!
Overall this is a beautifully told tale about life, love, and embracing your true self. This book has it all–romance, mystery, and a meaningful spiritual and personal journey.
Apple Cider Doughnut Bread
October 10, 2017
: 1 loaf
A perfect fall quick bread reminiscent of an apple cider doughnut!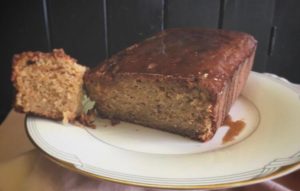 Ingredients
2 apples, peeled, cored, and chopped
1 1/2 cups apple cider
1 1/2 cups all-purpose flour
3/4 cup granulated sugar
1 teaspoon baking soda
1/2 teaspoon baking powder
1/4 teaspoon cream of tartar
1/2 teaspoon salt
1 teaspoon cinnamon
1/4 teaspoon nutmeg
1/2 cup butter, melted
2 eggs
1 teaspoon vanilla extract
1/2 cup sour cream
For glaze:
1/2 cup apple cider
1/4 cup powdered sugar
1/8 cup brown sugar
1 teaspoon cinnamon
Directions
Step 1

1. Place apples and apple cider in a medium saucepan over medium heat. Cook covered for 10 minutes and then uncovered for 20 minutes or until soft.

Step 2

2. Using an immersion/stick blender, blend the apple mixture until smooth. Cook over medium low heat for an additional 5-10 minutes or until reduced slightly. Remove from heat.

Step 3

3. Preheat oven to 350 degrees F.

Step 4

4. In a large bowl, stir together flour, sugar, baking soda, powder, cream of tartar, salt, cinnamon, and nutmeg.

Step 5

5. Drizzle in melted butter and stir slightly. Stir in eggs and vanilla just until mixed and smooth. Fold in applesauce and sour cream until smooth, do not over mix.

Step 6

6. Butter and flour a large loaf pan. Spread batter evenly in pan.

Step 7

7. Bake for 50-60 minutes, until a toothpick inserted in the center comes out clean.

Step 8

8. Cool 5 minutes in pan on a wire rack, then remove from pan to cool while making glaze ingredients.

Step 9

9. To make glaze, put cider in a small saucepan and boil until it reduces by about half. Add sugars and cinnamon, whisk until smooth. Cook an additional 3-5 minutes until slightly thick.

Step 10

10. Place a baking pan or piece of parchment paper underneath wire rack. Drizzle and spread glaze over the top of the loaf.

Step 11

11. Slice to serve.