I have had my Kindle Paperwhite for over five years now and it's still going strong. Although nothing can replace the feel (and smell) of reading a paper book, I believe that for traveling and many other reasons, there is nothing better than a Kindle!
This post contains affiliate links, see disclosure for more detail
There are multiple different options for Kindle, depending on your budget and your needs. I personally prefer the lines that are dedicated e-readers: The original Kindle, the Paperwhite, the Voyage, and the Oasis. The Kindle Fire HD is an option if you want a tablet, but the backlighting is not the easiest to read, especially in sunlight. And one thing that I find is that I read much more if I don't have the option to flip over and browse the internet or play games.
I have a Kindle Paperwhite,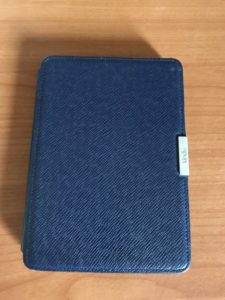 and I chose to purchase the variety "with special offers" (advertisements) in order to save a little money. The ads are barely noticeable and they are only on the main pages, they don't interrupt your reading at all.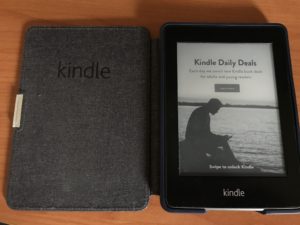 The things I love about the Paperwhite:
I can read it in any light–it is side lit with LED lights, which can be turned down in order to read in the dark, or up in order to read in bright sunlight. It does seem counter-intuitive, but it works and I can read well in any light.
The e-ink reads just like a paper book. It is easy on the eyes and looks like typing on paper.
I can adjust the print size to anything that works for me, no need to purchase a large print book in order to see, I can just make the print bigger.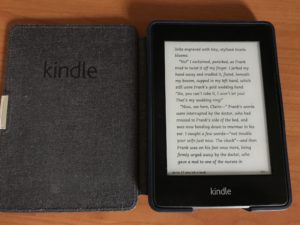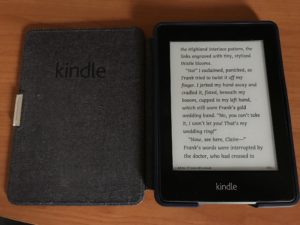 It holds SO many books! As of today, I have 843 books directly on the Kindle and 1557 in the cloud.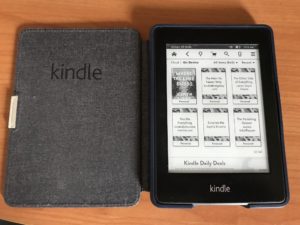 It holds a charge for a long time. I only turn on the Wifi when I am downloading content, otherwise I leave my Kindle in airplane mode. A full charge can last me at least two weeks, even with multiple hours of daily reading. There's rarely danger of me running out of charge in the middle of a book, unlike my phone or regular tablet that need to be charged daily or even multiple times a day, sometimes I forget that I actually need to charge the Kindle.
The touchscreen makes it super easy to turn pages, and the built-in dictionary is amazing. I never thought I would use it, but being able to put your finger on a word and have the dictionary pop up with its meaning has been fantastic. It is one feature I miss when reading a paper book!
The ability to highlight is great. If you like to mark meaningful quotes and parts of a text, you just slide your finger over it and it highlights the section. It's all stored in a separate folder, so you can go back and look at them at any point. It also has the ability to communicate those highlights with other people, and when you're reading a book you can see passages that others have highlighted and found meaningful. It's almost like reading along with a friend!
It weighs next to nothing. This is the main reason I find the Kindle invaluable for travel. I used to cart tote bags filled with books on vacation with me, breaking my shoulder and taking up all of the weight in my checked bag. Now I can take hundreds of books to read on vacation and no matter how many I take, they weigh less than half a pound.
You can know exactly what percentage of the book you have read, and the Kindle uses your reading pace to determine how long it thinks you have left in the book (or the chapter, it's adjustable). Since you can't eyeball the pages like you can with a print book, this is the next best thing.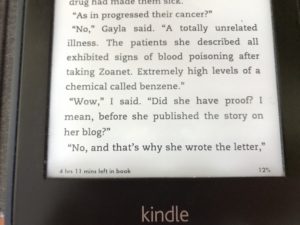 So many great deals on e-books. I watch for free books and discounted titles, and have been pleased with the selection. Sometimes you have to be quick as the deals may only last one or two days, but following your favorite authors on social media will usually garner notifications. Amazon offers the Kindle Unlimited plan, which, for a monthly subscription fee, allows you to read many books for free. Amazon Prime also has a lending library with free Kindle books, and at the beginning of each month, Amazon Prime members get to choose one out of a selection of upcoming (not yet released) Kindle books for FREE.
You can also check Kindle books out from your local public library. The most popular way to do this is through Overdrive, but my library also uses Hoopla. You will want to check with your local library to discover what they use and how to access it. You have access to thousands of additional books this way, and there are no overdue fees. When the time period of checking out the book is up, it just automatically returns itself.
There are some sites I frequent regularly that list free and discounted Kindle books. You can sign up for daily e-mails for alerts in your favorite genres. My go-to sites are:
Click the photo to purchase the Paperwhite, or compare with the other products as well. The Oasis and Voyage are just slightly different with their capacity, size, and a few other features:


Below is the cover I have, and the reason I love it is because it protects the screen (keeps it from getting dirty, etc) and protects the Kindle itself. While the Voyage is water resistant, the Paperwhite is not, so the cover keeps it protected from splashes, or if I happen to set it down where there's a bit of water, etc. Also, when I close the cover, the Kindle "goes to sleep". It's a great way to save the battery when you're not reading.
There's a SUPER great sale for this going on right now with the 10th anniversary sale, so even if you already own a Paperwhite, you might want to consider getting another cover. You can click the picture to purchase.

Do you have an e-reader? What is your favorite thing about it?