Every year, the Fort Vancouver Regional Library Foundation has an Authors and Illustrators Dinner and Auction fundraiser in order to raise money to support the library system. This is the second time I have been fortunate enough to attend the dinner, sitting at the table of Clark County Title, one of the generous sponsors of the event.
The first time, I got to meet and listen to this little known author …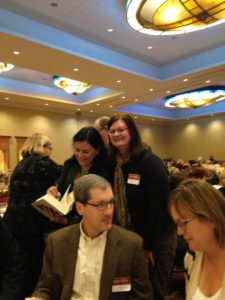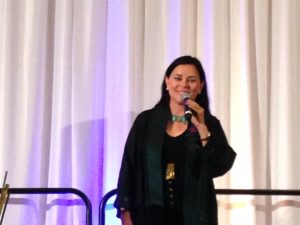 If I knew then what I know now I would have brought my entire Outlander book collection and had her sign every single one of them instead of just the newest one. Oh well, live and learn!
This year's event started with a silent auction of over 160 different items: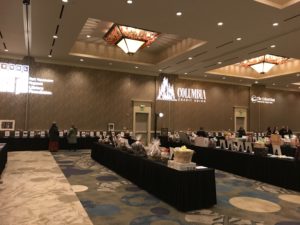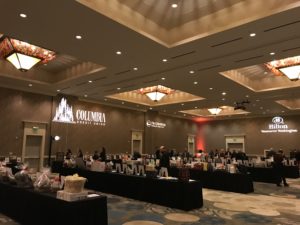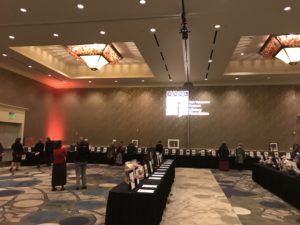 While we were "shopping", we purchased wine to sip. We chose the Pinot Noir from The Four Graces, which is located in Dundee, Oregon. We visited and and participated in a private tasting in 2016, their wine is fantastic.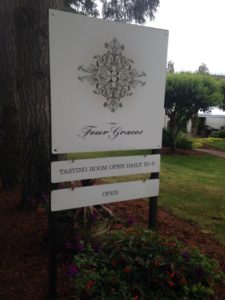 Here were a few of the different items we bid on (although for most of them, the bidding quickly exceeded our budget) Something that really helped us with a silent auction this big was to take photos of everything we bid on in order to go back and see if we wanted to enter another bid later. I have never done that before, but it ended up being a great idea.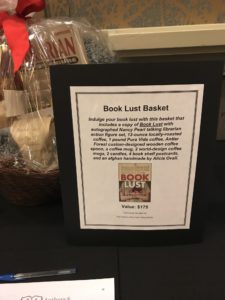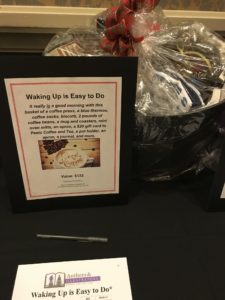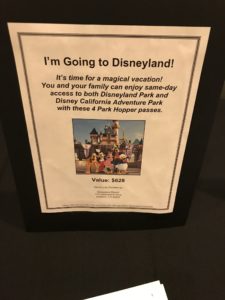 We ended up winning the auction for the Waking Up is Easy to Do basket, which is full of some great things, I especially love the mug that says "Coffee Before Talkie":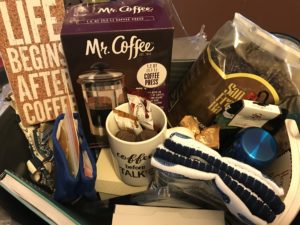 After the auction we went into dinner, which started with a salad and rolls. There was wine on the table from sponsoring winery Basel Cellars, which is located in Walla Walla. We had the 2013 Claret, which is a Bordeaux blend not too commonly produced in the Northwest. We were pleasantly surprised at how good and smooth the flavor was.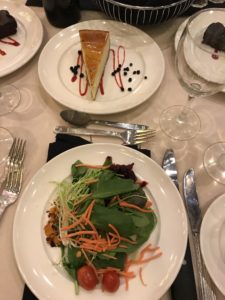 The main dishes were a Pork Ribeye with Rosemary-Chianti BBQ Glaze (which everyone at the table said was amazing), served with white cheddar mashed potatoes and broccolini: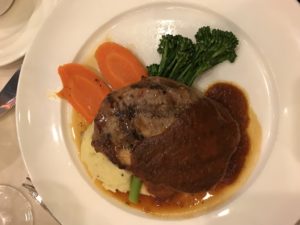 I chose the Vegetarian entree, which turned out to be a big mistake. It was Butternut squash ravioli (which I usually love) with eggplant, squash, and mushrooms with a Red Pepper Coulis. At least that is the way it was described. Here's what I got: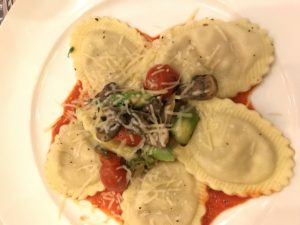 I suppose on the surface, it looks all right. The problems were: these were pretty small ravioli, the entire dish was more like an appetizer size than a dinner. There was no eggplant that I could determine, and the serving of veggies on the top was maybe a quarter of a cup, if that much. There were four small pieces of zucchini, four grape tomatoes, and a few mushroom pieces. That's it. The flavor of the sauce was good, but it wasn't a good choice overall. I should have known something was up when the server looked at me and said "Are you sure you want that?" before she went to retrieve the plate.
The desserts were great though, as you can see up in the salad photo, the one I got was a Creme Brulee Cheesecake. It was lighter than a regular cheesecake, more of a mousse cake, with a luscious graham cracker crust. The alternate dessert was a Flourless Chocolate Torte. I took a taste and it was very rich, almost like fudge: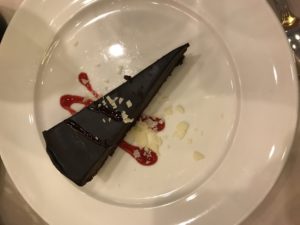 After the dinner, there were speakers from the library foundation who talked about the need for libraries in the community. There was a raffle for a sapphire necklace and a live auction where people could give money by holding up their paddle numbers. Then we moved to the featured speaker, Rebecca Skloot;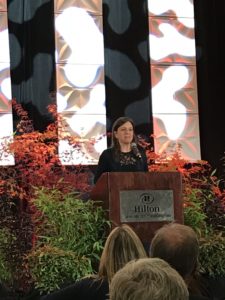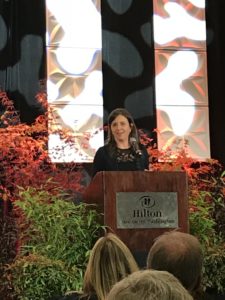 She talked about her life growing up, how she had a very inquisitive mind, yet didn't fit the norm of most students. Rebecca found out about Henrietta Lacks while taking biology, but could not find out much information about her beyond the very basics.  She had tunnel vision to become a veterinarian, yet when she was in college she took a creative writing class, which led her to start investigating and writing about Henrietta Lacks. This exploration took many years, and led her down some fascinating paths. Henrietta was a poor black woman who, in 1951, was suffering from symptoms that ended up being cervical cancer. While she was in the hospital, the doctors discovered that her cells did something that no one's cells did–they reproduced rapidly and were so strong and prolific that they could be used for a multitude of research  purposes. These cells were distributed around the world, and all without the knowledge of Henrietta, who died fairly soon after this occurred. Her cells, called He-La cells, have been used to develop the polio vaccine, cancer drugs, AIDS treatment, in vitro fertilization techniques, and many other things. All without the knowledge of her family or her descendants. The book has received widespread acclaim and has shined a light on informed consent as it has applied to Henrietta and her family.
You can click here to purchase this book. (Affiliate link, if you purchase through this link I receive a small commission at no extra cost to you):


Skloot is now beginning to work on a book about the ethics and behind the scenes training methods for veterinary schools. This should be as fascinating as her first book, as it has been shown that her research is pretty stellar and in-depth.
All in all, this was a captivating and informative evening. I highly recommend looking for author events to attend in your local area.