We started hanging out at Roland Wines a number of years ago when they were just a small place on the top of Columbia Heights in Longview. We were immediately drawn in by the owner, Marc and Nancy Roland, and their love for all things wine, as well as how welcoming they are to the people who enter their establishment. They have since moved to a downtown location, and are open Wednesday through Saturday evenings during most of the year, adding Saturday and Sunday afternoon hours during the summer.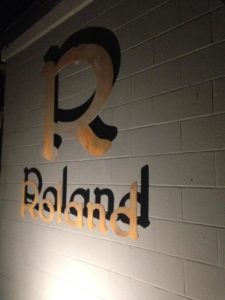 Roland is a small place, where you find a seat among wine aging in barrels, or, if the weather is decent, outside on the patio. The parking is all on the street, but it's easy to find nearby. It's a family friendly location, but we just love it for a fun, relaxed date night. We have spent many Wine Wednesday or Thirsty Thursday nights chatting, eating rosemary cashews (which I have tried to duplicate at home and cannot seem to get the recipe right! They are a combination of herbaceous, salty, spicy, and a bit sweet), and catching up with each other. There aren't many places where you're just encouraged to hang out and talk without feeling pressured to purchase more in order to stay. I've been surprised at the number of times I've mentioned to people about going there and they are shocked that there's a winery in Longview, and even more shocked when I go on to tell them about the food and the family friendly atmosphere.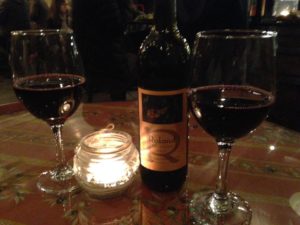 We enjoy Roland's reds most of all. They are mostly full bodied and bold flavors, perfect to go with the other reason we hang out there–the wood oven baked pizzas. Our favorites are the ones that use the meats from another local source–The Beautiful Pig. The crust is the best combination of crispy and chewy, and has a thin layer of a San Marzano tomato sauce. The Smokey Pig is topped with a spicy capicola, red onion slices, fresh mozzarella, provolone, garlic, and Anaheim peppers. The one thing I personally find amazingly delectable is the garlic provolone focaccia bread. It comes with a dish of olive oil and balsamic vinegar to dip…yum, it is fabulous. It is an amazing combination of the wood fired bread, oozing with gooey cheese, infused with garlic, and a light sprinkling of salt on the outside. Summer brings rosé, which is slightly sweet, but not overly so. It is the ideal hot weather choice, because it's nice and cold and very smooth to drink.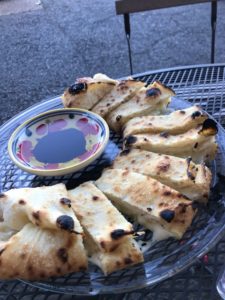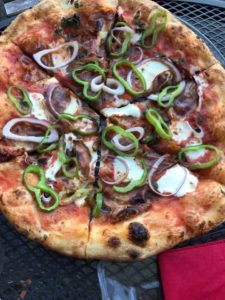 This summer, Marc has added some musical acts on select Sunday afternoons. It has been fantastic to sit out on the patio, drink some rosé, and enjoy a cold cheese or meat plate while listening to live jazz. There are also a variety of non-alcoholic beverages available, as well as some cider and beer in bottles or cans for those who love to have a beer with their pizza. And I can't forget the salads. They have a Caesar salad on their menu most of the year, but at other times they take advantage of what's available locally and use produce from the Lower Columbia School Gardens or other local providers.
Don't know anything about wine? Marc is always willing to help you find something you might enjoy. LeeRoy and I are wine "enjoyers", not wine connoisseurs. We can't usually pick out individual flavors, but we know what we like. We love Roland wine so much that we joined their wine club. Wine clubs are a good way to show your support for a winery or wine maker, because it provides them with a guaranteed income, even during the lean months. Marc has just started a different wine club with three choices of membership, so it's the time of year to join.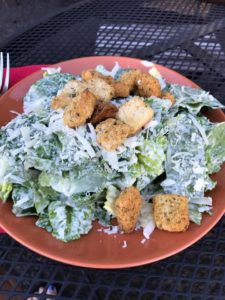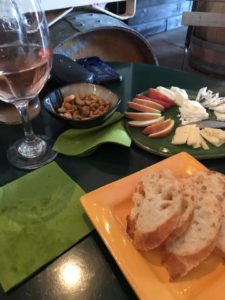 If you're ever in Longview, head to 1106 Florida on Wednesday through Saturday nights from 5-9. (Summertime Saturday and Sunday open at 1) You will be glad you did!