When traveling to the Oregon Coast, there is so much to explore, and so many restaurants to choose from! It can be overwhelming, but don't fret, here are the top five eating establishments sure to please your entire family with atmosphere and food choices.
1. Local Ocean Seafoods
Located on the Bayfront, Local Ocean Seafoods is our go-to place. There is plenty of seating both upstairs and down, the downstairs doors open up onto the sidewalk to give more air. Despite the wealth of seating, there's often a wait. They only take a very limited number of reservations, so the best practice is to go a bit before you want to eat, they take your number, and will text you when your table is ready. Across the street is the Newport Marina, and just a short walk away are the sea lions and numerous shops, so it's easy to entertain yourselves while waiting. Local Ocean's claim to fame is that they use seafood caught (or raised in the case of oysters) from local fishing boats. You can also purchase fresh seafood from their case and take it home to prepare. Local Ocean has a decent selection of beer and wine, most from Pacific Northwest vineyards and breweries. They also carry a decent selection of soft drinks including some unusual choices. My family loves the Roasted Garlic Dungeness Crab soup. It is cheesy, garlicky goodness with chunks of fresh crab. We used to share bowls of it and now we each get our own because it's so luscious.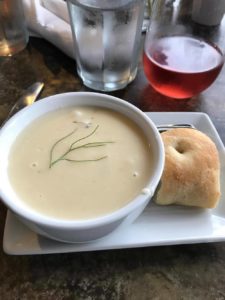 Often they will offer another soup selection on their special menu (which always sounds good but we typically stick with what we love). A highlight for us is visiting during crab season so that we can experience some amazing whole crab.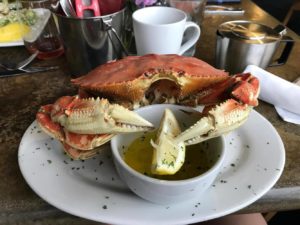 They have a standard, year-round menu, and also have a special menu featuring in-season seafood dishes. On our recent visit, I ordered a black cod salad because it was a featured item and I loooove black cod.  My husband got Oysters and my son got Crab Cakes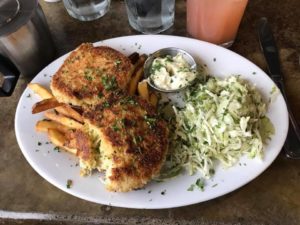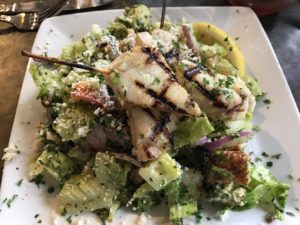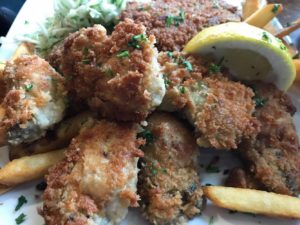 The food and service at Local Ocean Seafoods keeps us coming back time and again. Depending on the length of our stay, sometimes we even visit twice. They have a small kids' menu, as well as a limited number of items for non-seafood lovers. Prices are in the moderate range, but they do have a selection of small plates which are pretty decent sized and a lower cost. Be sure to save room for dessert, because they have the most stunning homemade shortbread parfait. It's best in the summer because of the plethora of fresh berries, but we admit to eating it year-round.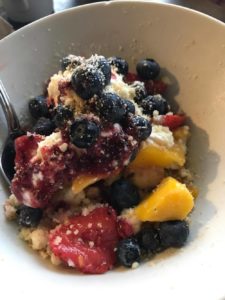 Local Ocean's website: Local Ocean Seafoods and location: 213 SE Bay Blvd, Newport, OR 97365  You can check their website for hours and reservation information.
2. Sharks Seafood Bar and Steamer Co.
Way back 20 years ago, when LeeRoy and I were on our honeymoon, we walked into Sharks and it was love at first sight. Sharks is in a very small, unassuming storefront on the Bay Front, so it's not particularly easy to find at first, but once you do you will memorize the location for the future!  Sharks' claim to fame is that they do not fry anything, they steam it. Along the front counter are steam jacketed kettles, so if you're looking for a dinner show, you can sit there and watch your food being made right in front of your eyes. My one and only, hands-down absolute favorite thing they make is the cioppino. It is a tomato and garlic based soup filled with every manner of seafood–prawns, fish, bay shrimp, and Dungeness crab. They give you plenty of fresh bread with which to sop up all of the goodness so that you don't miss a drop. My son prefers the cioppino with pasta, which has everything that the regular cioppino does, but adds clams and linguine.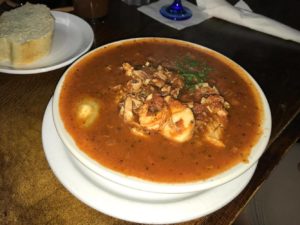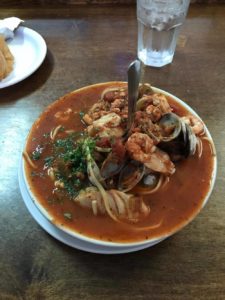 My daughter always likes to try something different each time. Sharks usually offers a special, and it can be just about anything that they get in season. This recent trip, she had a Prawn platter. These prawns were gigantic! The plate also came with a salad and fruit. They also often offer a halibut dish or picked crab (crab lovers rejoice to have all the work done for you!)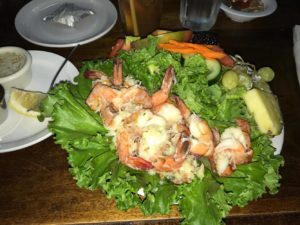 Sharks is a small place, so prepare to wait unless you get there early. They are only open for dinner, and offer beer, wine, cocktails, and soft drinks. The owners are your main staff, so this is truly a family place and they really want to make you happy. Sharks has a small kids' menu (my children ate their share of Sharks bean burritos when they were younger before they discovered how wonderful the other choices were). They do have dessert, but honestly, the portions are so large (and we eat so much bread) that we never generally have room for dessert.
Sharks' website: Sharks Seafood Bar and Sharks Facebook Page
Location: 852 SW Bay Blvd, Newport, OR 97365, see Facebook page for hours and contact info, they do not accept reservations.
3. Cafe Stephanie
Nye Beach is close to where we usually stay in Newport, so many years ago, while looking for somewhere to eat breakfast, we stumbled onto Cafe Stephanie. They are open seven days a week for breakfast and lunch, and although the place is small, they can squeeze a large number of people into the space and the wait is never very long. This is a family-owned small business, and their food reflects the time they take to make it. We have had lunch at Cafe Stephanie, and their Salmon Tacos are wonderful, as are their sandwiches. What we go there for most often though, is breakfast. Every breakfast starts off with a basket of homemade scones, usually cranberry or raspberry, they come to your table warm and with butter on the side. Crispy outside, soft inside, slightly sweet–an excellent "appetizer" for your breakfast meal.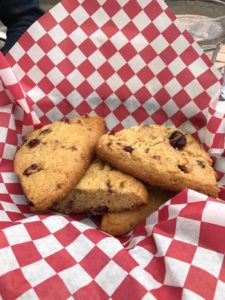 Everyone in my family has their "go to" breakfast, but this latest trip Cafe Stephanie had just updated their menus and added a few new items, so we tried some new things as well. My standard breakfast is Cafe Stephanie's homemade granola topped with fresh berries and yogurt. It also can come with milk, but I love to use just yogurt. My favorite thing about the granola is that it has nuts, cranberries, oats, and a slightly sweet coating, and NO raisins. I'm not a raisin lover at all, so I was so happy the first time I ordered this, and continue to order it nearly every time. It's super filling and tasty.
My husband's favorite is the eggs with potato tornado. It is eggs cooked any way (he loves fried with this dish), with a roasted potato hash, covered with cheese. It also comes with toast and bacon or sausage (he got the chicken sausage). It is a hearty breakfast and the potatoes are seasoned well and have peppers and onions cooked with them.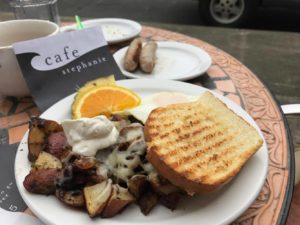 Other options include multiple types of French Toast, we got two of them: one with French bread and one made with banana bread. Although banana bread French toast sounds amazing, and it's not awful, it wasn't as good as I was thinking it would be. Two problems–quick breads are a bit tricky to make into French toast because they don't have as much structure. Cutting it caused it to crumble a bit more than I would have liked and made it difficult to eat. Also, it was a little too sweet for my tastes (and I love sweets). Adding syrup on top of already sugary bread made it just over the top sweet for me. The regular French bread French toast was vanilla flavored and tasted amazing.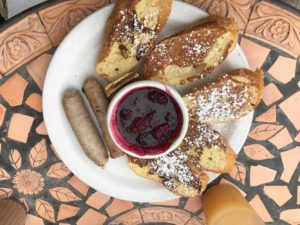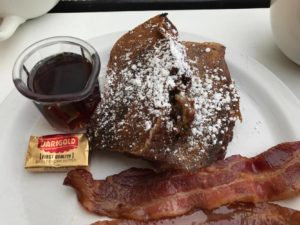 Cafe Stephanie also makes fantastic omelettes and scrambles, as well as multiple quiches made fresh each day. The food is quite affordable and they also have giant muffins and cinnamon rolls available, as well as delicious lattes and other coffee beverages.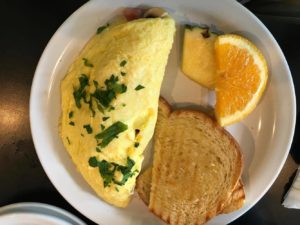 Cafe Stephanie does not have a website, but they do have a Facebook page: Cafe Stephanie Facebook They are located at 411 NW Coast St, Newport, OR 97365 (at the entrance to Nye Beach), and are open from 7:30 AM-2 PM seven days a week. Their hours can change slightly during different seasons, so check their Facebook page for updates before you go.
4. Nana's Irish Pub
Nana's Irish Pub is another Nye Beach favorite. We first discovered this place during the summer when we had walked our dog on the beach and came up from the beach to get some lunch. Nana's has an outdoor patio that is dog friendly, so we decided to give it a try. With a menu filled with Irish faire, Nana's is a fun place to kick back and eat lunch or dinner, inside or outside. They have a great selection of local and Irish beer, wine, and cocktails, as well as regular soft drinks. This most recent trip, my husband decided to "be like the Irish" and drink Guinness. Well, I knew he didn't like Guinness. He knew he didn't like Guinness. When he started eyeing my Rogue IPA, I knew that he was just choking down the Guinness so that it didn't go to waste. I'm pretty sure he won't do that again (I told him to just get an Irish Whiskey or Irish Coffee if he wanted to "seem more authentic" in the future).
We went to Nana's for lunch and started with a smoked salmon spread with crackers for an appetizer. It was much bigger than we were imagining it would be and would probably be a decent size for a small meal. It has capers, dill, and cream cheese and the flavors together are delicious.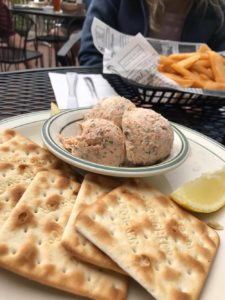 Everyone in my family loves Nana's tuna melt. There's just something about the tuna and melted cheese that is delicious and comforting all in one. The chowder is creamy and hearty, large chunks of potato and clams. The tuna is locally caught albacore, and it's served on a marbled rye bread. My husband got a Reuben, which has corned beef, cabbage, mustard, and Swiss cheese, all on marbled rye.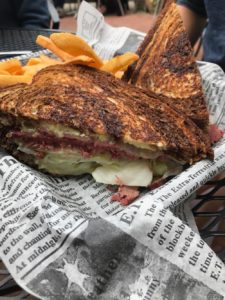 Finally, my son got fish and chips, which is cod in a beer batter and is just the perfect balance of crispy, fried, tender fish. Some other options (which we have tried before) include Shepherd's Pie, Steak and Guinness Pie, other pot pies, meatloaf, and bangers and mash. For dessert they have fantastic banoffee pie or a couple of different types of bread pudding.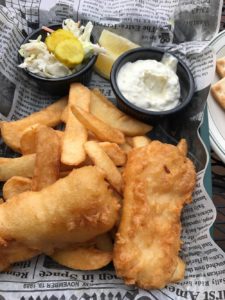 You could eat at Nana's multiple times and still not try all of the wonderful items on their menu. We have yet to try something that we don't care for, and no matter what time of year, Nana's is a warm, welcoming place with friendly service staff.
Nana's Irish Pub Website: Nana's Irish Pub   They are open seven days a week, see website for seasonal hours. It's a pretty large place, they don't take reservations but we've never waited very long for a table, it's pretty large inside and out. Located at 613 NW 3rd Street Newport, OR 97365, across from the Nye Beach arch.
5. La Maison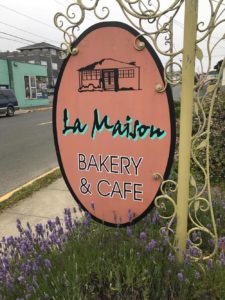 For many years, we've heard people mention La Maison as a place to go for breakfast. We even tried to go once, but the line was all the way out the door so we gave up and went elsewhere. In August of 2017, we decided that this was the year and time that we would follow through, even if it meant a wait, so we could see what everyone was talking about. I am so thrilled we did, as La Maison's food is nothing short of spectacular. La Maison is open for breakfast and lunch and one dinner per week. They make everything from scratch, including their delectable baked goods, and they source all of their eggs and produce locally. The restaurant is in a converted home, so the seating space is fairly limited, so get there early (like before it opens) if you don't want to have to wait. But…if you do get there and there's a line, it's totally worth it, just wait! The first thing you get is a giant mug of fabulous coffee, and the wait staff is prompt about refilling it regularly. They also offer mimosas and fresh squeezed orange juice.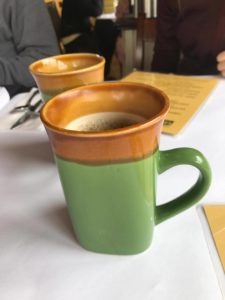 I had read online about their breakfast "starter" of bananas and cream, so I decided to try and it was delightful. Sweet and creamy, it was a wonderful appetizer for our family to share. The menu says it is topped with hazelnuts, but the day we were there they were out, so they subbed almonds.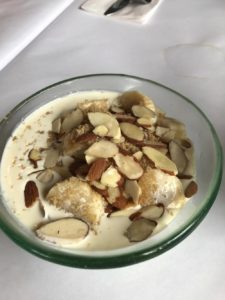 La Maison has multiple varieties of omelettes, but when I was researching I kept reading over and over how fantastic the Hollandaise dishes were. My son and husband ordered the Eggs Benedict, and I ordered the Eggs Sardou. Eggs Benedict is the traditional poached eggs over ham, covered with Hollandaise and served on a delectable house-made English muffin. Eggs Sardou replaces the ham with crisp bacon, and also adds an artichoke bottom round on top of the muffin. Both were stellar, I cannot begin to describe how scrumptious they were. Weeks later and I'm still thinking about my dish.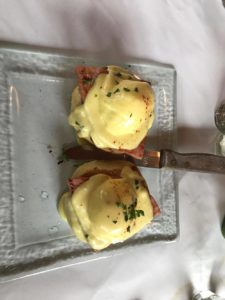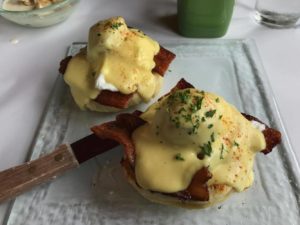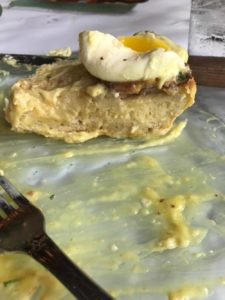 My husband and daughter actually shared their meals, because both wanted to try two things. My daughter ordered the Caramelized Banana French Toast, which again, was splendid. We just kept saying "yum" with every bite we took.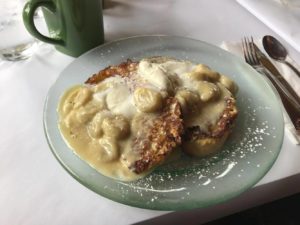 There are so many other things on the menu, and we didn't even look at the lunch menu until later when we came home, that will definitely be a "must do" for our next trip to Newport, because I see that they have my favorite Monte Cristo offered. They also have a large selection of croissants and other pastries available to purchase. The food and service at La Maison were pretty much perfection, and we cannot wait to return again for another meal.
La Maison's website: La Maison Cafe and they are located at: 315 SW 9th Street Newport, OR 97365  Check the website for hours and days of the week as they likely change seasonally.
Hope you found some new restaurants to try! We love supporting local businesses and hope that you will explore and find some everywhere you visit.