Welcome to my Disney Cruising 101 series!
My family has been on three Disney cruises and it is our preferred and favorite way to cruise. There is so much to love aboard a Disney ship, but here are the main reasons why we prefer to cruise on Disney Cruise Line.
It's Disney
Yes, I know, seems so obvious. Yet, there is so much Disney magic that you get on board a cruise that you can't get anywhere else. There are Disney characters, artwork, and music throughout the ship. Disney movies show in the theaters and Broadway-style shows on the stage. Funnel vision screens by the pool play Disney movies throughout the day and evening. Some of the Disney touches are subtle, and some are obvious. If you love Disney, but the crowds in the parks exhaust you, look no further than DCL.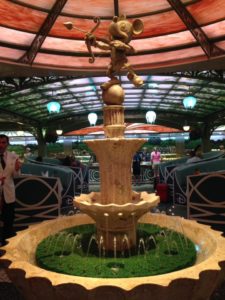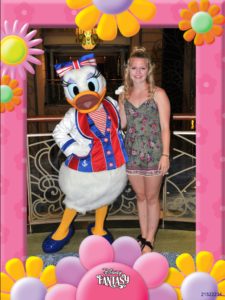 2. You aren't nickeled and dimed, pretty much everything is included in your price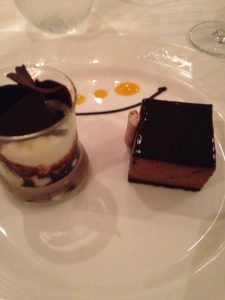 Disney cruising is expensive, there's no doubt about that. Yet it isn't as expensive as one might think upon a first look at the price. Nearly everything is included in your cost, which, when you add it up, comes very close to the price of another line, especially if you book early. Soft drinks are included from the 24-hour drink station. Ice cream is included. Quick service restaurants on deck are included. Room service (except for a few select items) is included (give them a tip though!). In another segment I will detail what might cost you extra on your cruise, but for the most part, you can participate in nearly all onboard activities and eat the majority of food onboard for no additional fees. And that frees parents up from having to say "no" all the time. It's fun to say "yes" to dessert and snacks because there's no hidden charge.
3. Rotational Dining
Disney has a fun way of dining that sets them apart from all other cruise lines. There are three main restaurants on the ship, and when you check in, you are assigned a dining rotation that tells you which restaurant you will be in each night. All four ships have Animator's Palate restaurant, but the other two restaurants vary with the ship. Your group is assigned a table number, and that number corresponds to a service team of a head server, server, and assistant server. No matter which restaurant you are assigned to dine in that night, your servers will follow you so that you have the same team the entire trip. They get to know your tastes and can often recommend dishes to try from the menu that you might enjoy, as well as making sure your favorite soft drinks are waiting for you when you sit down or soon after. My daughter loves to drink hot tea with her dessert, so the assistant server brought the box of tea bags out every night without being asked so that she could choose her tea. Each restaurant has a signature menu that they serve on one of the nights you dine in that restaurant, and if you are on a longer cruise you will have specialty meals (formal night, etc.) for subsequent visits to that restaurant.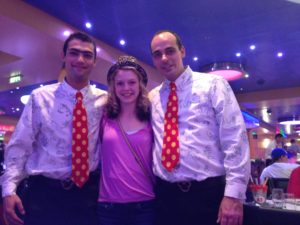 4. Shows and Movies
Disney Cruise Line has Broadway caliber shows offered in the theater many nights during the cruise. There are two showings, paired so that those with main seating for dining go to the show after dinner, and those with late dining go to the show before dinner. There are plenty of seats in the large theater, we have never had a problem finding one even if we arrive right before the show starts. There are no assigned seats, and they don't allow seat saving so if a seat is open, you can politely go for it. There are shows based on Disney movies such as Aladdin and Tangled. There are also special productions, such as Disney's Believe, that incorporate many characters into a new story. The production value, acting, and singing is amazing and difficult to believe that these shows are part of the price. There is also a theater that shows first run theater movies for no additional cost. If it's a Disney, Star Wars, or Disney Marvel movie that is in theaters or was recently in theaters, you can be guaranteed it will be showing onboard. They also offer PremEARs at sea, which is a midnight showing of a movie on the day it releases on land. We were fortunate enough to be on board for the PremEAR of Saving Mr. Banks in 2013.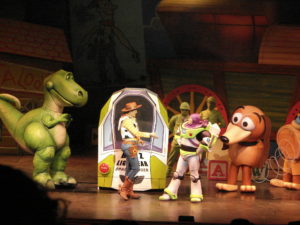 5. Castaway Cay
This is Disney's private island and is a stop for most Caribbean itineraries. It's a gorgeous island that is an extension of the ship, so food and soft drinks are included. There are plenty of loungers, hammocks, and umbrellas on both the family beach and in Serenity Bay (adults over 18). You can rent snorkel equipment (or bring your own), there's an area with a slide, the kids' clubs move to the island, and there are excursions such as parasailing and jet skiing that you can book. There's even the Castaway Cay 5K race offered at no cost on every stop. It is the ultimate place for a beach relaxation and water time, all without paying anything more than you want to.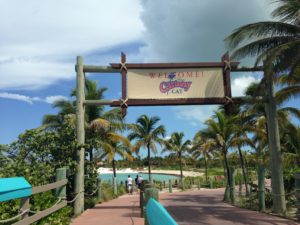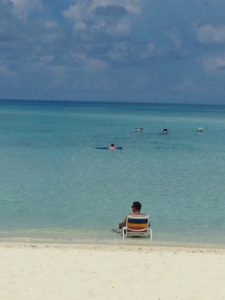 6. Kids Clubs and  Family Activities
If a child is under three, there is a paid nursery service available. However, if a child is 3-17 years old, there are youth activities spaces designed just for them. Ages 3-12 can go to the Oceaneer Club and Lab, which have tons of things to do both planned and unplanned. There are scheduled activities they can participate in, such as cooking classes, crafts, and games, but they can also play alone or in a group. The Edge is the tween club for those 11-14, and the Vibe is for teens aged 14-17. My kids have adored the clubs every cruise, and have generally met a group of friends that they hang out with through the entire cruise. They have even stayed friends with some of them for many years afterward. The older kids have scheduled activities as well, and the counselors are great at getting them involved, but there are also other things to do if they would rather just hang out. There are also many other activities outside the clubs for families: from the pools and Aquaduck (on the Dream and Fantasy) to Scavenger hunt games and towel folding classes. Bingo is an additional cost, but many families love playing Bingo each day.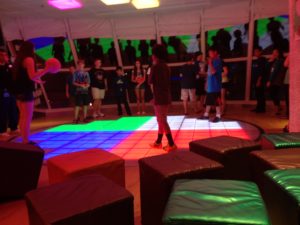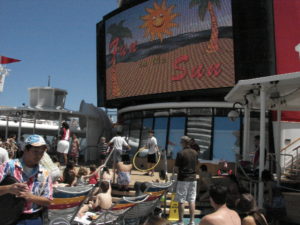 7. Adult Activities
When the kids are hanging out in the clubs and with their friends, what are the adults to do? There's plenty to do, let me tell you! On our second cruise we so rarely saw our kids except at meal times, we felt like we were on an adults only vacation. Some things have an extra charge, such as couples' spa treatments, premium dining at Palo or Remy, or one of the many adult beverage tastings or classes (we love the mixology class!) There's also an adults only pool, coffee shop, and sun deck where adults can enjoy some quiet time with each other. One sea day we pretty much camped out in the sun by the pool, it was quite relaxing! Each evening there are adult shows in one of the lounges, which may be a comedian, ventriloquist, or other variety act. Even though these shows are for 18 and up, they are still relatively tame, probably PG-13 rated, if that. These shows are fantastic, and Match Your Mate (think Newlywed Game) is hilarious and not to be missed.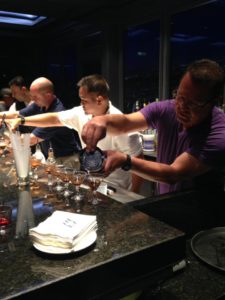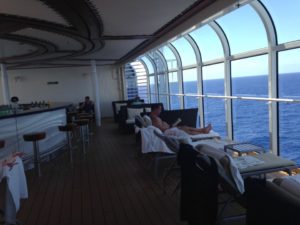 8. Customer Service/Crew
Disney's crew are considered "cast members" just like any land-based staff. These onboard cast members go above and beyond what staff do on other cruise lines. It's amazing Disney magic that just can't be duplicated. From the man restocking the towels by the pool to the woman making espresso, we have loved talking to them about their homes and their families. It is always fun to talk with different cast members about their jobs and share a smile. The service is amazing. Sometimes they are even willing to make you a pizza past closing time, just ask my daughter.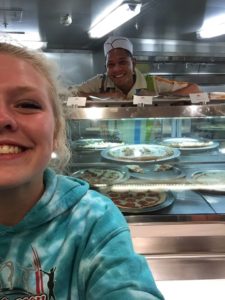 9. Family Friendly/No Casino
Let's face it, Disney Cruise Line is geared toward families. One of the reasons it costs a bit more is that there are no casinos onboard, which promotes a more family friendly atmosphere. When asked why he liked to cruise Disney, this was one of my husband's top reasons. We have been on other lines that do have casinos, and it seems to promote a more adult atmosphere rather than one for family vacations. The movies in the theaters and shown on deck are all family friendly, and the atmosphere is inclusive of families, but still doesn't exclude those who are traveling without kids. It's Disney, and that generally makes things appropriate for all ages.
10. The Fun Extras
On no other cruise line will you experience some of the magical things that happen on Disney Cruise Line. From Fish Extender exchanges to Door Decorating and Pirate Night, there is nothing that even comes close elsewhere. Fish Extenders are pocketed holders that hang from the "fish" (or seahorse, or whatever other animal) outside the door. Groups are formed online before the cruise, and it's like a not-so-secret-santa exchange. You receive a list of between 10-20 (depends on the cruise and what the group decides) families and you are responsible for delivering a gift to each of those families once on the cruise, and in turn you receive gifts from others. The creativity is astounding. Another unique activity is decorating the metal doors with magnets. This helps you find your room, but also gives some more Disney spirit to the hallways. And finally, many cruises offer Pirate Night. (Some offer another alternative based on different itineraries) A large number of the passengers and all of the crew dress up in pirate costumes. There's a pirate themed menu, a pirate party on deck, fireworks at sea, and a huge pirate buffet complete with turkey legs afterward.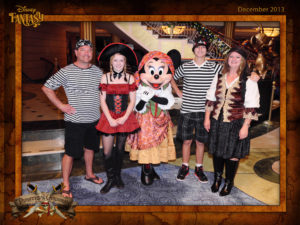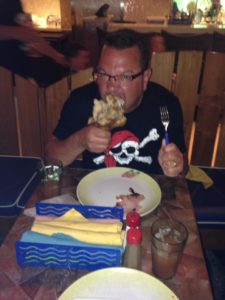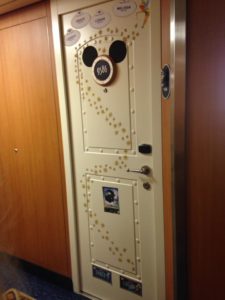 I will go in depth about most of these subjects in further Disney Cruising 101 posts. I hope you'll join me to learn more about what makes cruising with Disney Cruise Line the absolute best kind of vacation. I haven't even scratched the surface of the information on the subject, so follow along to learn more.
Have you been on a Disney cruise? What are the reasons you love to cruise on Disney? If not, would you like to go?