You and your family want to take a weekend trip to Newport, Oregon. The ocean itself is gorgeous, and walking on the sand, picking up shells, and making sandcastles provides hours of entertainment. Yet there's only so much time you can spend on the beach before everyone is clamoring for something else to do. Everything seems to cost SO much money these days, especially if you have multiple children. Here are some family activities that will not break the bank, but can provide hours of enjoyment for all ages. Be sure to read the entire list because my FAVORITE suggestion is last!
The OSU Hatfield Marine Science Center Visitor Center

Located on the south side of the Bay Bridge, just down the road from the Oregon Coast Aquarium, the HMSC Visitor Center is a undiscovered gem. The building is packed full of exhibits geared toward getting people excited and informed about marine science. Entry is by donation, suggested at $5 per person or $20 per family. This makes it super affordable, even for large families We have been going to this visitor center since I was a child, and matter what our ages or the ages of our children, we have always found something interesting to explore. There's a sea life touch pool, and many hands-on exhibits for exploration of different subjects. My teens were especially fascinated by a sand table with a computer that sensed the elevations and changed the map to correspond with them.

Some other interactive displays have to do with tsunamis, earthquakes, sea life ecology, invasive species, and conservation efforts.

Designing an oyster ecosystem

Yaquina Head Lighthouse

Located at the North end of Newport, the Yaquina Head Lighthouse is another place filled with activities for everyone. Your vehicle with up to 10 people can purchase a three day pass for only $7. This admits you to the Interpretive Center, Lighthouse, and the trails and beach areas surrounding the area. You can go online to Recreation.gov to book your free lighthouse tour in advance of your trip to ensure that there will be spots for your family. The Interpretive Center has a great deal of history and information about lighthouses and particularly the Yaquina Head Lighthouse. The hiking trails all around the area give amazing vantage points to see the surrounding landscape. There's a cobblestone beach, some resident whales, seabird nesting on the rocks, and all sorts of nooks and crannies to explore. Years ago, the Bureau of Land Management created a man made tidepool area, which has now been pretty much reclaimed by nature. There are still quite a few tidepools there, as well as on the cobblestone beach area, to check out.

Bayfront Sea Lions

Down on the Bayfront, there is a resident group of very rambunctious and entertaining sea lions. A boardwalk pier surrounds them, so it's always fun to check them out and watch their antics. It's an absolutely free activity sure to please even the most cynical person.
4. Yaquina Bay Lighthouse
Not to be confused with the lighthouse mentioned above, the Yaquina Bay Lighthouse is located in the Yaquina Bay Park, right at the base of the Bay bridge. There are steps in the park leading down the the ocean, and a path leading up to the lighthouse. This lighthouse was only in operation from 1871 to 1874, but it is restored to have period specific decorations and points of interest. Admission is by donation, so it is another cost efficient destination. There's a short movie that shows down in the basement, and there's a legend attached to this particular lighthouse that has lead my kids to nickname it "the haunted lighthouse." Check ahead for times and days of operation, but this is always a treat to visit while in Newport.
5. Oregon Coast Quests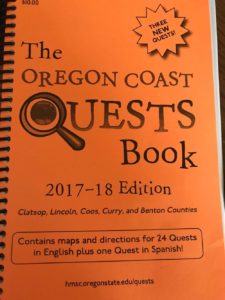 I'm honestly saving my favorite and best suggestion for last. For just $10 you can have hours (over many days!) of education and entertainment. The guidebook can be purchased in many locations, you can check their website for locations to purchase. The site also has updates on current and past Quests and other helpful information. Oregon Coast Quests There are 24 current Quests in the book, and these operate as a sort of scavenger hunt in different locations on the coast, where you collect letters (hidden and painted on different objects) and clues in order to find the location of a Quest box with a stamp inside. Along the way with each Quest you learn a great deal about the area in which you are exploring. This is an activity my family has been doing for many years, and even though my kids are now teenagers, they still find the exploration to be enjoyable. The Quests are spread throughout the Oregon coast–the large majority of them are in Newport and Lincoln City, but they extend as far north as Fort Stevens in Clatsop County to as far south as Port Orford in Curry County, and east into Corvallis.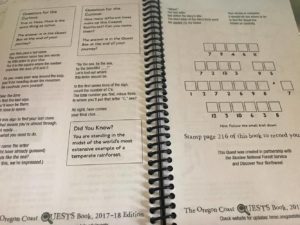 The latest trip we took we did the Tsunami Quest that begins at the Hatfield Marine Science Center. (You can also purchase the book in their gift shop, and it serves as the starting location for two different Quests).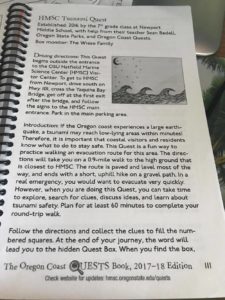 Each Quest tells you approximately how long it should take once you start and how strenuous the particular Quest might be. This one involved about a mile (each way) of walking and took us about an hour to complete.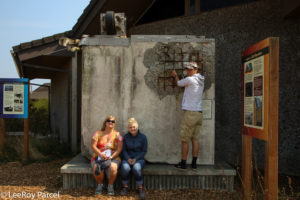 We started by learning about the evacuation route if a tsunami occurred while we were in that general area. We walked along a specific path with clues and photos leading the way, collecting letters to fill in the blanks while we traveled. We even had some different preparedness tasks to practice: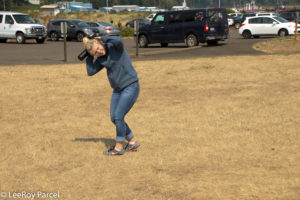 We ended up at the final location, in this instance it was the higher ground that people should travel to in case of a tsunami. We had, at that point, filled in all of our clues and it lead to where the Quest box was hidden. We then stamped the section at the back of the book, recorded our name and dates into the log book, and re-hid the box.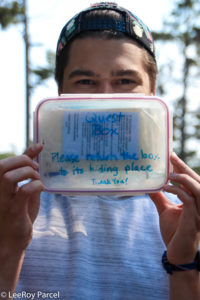 If you like geocaching, letterboxing, or anything similar, I highly recommend you try Oregon Coast Quests. We have traveled all over the coast–from the lighthouse to parks in Waldport to a fish hatchery, and even to a cemetery to complete various Quests. We've learned about careers, marine ecology, disaster preparedness, history, forestry, watersheds, and so many more things, all while searching for clues and hiking through various places. It is a fantastic way to get your family outside and on an educational adventure.