On a recent Sunday morning, we were in Portland attending my daughter's gymnastics meet at the Oregon Convention Center. After it was over, we piled in the car and were attempting to find somewhere to eat lunch. Our first thought (because we were starving), was the Red Robin right across the street. However, we had already taken the car from the parking garage, and RR's parking lot was packed and there was no street parking to be found. So we set off on a quest to find something else. Drove over to Podnah's Pit BBQ as that is a go-to place for us, but no luck, it was closed for a kitchen remodel (the second time we have run into this lately!) I pulled out the trusty TripAdvisor app to see what might be decently rated and nearby, so we happened upon Tin Shed Garden Cafe on Alberta St. LeeRoy was a bit unsure, because it looks kind of sketchy outside, but we found a very close parking spot and took that as a sign that it was meant to be (plus we seriously were starving).
The brunch menu is served until 3, and as luck would have it, it was only 2.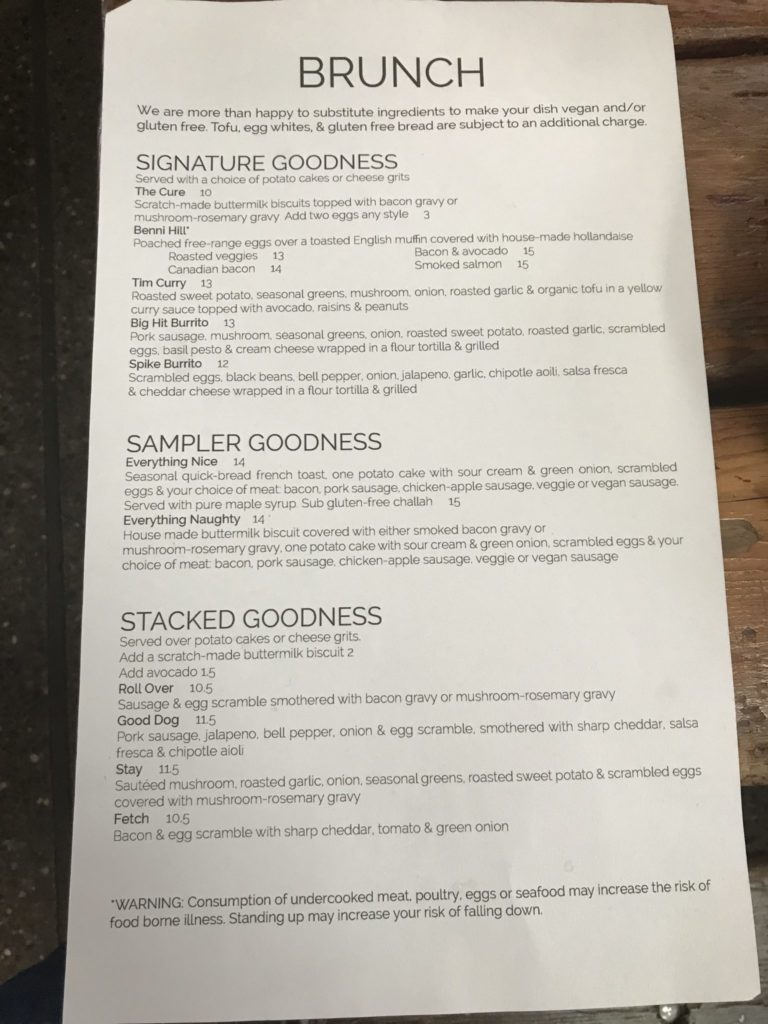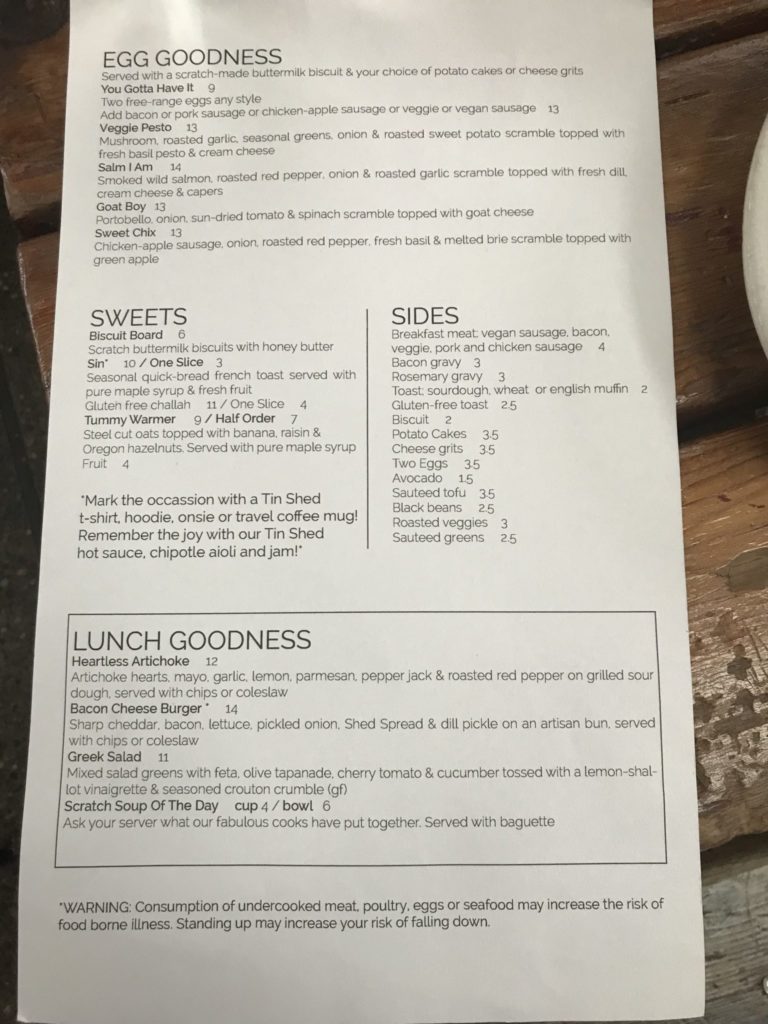 Items are locally sourced when possible, working from a farm collective, and most things are made in-house. During breakfast/brunch hours there's a coffee/tea/water bar set up where you can go refill your cup as many times as you would like, whenever you would like. It was nice to not have to wait for refills, and my tea-loving daughter enjoyed having her pick of the Smith's teas.
We ordered a biscuit board as a starter (remember:very hungry), which comes with honey butter, and there's homemade raspberry jam on the table to enjoy with them as well.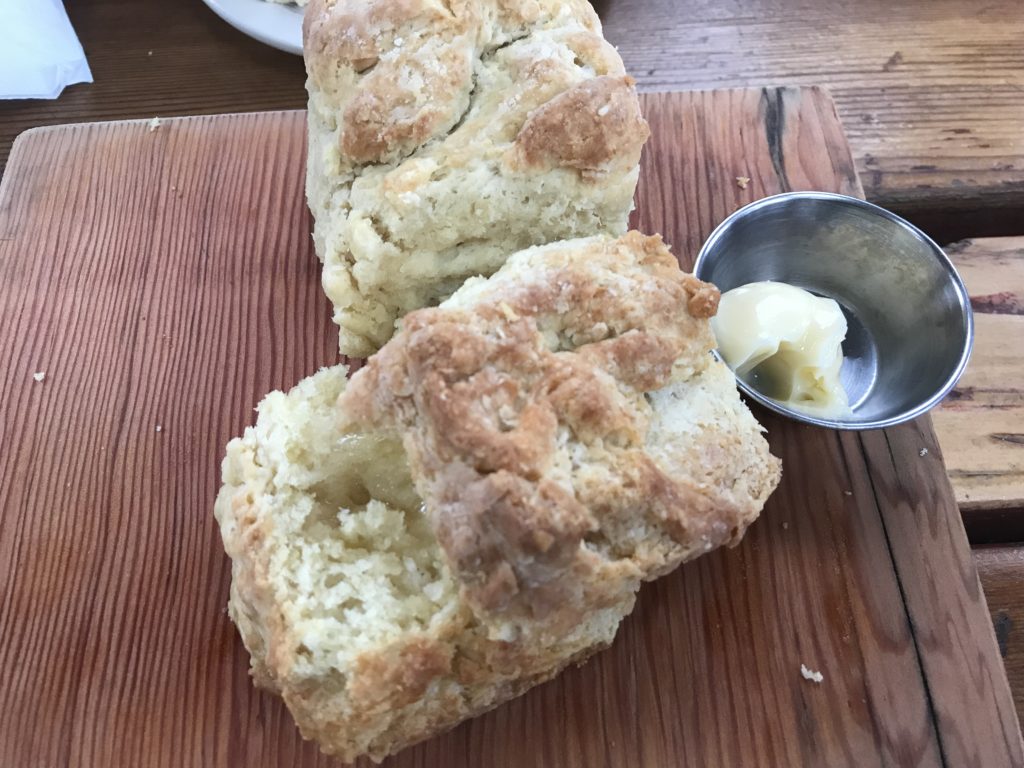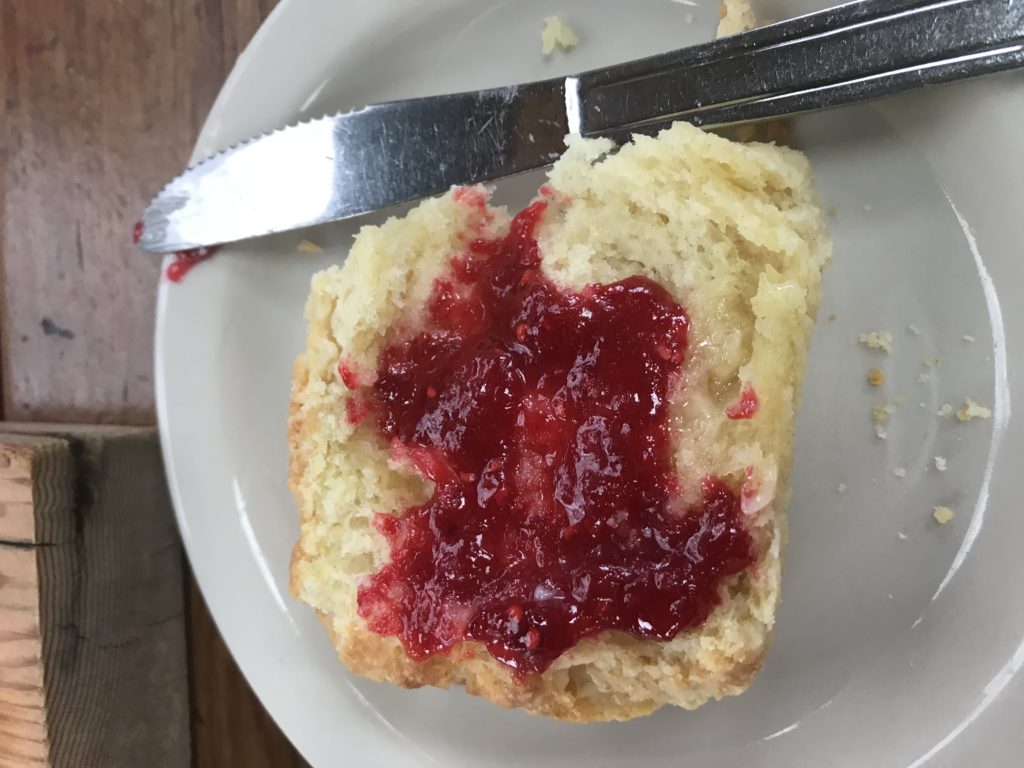 Crunchy on the outside, chewy on the inside, with a fantastic flavor. I would return to Tin Shed just for the biscuits!
When our meal arrived, we had: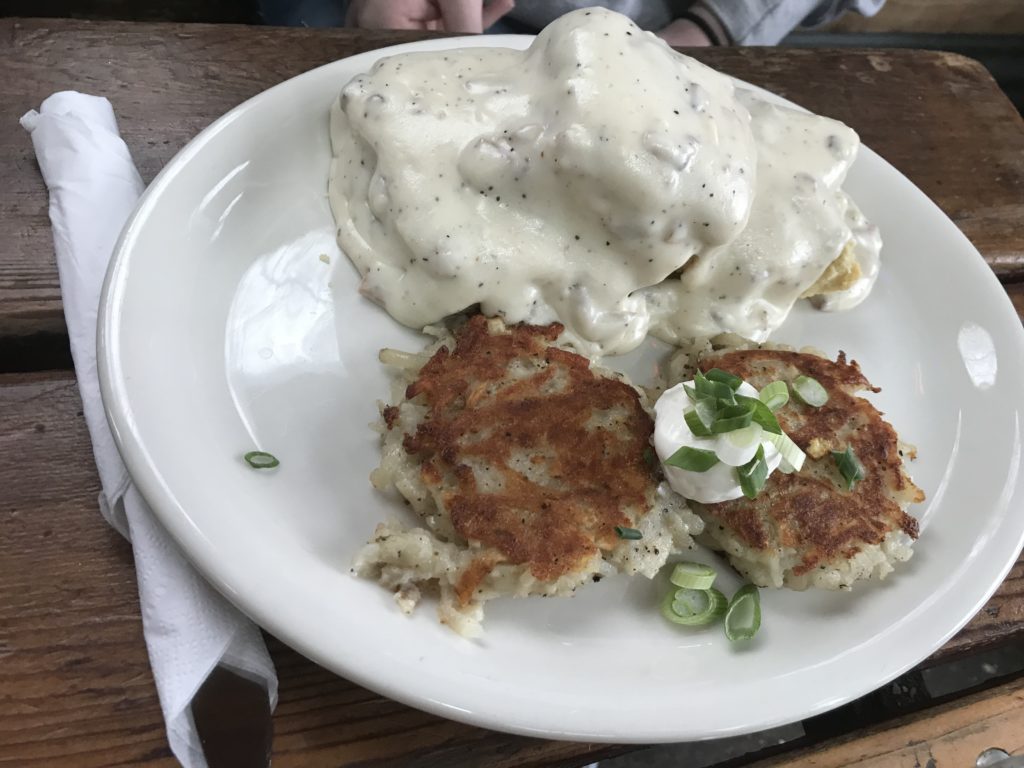 Biscuits and gravy with potato cakes on the side. This one had the bacon-rosemary gravy, and this photo doesn't do the size of the serving justice, it was huge!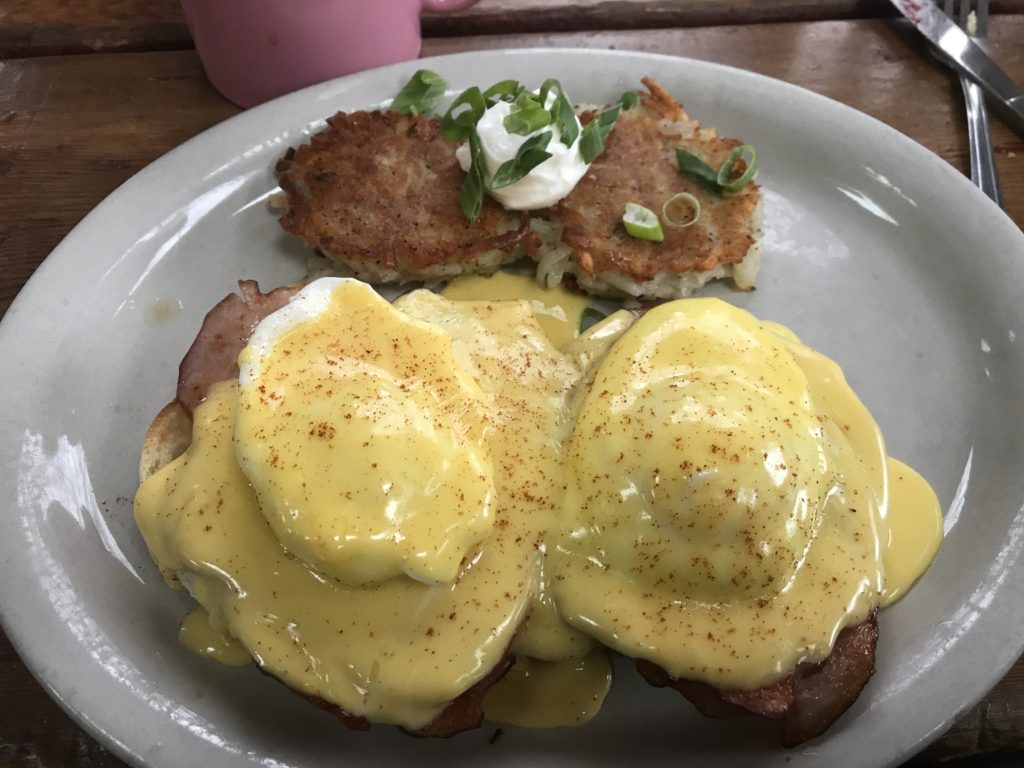 Benni Hill (eggs Benedict) with Canadian bacon. Divine. This was both my daughter's and my choice, and she said the Hollandaise was two thumbs up, and I agree. The potato cakes were very flavorful with onions and other spices. A very nice change from typical frozen hash browns served at other restaurants.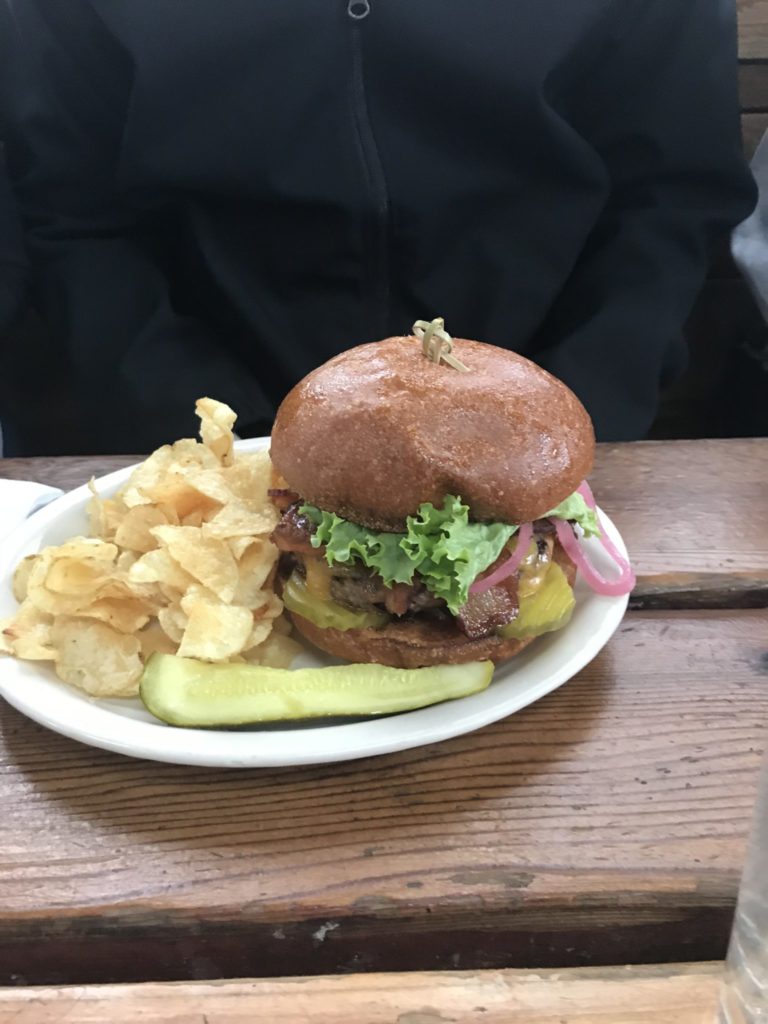 One member of our group was not hungry for breakfast/brunch items so decided to order the bacon cheeseburger from the lunch section. He said it was delicious, and the pickled onions were a particularly tasty touch.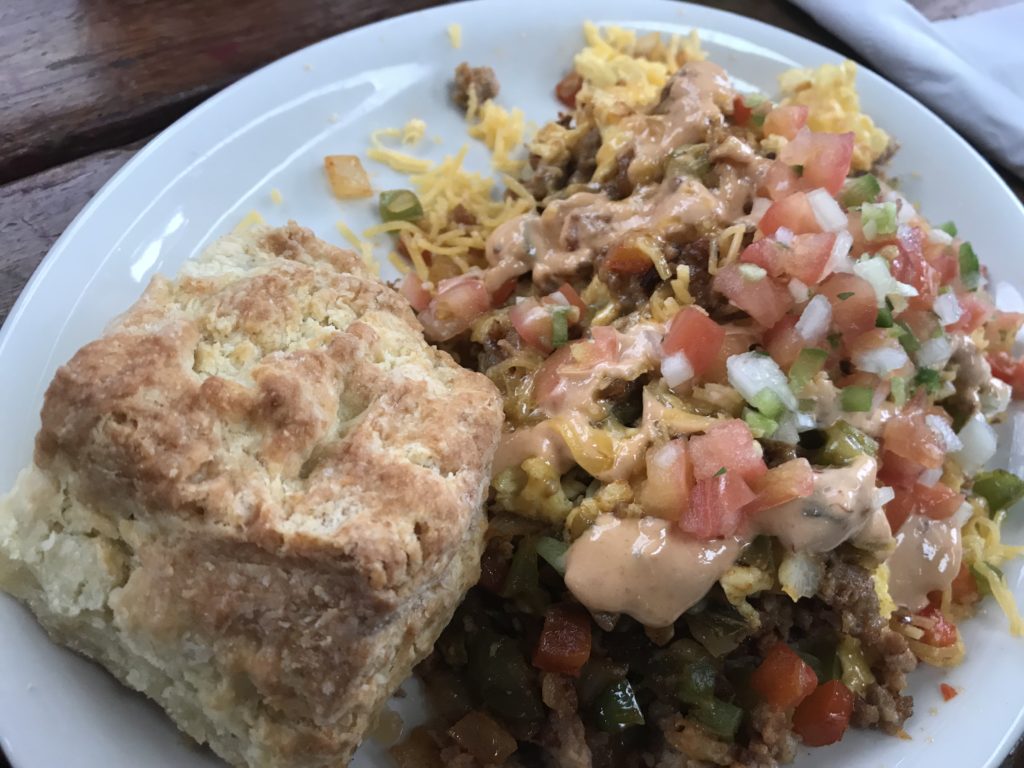 Finally we come to my husband's "Good Dog Stacked Goodness". He was debating between this and the sampler plate, but when we saw someone next to us get this, he made up his mind. This is a sausage, jalapeno, bell pepper, and onion scrambled with eggs, then topped with salsa, tomatoes, cheese, and chipotle aioli. It's served over the top of your choice of potato cakes or cheesy grits (he chose the potato cakes), it also comes with a biscuit on the side. It's very spicy but super tasty. About halfway through the meal, he stole the sour cream from the top of my potato cakes and said that the hint of coolness that the sour cream gave the dish was what it was missing. If he was going to order it again he would get it with a side of sour cream.
I took a glance at the dinner menu because they were switching over as we were finishing up our meal. The offerings look equally interesting, and there are some very yummy looking desserts as well as an inventive cocktail menu.
For an unplanned stop,  this was a winner and we will make a point to return to Tin Shed in the future. It was a satisfying and unique place to enjoy brunch. It's family friendly and dogs are allowed on the enclosed patio (there are even a couple of special dog-only menu items).