We love to visit Astoria, Oregon, and it's not terribly far from our home, so I'm not sure why we don't visit more often. Last weekend, we had the opportunity to make a quick afternoon/evening trip and we were able to do a bit of exploring. Astoria is a gorgeous town with so many sights, it's definitely worth visiting for a longer period of time or over multiple days. Besides the many Forts (Stevens, Columbia, and Clatsop) in the immediate area, Astoria is home to some fascinating museums and a large number of delicious restaurants.
On this day, we headed up to the Astoria Column . The Column is a monument to those who staked a claim in Astoria. According to the website, it is one of twelve monuments around the U.S. originally envisioned by Ralph Budd. It was constructed and dedicated in 1926, but has gone through quite a few upgrades and restorations since. For a $5 annual parking fee, you are free to walk around the area and climb to the top of the monument. It's set 600 feet above sea level, so you get an amazing view of the Bay, the Coast Range, and the Columbia River.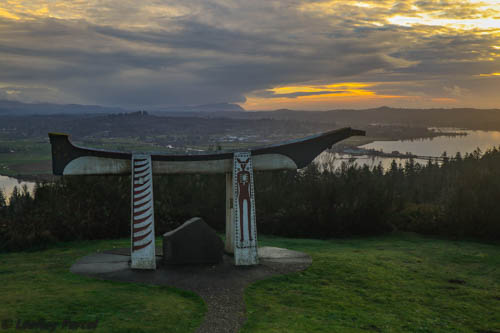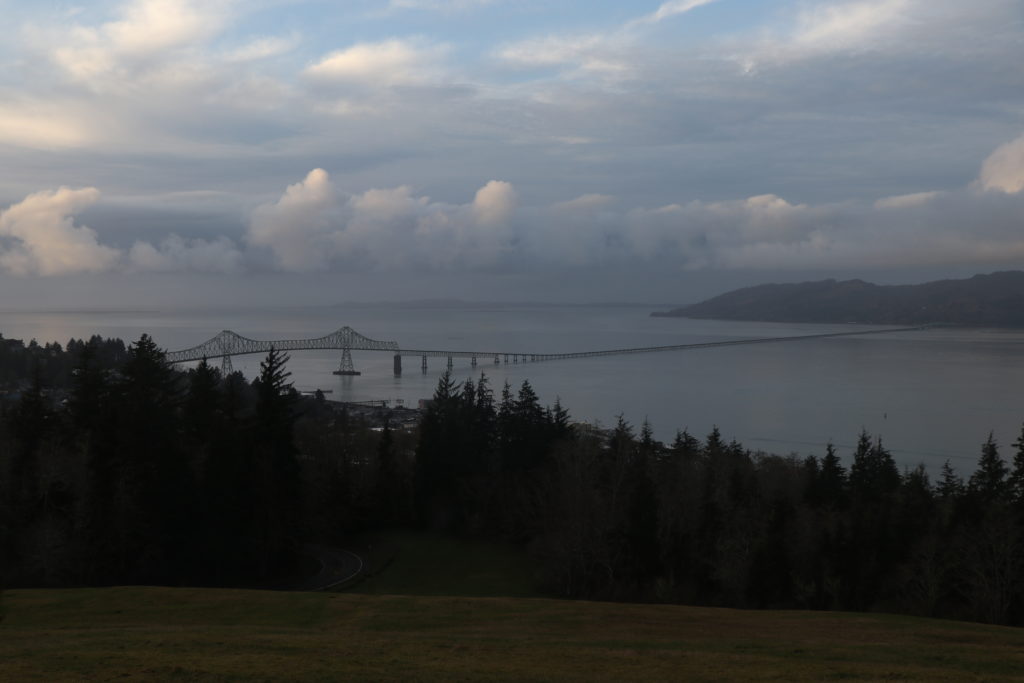 The column itself is adorned with artwork that celebrates events in Northwest History: The discovery of the Columbia River, the Lewis and Clark Expedition, and the movement of settlers to the Astoria area. There are 164 steps to the top of the column, and the view is spectacular.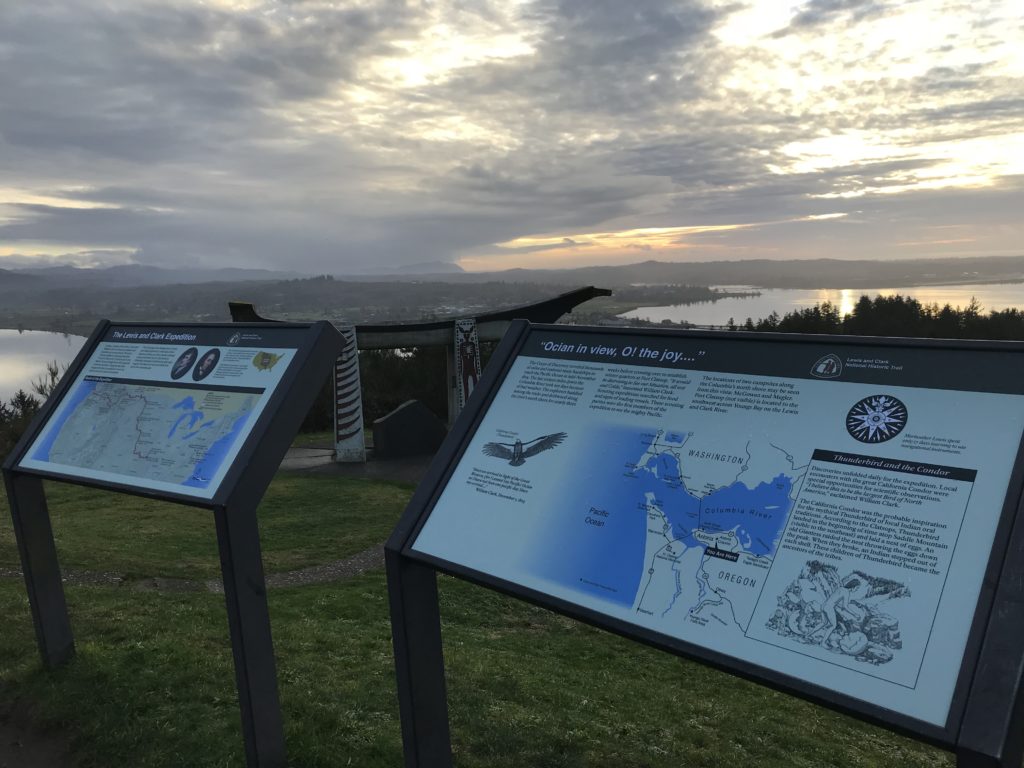 There is a gift shop, which is also the place to pay your money, and it wasn't open at the time we came up there so we were left wondering exactly what to do (as were the rest of the visitors). It would be helpful for them to have a drop box for people to pay if they are there after hours. There are also restrooms on site and a large amount of parking.
After taking in the sights and taking many photos, we decided to head into town to get some dinner. Our "go to" place for food and drinks in Astoria is Fort George Brewery and Public House. They have great service, fabulous food, and a beer selection that is out of this world. Unfortunately, the downstairs restaurant is closed for the month of January for a remodel (enclosing the patio and expanding the seating, which is much needed). Although the upstairs restaurant was open, they only serve pizza and we had just eaten pizza the night before. So we decided to drive around and find another place to eat.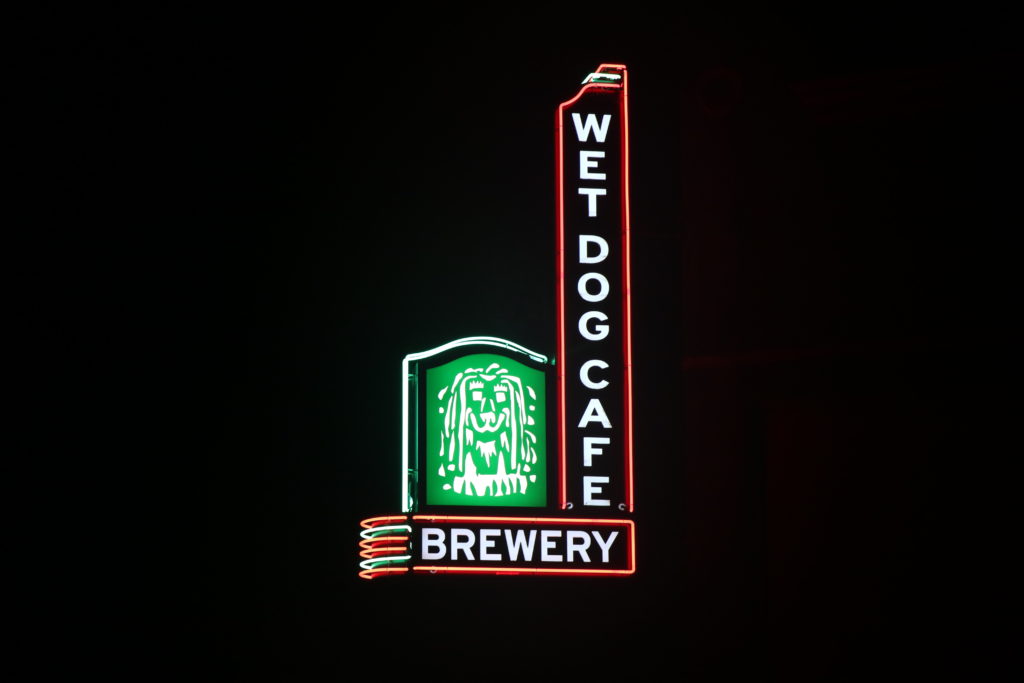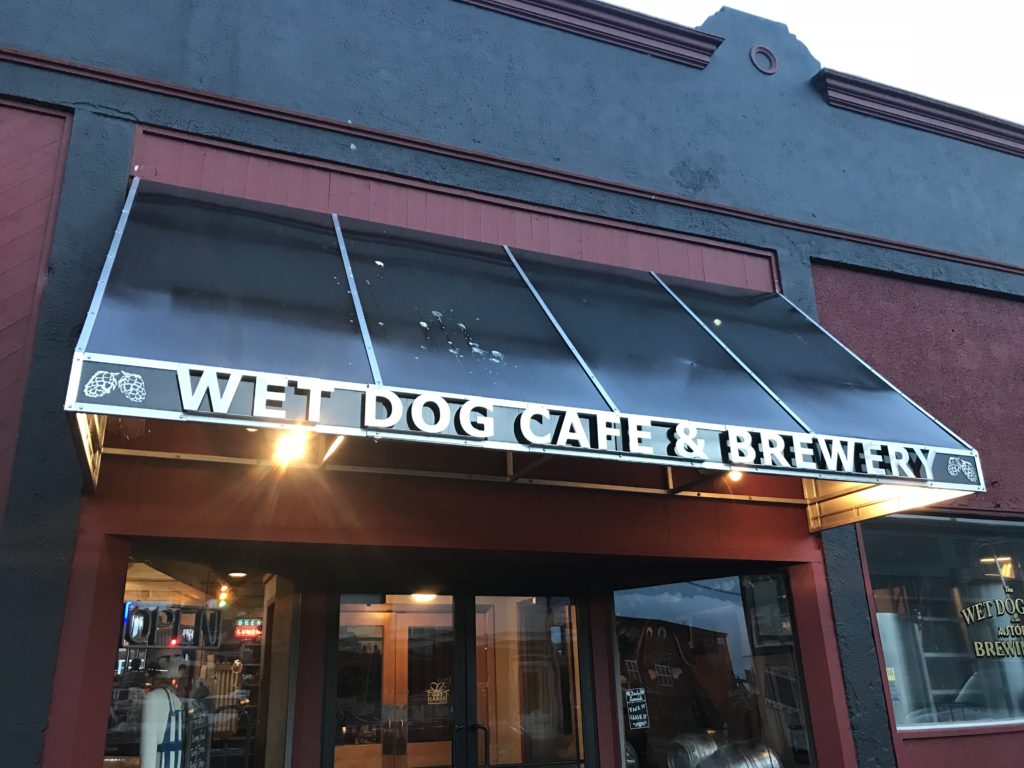 Down the hill, across from the waterfront, is the Wet Dog Cafe and Brewery This is the home to Astoria Brewery, and since we had consumed their beer in the past and enjoyed it, we decided to give this place a try. We were slightly outside of regular meal hours (a little early for dinner), plus it's winter, so we had no wait and were seated right away. Our service was excellent, our waiter was prompt and returned numerous times.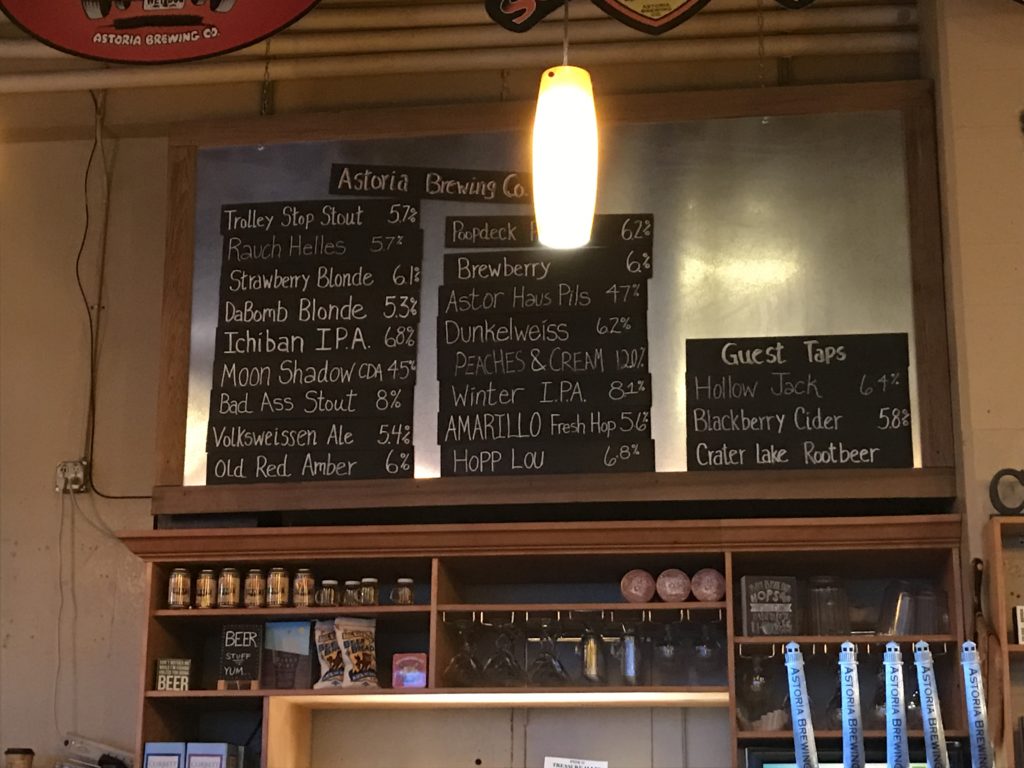 A chalkboard, as well as a tabletop menu, explained the beer choices. I ordered the Winter Ale IPA and LeeRoy ordered the Bad Ass Stout ("It's winter! I can drink IPAs in the summer, I want to drink stout!") Both were flavorful and excellent choices. They seem to have a large variety that would suit any taste, plus we observed some patrons drinking commercial beers (Corona? Whyyyyyy? You're in a brew pub in the Northwest, be adventurous!)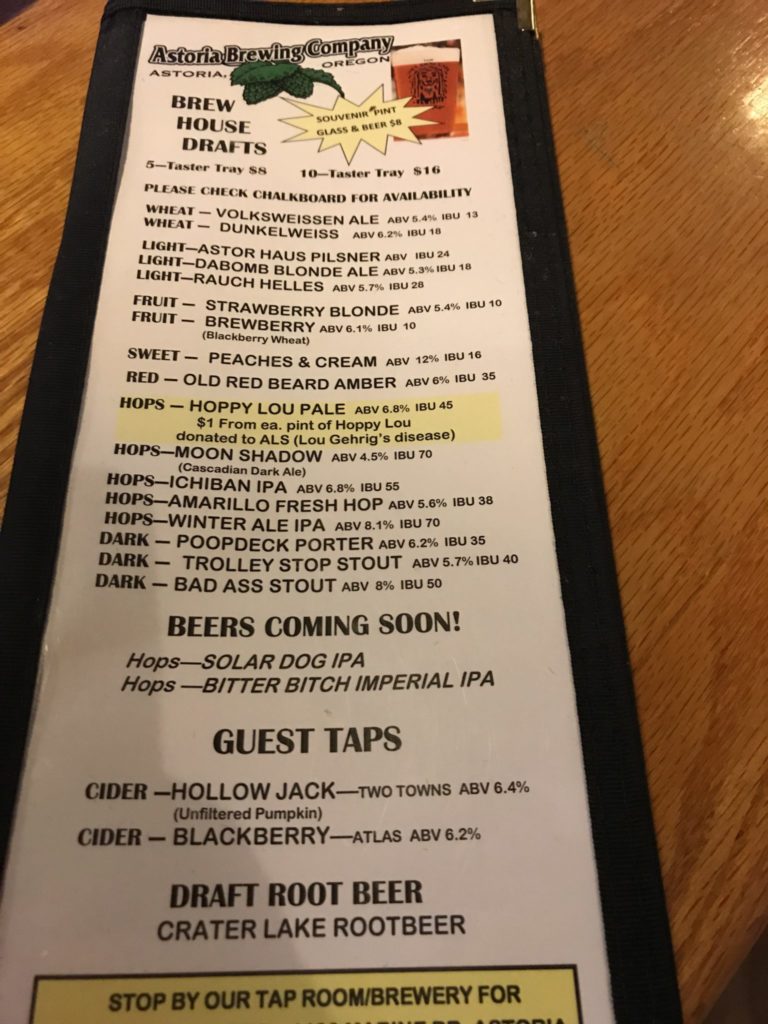 I thought I took a photo of the food menu, but possibly the photo did not turn out, because I can't seem to find it. If you're interested, it is on their website, linked above.
We ordered a cup of clam chowder as a starter, because I make it a mission to try out clam chowder at every restaurant close to the beach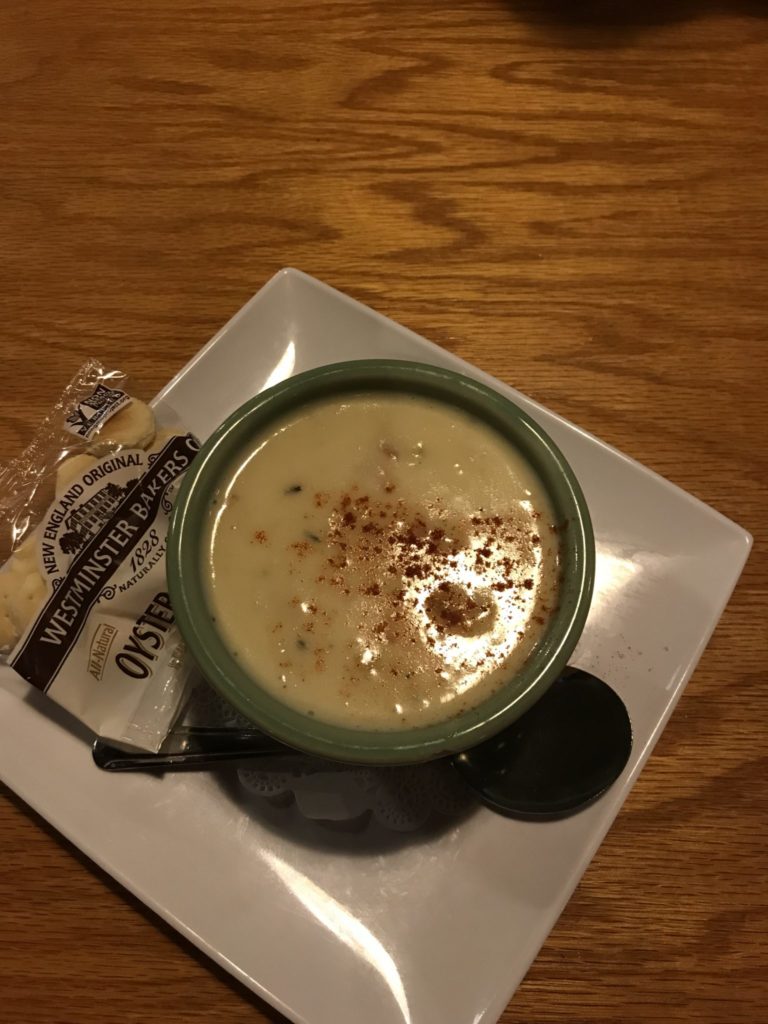 This chowder is creamy, jam packed with clams, and filled with pieces of smoky bacon. There are two camps about bacon in clam chowder, and I straddle the line because I have had good chowder both with and without it. Wet Dog's chowder got thumbs up from both of us.
Typically, at least one of us orders fish and chips or fish tacos when we're near the ocean, but neither of us were feeling it this day. LeeRoy ordered a blue cheese bacon burger and I ordered the Mac and Cheese with a Beer Brat.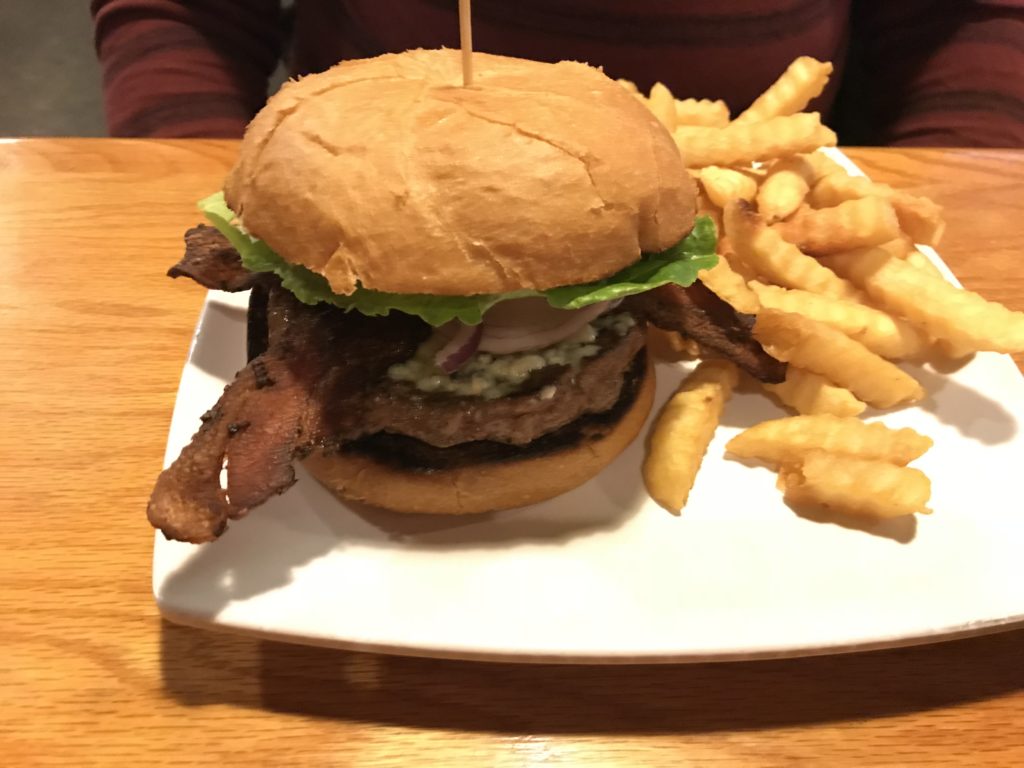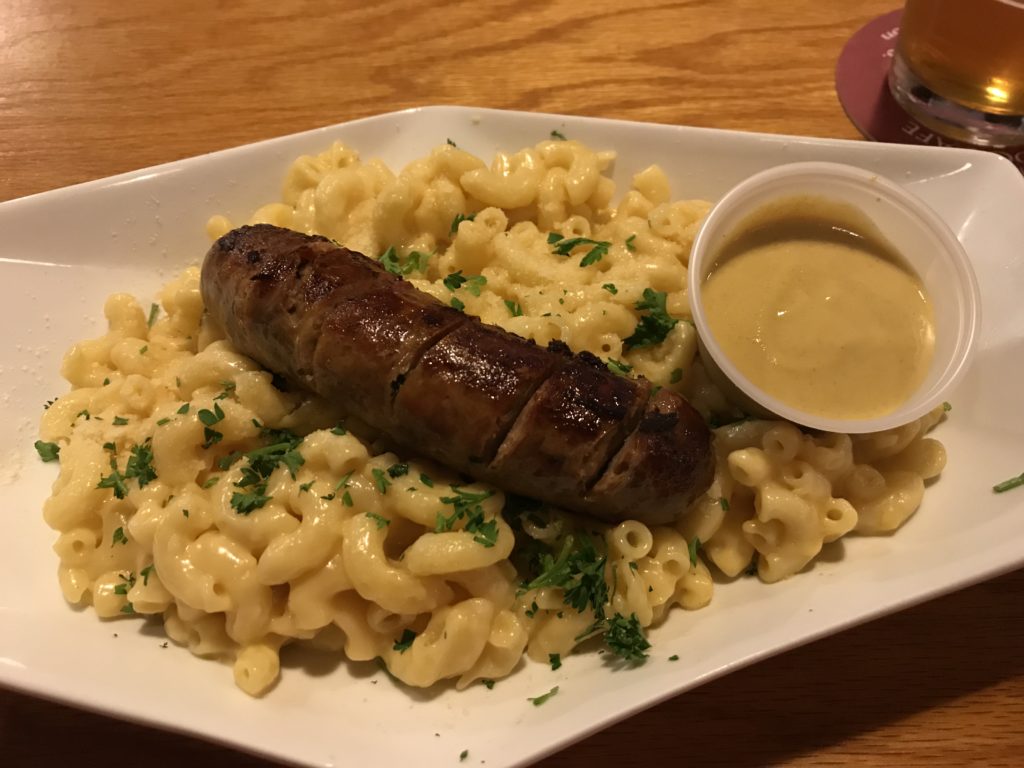 The burger was deemed good, the brat was excellent, as was the spicy mustard. The mac and cheese was just so-so. There was not nearly enough cheese (I know it looks like there is in the photo, but I think there was melted cheese on the top, and this was a huge plate/bowl, so when stirred up, the underneath was pretty dry.) Also, the mac and cheese was very bland. I added a significant amount of salt and pepper, but it wasn't until I mixed in some mustard that it actually had flavor, and I want my mac and cheese to taste cheesy, not mustard-y. It was passable, although I wouldn't order it again.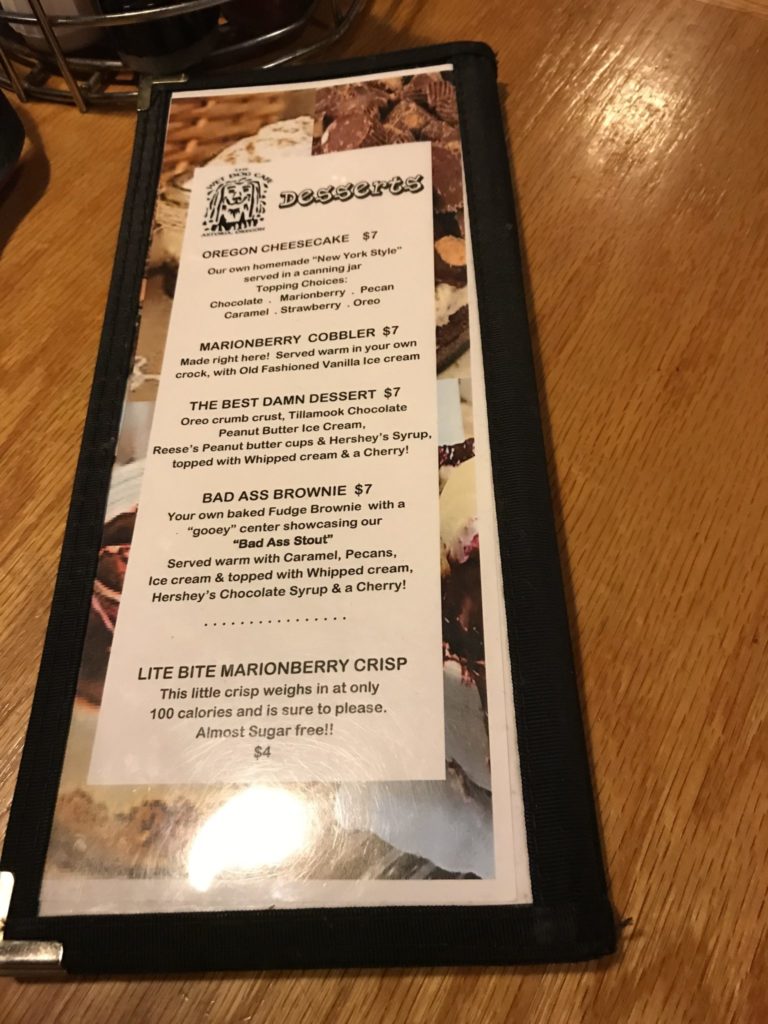 Since we were waiting for someone to arrive and we weren't totally full, we decided to have dessert. We were waffling between the brownie and the best damn dessert, and our waiter talked us into getting the Best Damn Dessert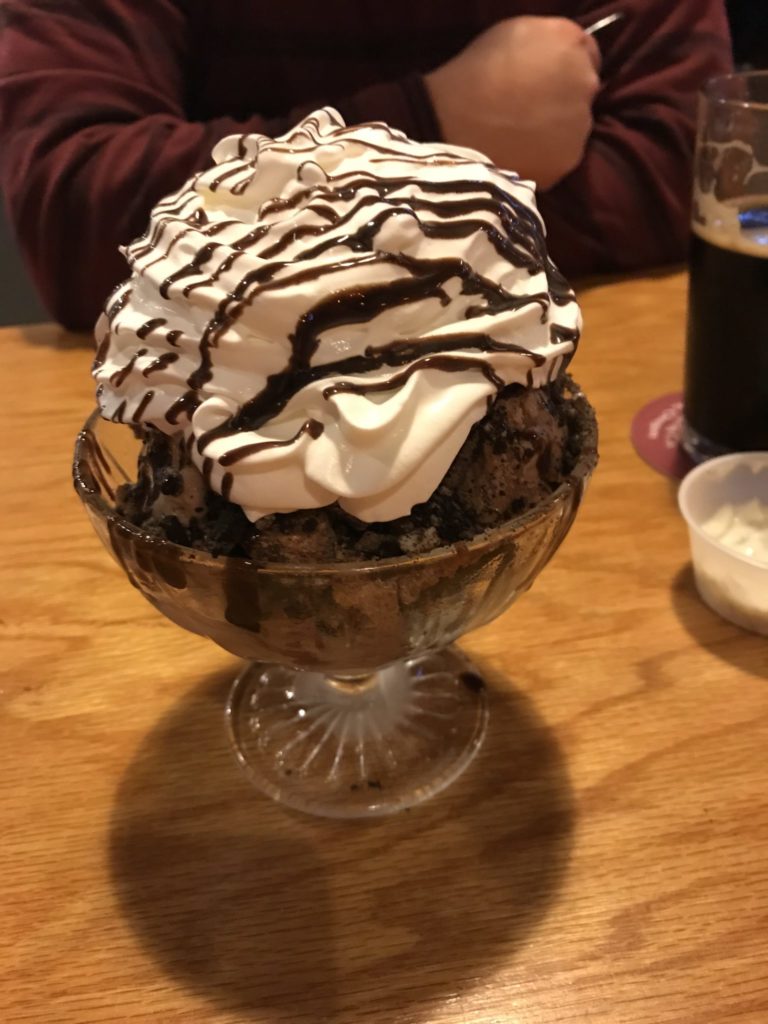 He was correct, it was really, really delicious! The only thing that could have made it better would have been for that to be real whipped cream on the top rather than a fake whipped topping. I scraped it off and the combo of the amazing Tillamook Chocolate Peanut Butter ice cream, Oreos, and peanut butter cups was delectable. Yum!
Overall, this was a fun afternoon in Astoria, and we will have to make a point to visit more often. Have you ever been to Astoria? What are your favorite places to visit and eat?