When we embarked on our five-day getaway to Las Vegas, it was a cool day in the Pacific Northwest and we were looking forward to a few days of sun, shows, food, drinks, and hanging out with friends. The first part of the trip delivered exactly what we were looking for, but the second part offered up a tragedy the likes of which I hope we will never see again.
I want to preface this with saying that me, my husband and the group of people we were with all experienced this horrific event in different ways, and none of us were at the festival. However, my sister Andrea and her husband Robert, Vegas residents, were at the Route 91 Harvest Festival and witnessed firsthand the terror and extreme severity of everything that occurred. Neither of them were physically wounded, but the emotional trauma from the experience will never leave them.
The Highs of our Trip:
We arrived in Las Vegas bright and early Friday morning.
We were booked to stay at the Wynn Hotel, and when we called to get the reservation, the agent said that it was unlikely our room would be available until after noon. We got there around 10:30 and were pleasantly surprised to discover our room on the 21st floor (a non-smoking floor) was ready for us.

The room was one of the nicest we've stayed in (we aren't high end hotel people for the most part). The room was very spacious and had some very nice touches. Everything was electronic and controlled by a tablet next to the bed, as well as with buttons on the walls. Even the Do Not Disturb/Housekeeping notifications were via buttons by the door rather than the old school method of hanging a card from the door handle. The lights and draperies were also controlled with buttons and the tablet.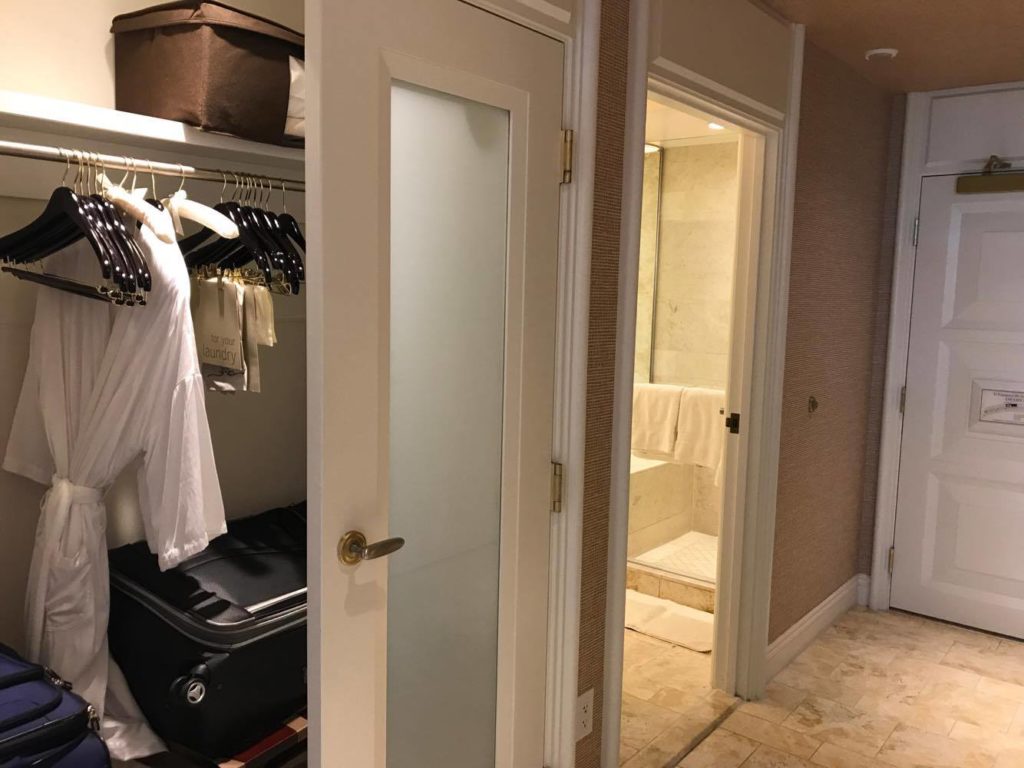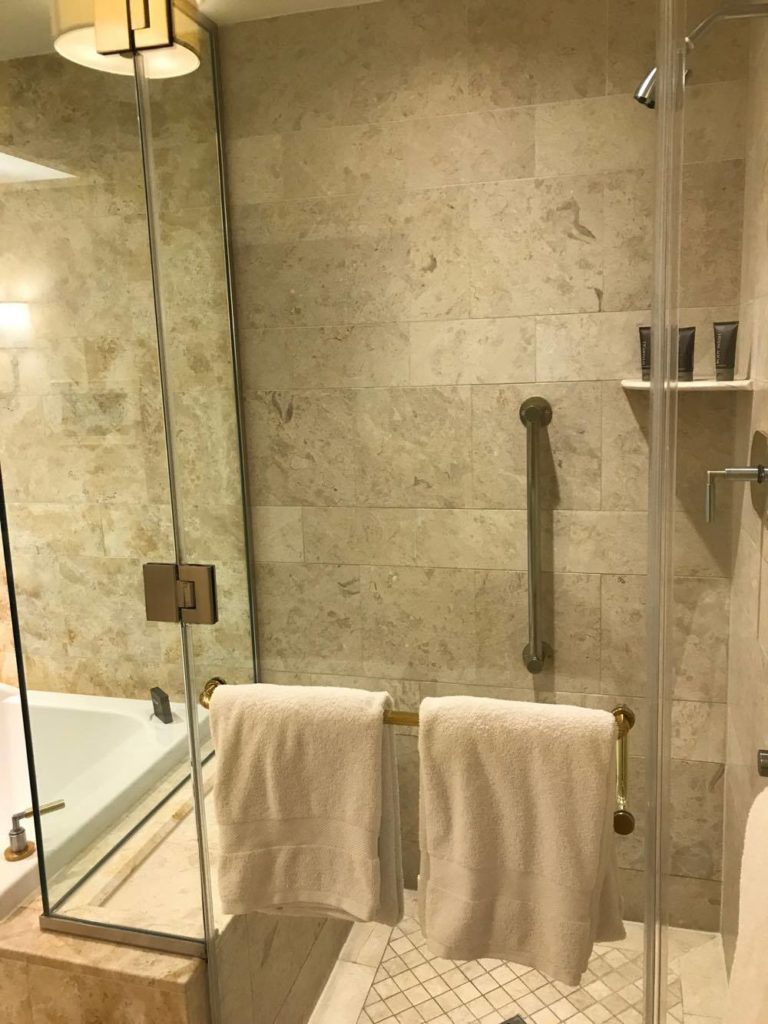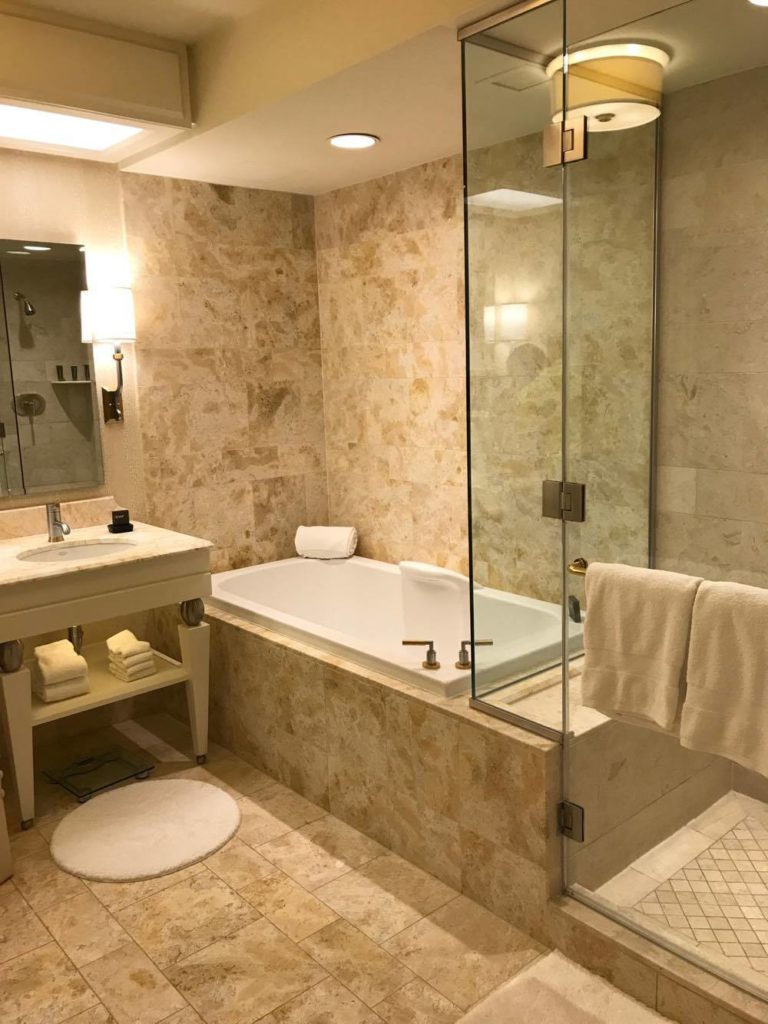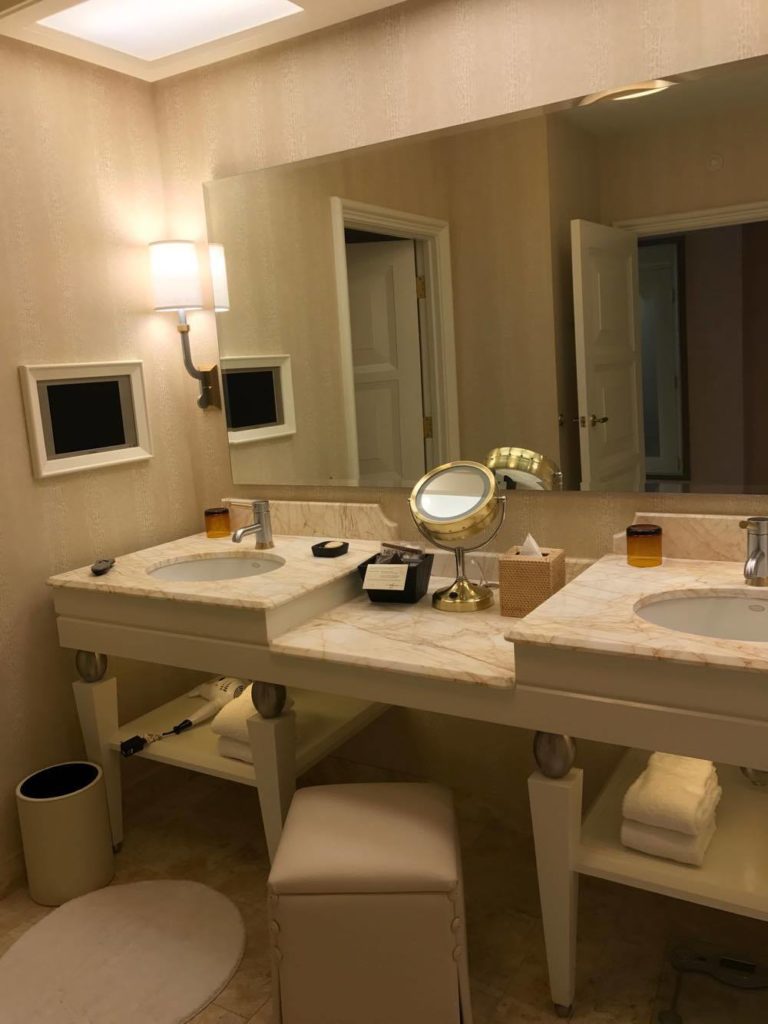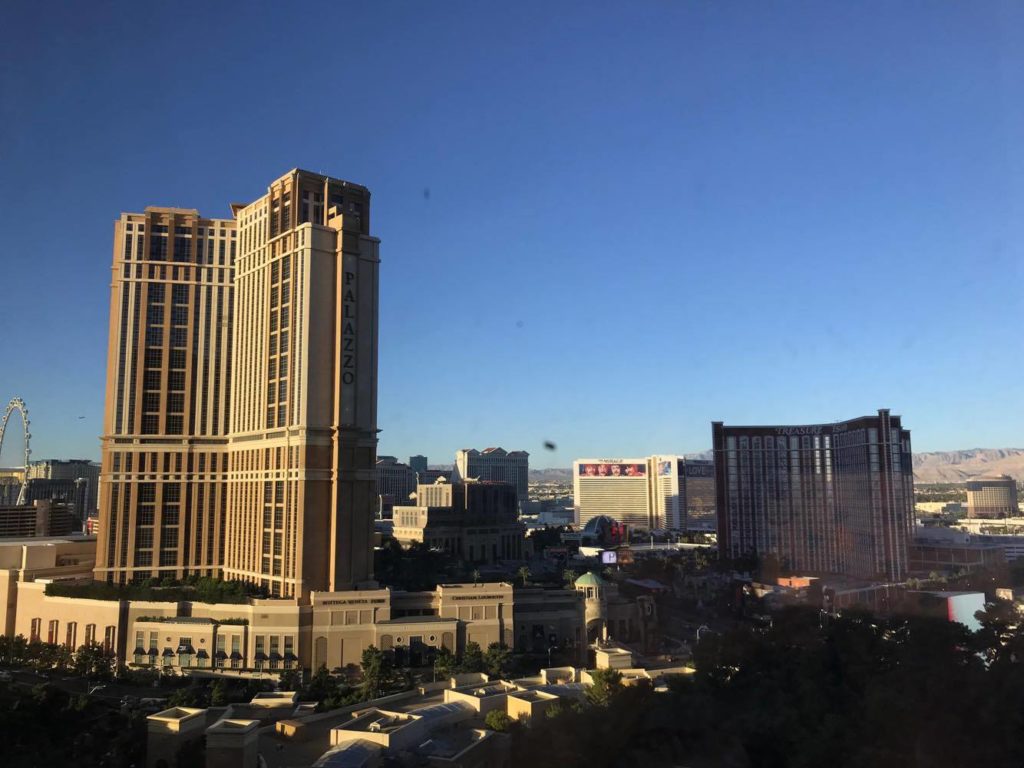 And because we're so fancy… here's my excited demo of the button push draperies.
After we unpacked, we headed downstairs to try to find some lunch. The person who checked us in had three different recommendations, we decided to go for Charlie's Bar & Grill, which was the sports bar near the main lobby/casino area. Overall, the food at the Wynn was quite expensive, but that was what we expected. The service and selection was very good everywhere we went within the Wynn property.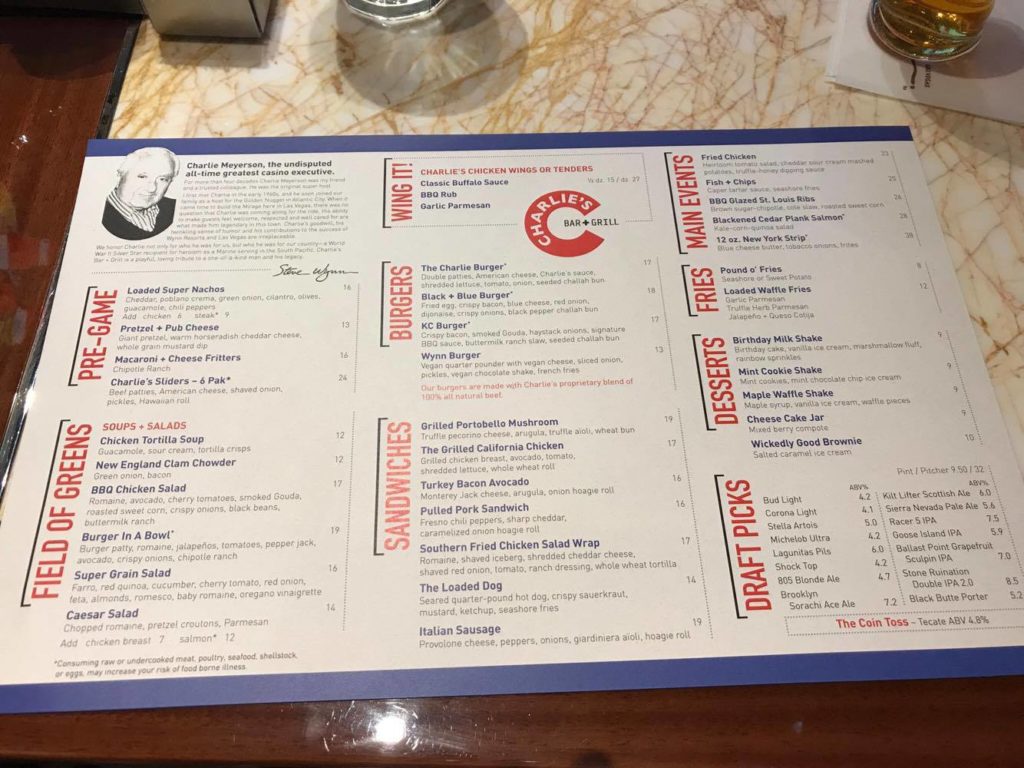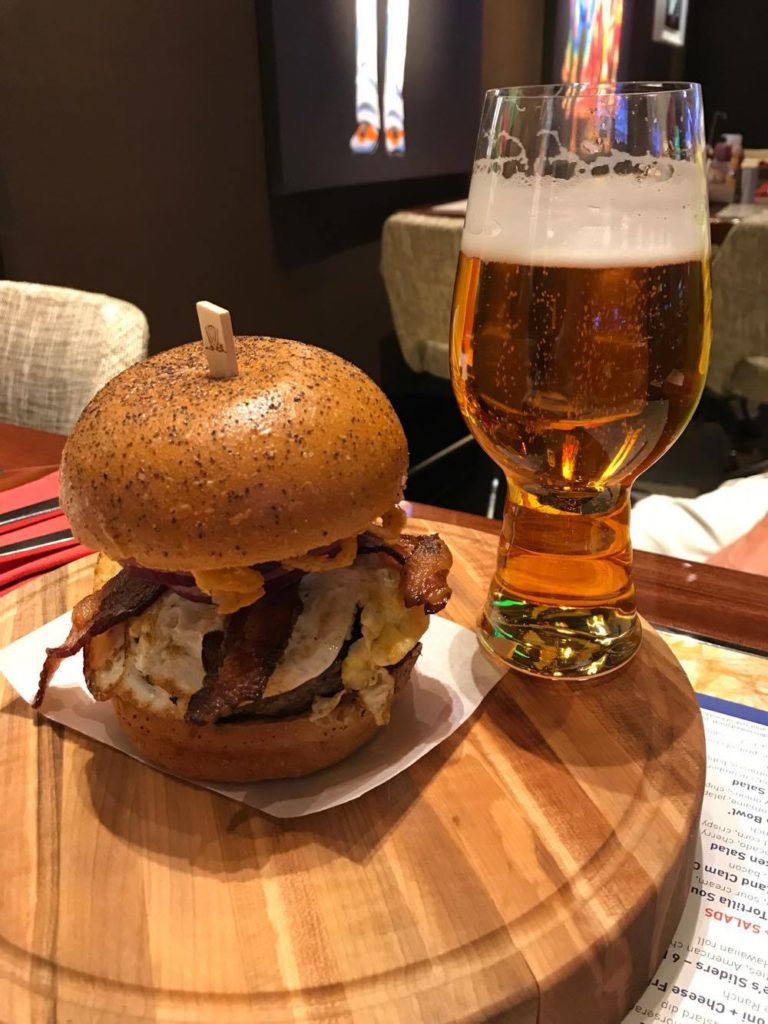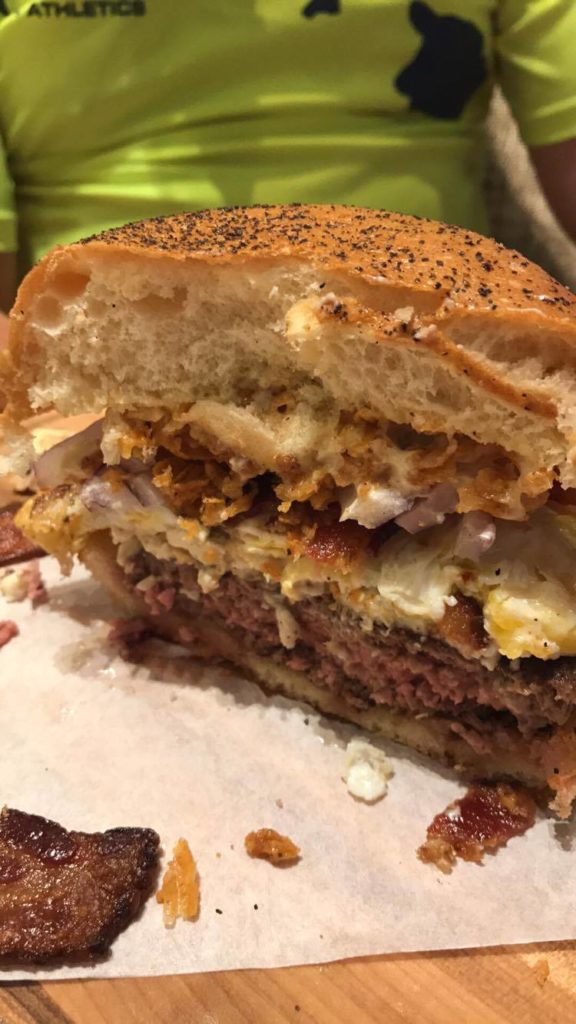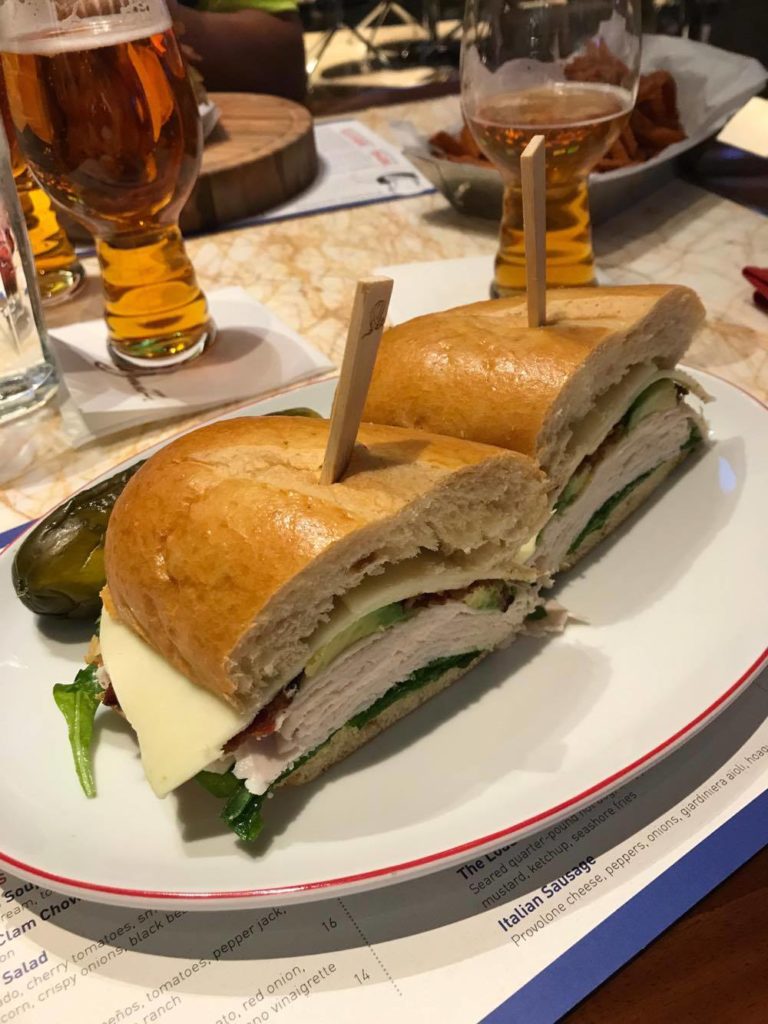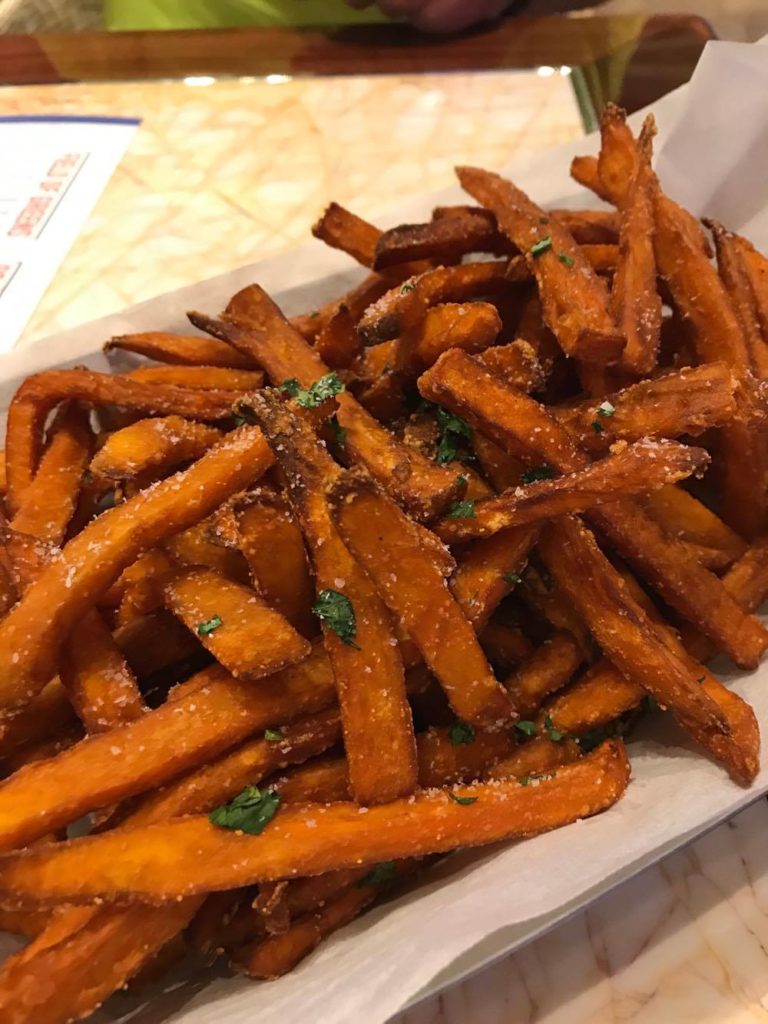 We would discover that, even though it wasn't the selection we were used to, Charlie's had the best beer selection of anywhere we ate over the entire trip. The one thing we noticed was that Vegas is severely lacking in decent microbrew selections. I find this puzzling, because California has some really good beers, as does the Northwest (both of which are fairly close to Vegas) yet we saw very little variety anywhere we went. The norm is definitely sweet mixed drinks or super cheap beer. I have heard from friends and family that the beer scene in Vegas is slowly up and coming, but certainly not at the rate of some other parts of the country. I'm sure there are brew pubs with better choices, but with our limited time we didn't find them.
After our lunch (which was very good and large), we headed across the street to the Fashion Show Mall. Our goal was to meet up with some friends and find some tickets for a show that night. We poked around in some stores while we were waiting for them to get there. We found quite a few very interesting pieces of clothing in Zara. We headed to Tix 4 Tonight as we have had good experiences with them in the past. They have discount tickets for many of the shows that night and the following night. Sometimes the discounts are big, sometimes not so much, but they are always at least a few dollars cheaper than box office prices. We were all up for some comedy, and we saw that Jay Leno was in town doing a one night only show at the Mirage, and none of us had seen him before so we decided to go. The show started at 10, so we had some time to wander around.
Our friends were hungry, so we decided to go to the Sugar Factory. What a fun place to go! The drinks…they were super fun and let me warn you: if they don't put a price on the menu and you don't ask, then it's your own fault if you get stuck paying for a $38 drink. It was pretty cool though! We got a Berry Bliss, it had multiple flavors of berry liqueur, gummy berries, and dry ice. Almost all of their drinks can be made non-alcoholic too.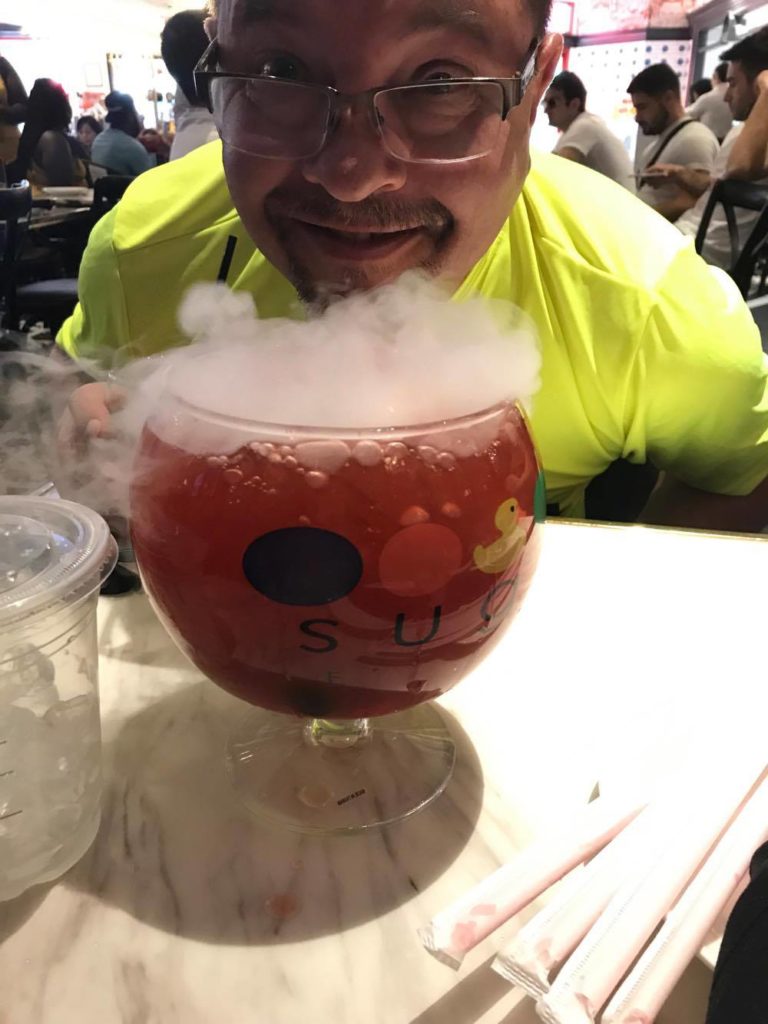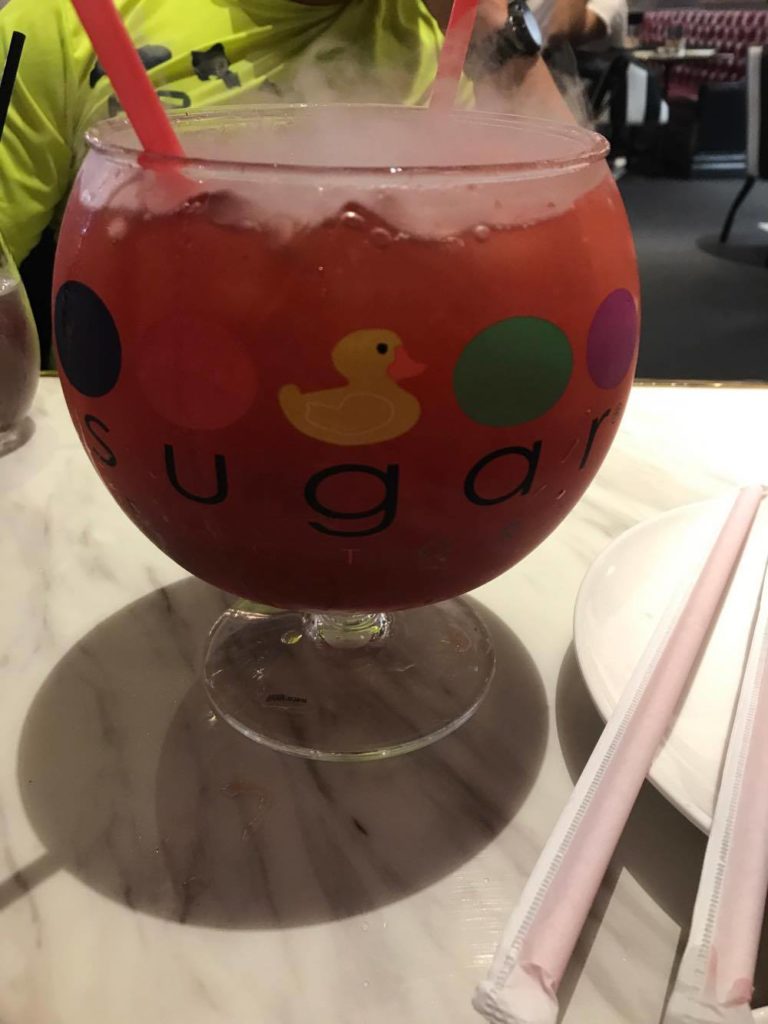 Our friends got the Rainbow Sliders and the Fish Tacos, both of which they said were pretty tasty.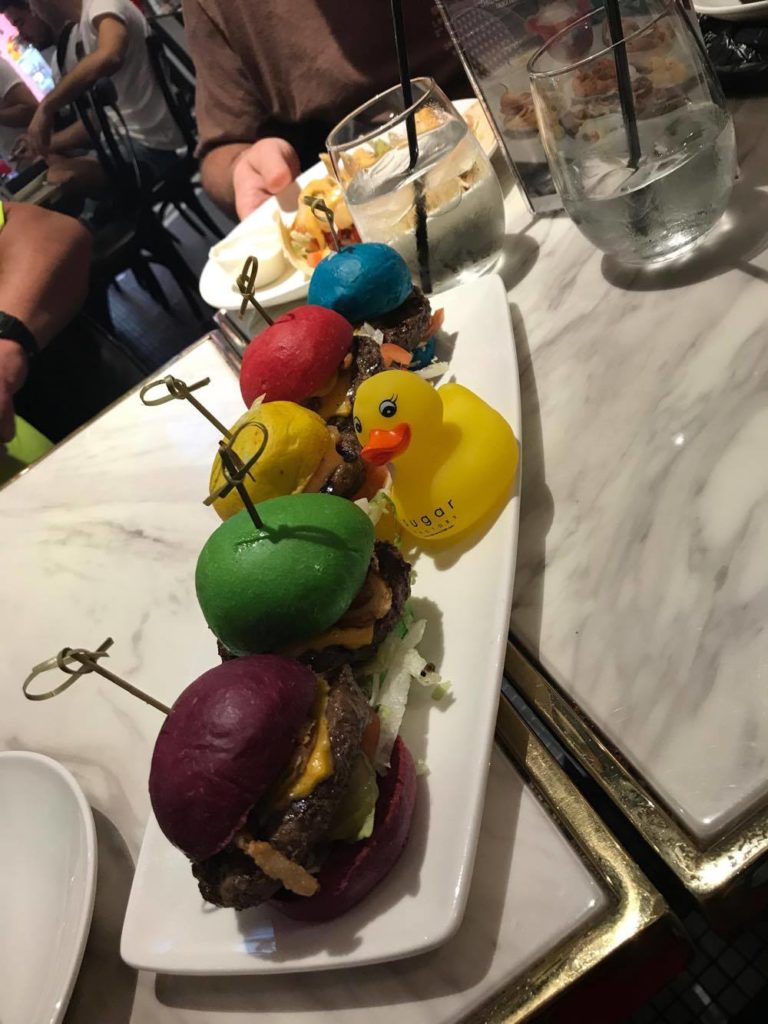 After we got over our shock at the price of our drink, we decided to walk down the Strip and see the sights. We walked through Treasure Island, The Mirage, and made our way down toward the Linq promenade. We checked out the High Roller wheel and found out that it is a half hour ride around and extremely pretty at night. You can add on a "Happy Half Hour" which is unlimited drinks during your trip around. We didn't end up going, but our friends did the next night.
All of us went back to our hotels for a couple of hours to shower and get ready for the show later that night. On our way back we saw this scary sight: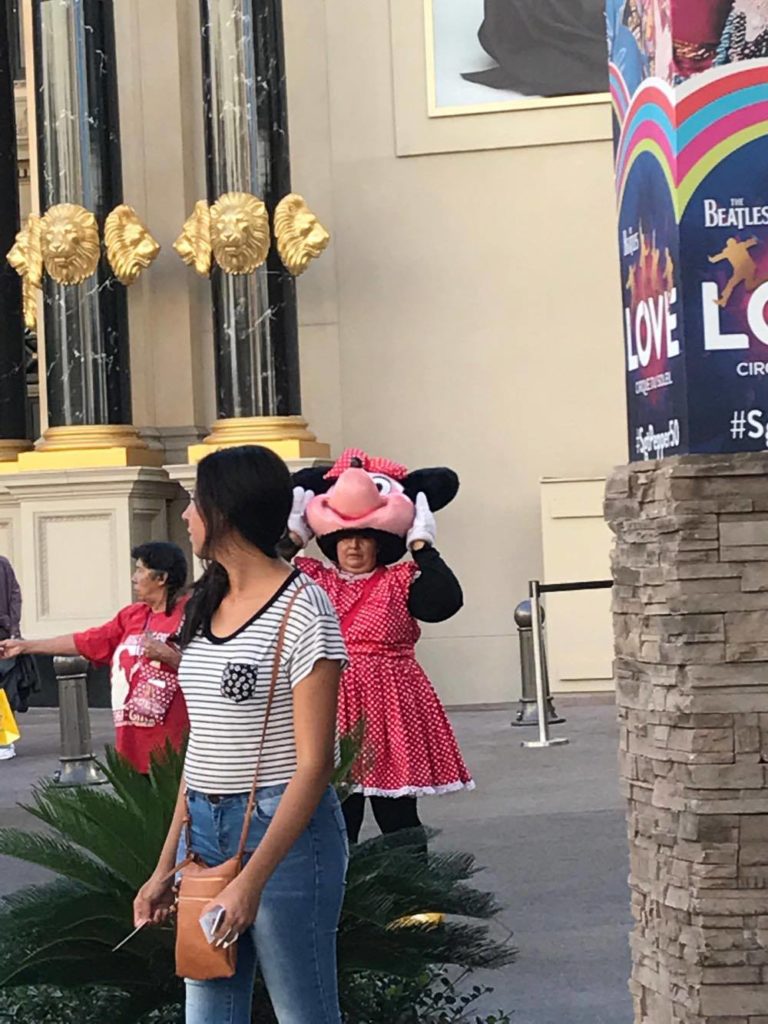 All of the fake Disney characters were incredibly cheesy looking, and Walt would be horrified to see that "Fake Minnie" had taken her head off. That's an absolute Disney NO NO, because these are supposed to be passing the illusion that they are real, not faking out poor unsuspecting children.
We headed over to the Mirage early so that we could watch the WSU/USC football game and get something to eat. We stopped at The Still which is a fun, interesting restaurant. After being seated at a table, you give your drink orders to the waitress and then you head to a food truck at the back of the place to order your food. You order and pay for the food there, they give you a number, and then they deliver it to your table.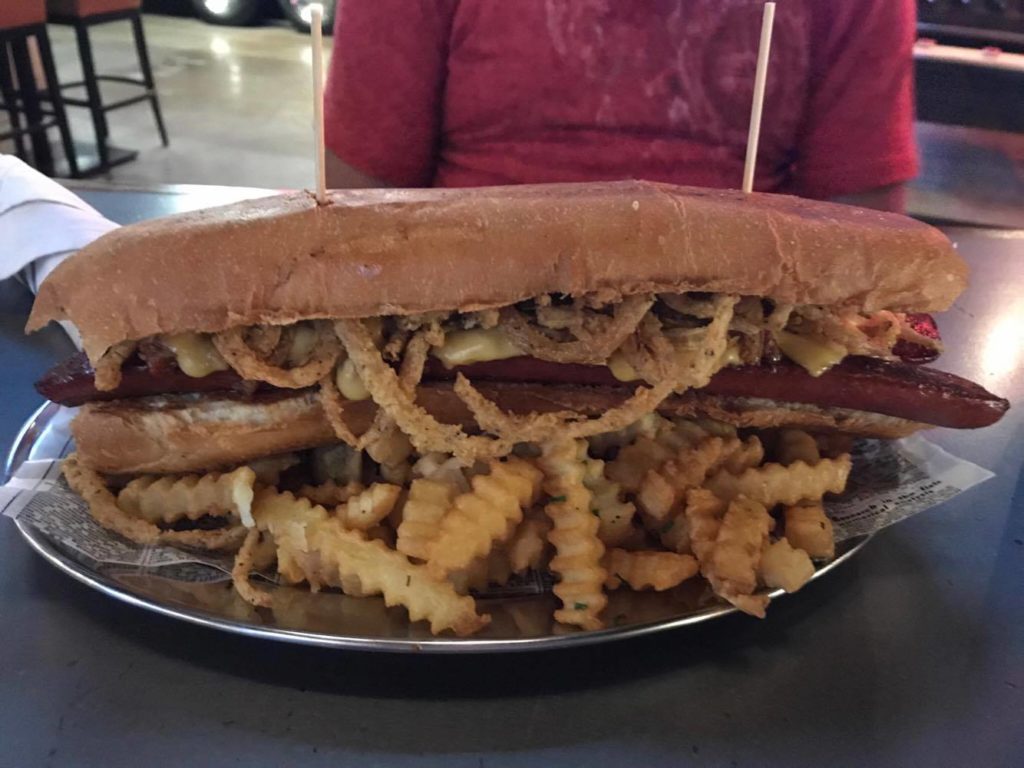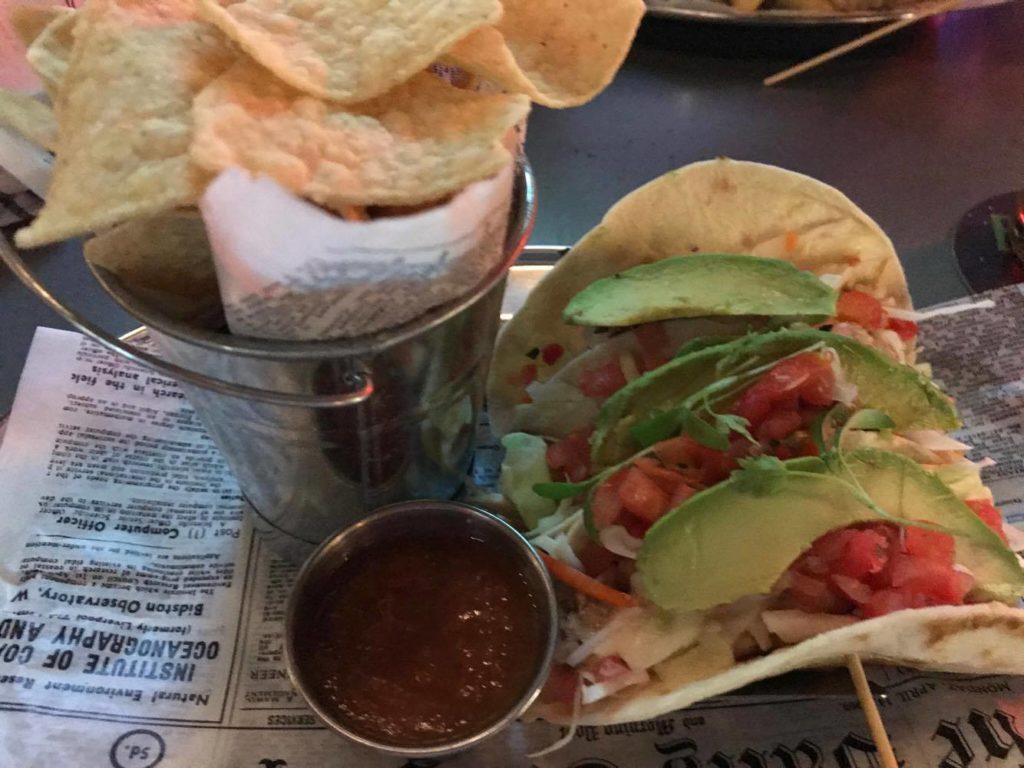 LeeRoy got the chili dog, which was giant and filled with crispy onion strings, cheese…but no chili that he could find. He said it was tasty, but thinking back he should have complained and asked about the chili. My fish tacos were fantastic, excellent flavor to the fish, tomatoes and avocado gave a burst of freshness.
After dinner we met up with our friends and headed to the theater. Jay Leno was a treat. He cracked joke after joke at a rapid pace for an hour and a half. A little bit of innuendo, but overall a pretty clean show, which is pretty refreshing for Vegas comedy. He was totally delightful and I would definitely go see him again if I had the opportunity. He had a good mix of current events with random everyday observations.
Saturday Highlights:
We got up and headed out to breakfast at the Terrace Pointe Cafe, which has both indoor and outdoor seating. We chose to wait for the outdoor seating.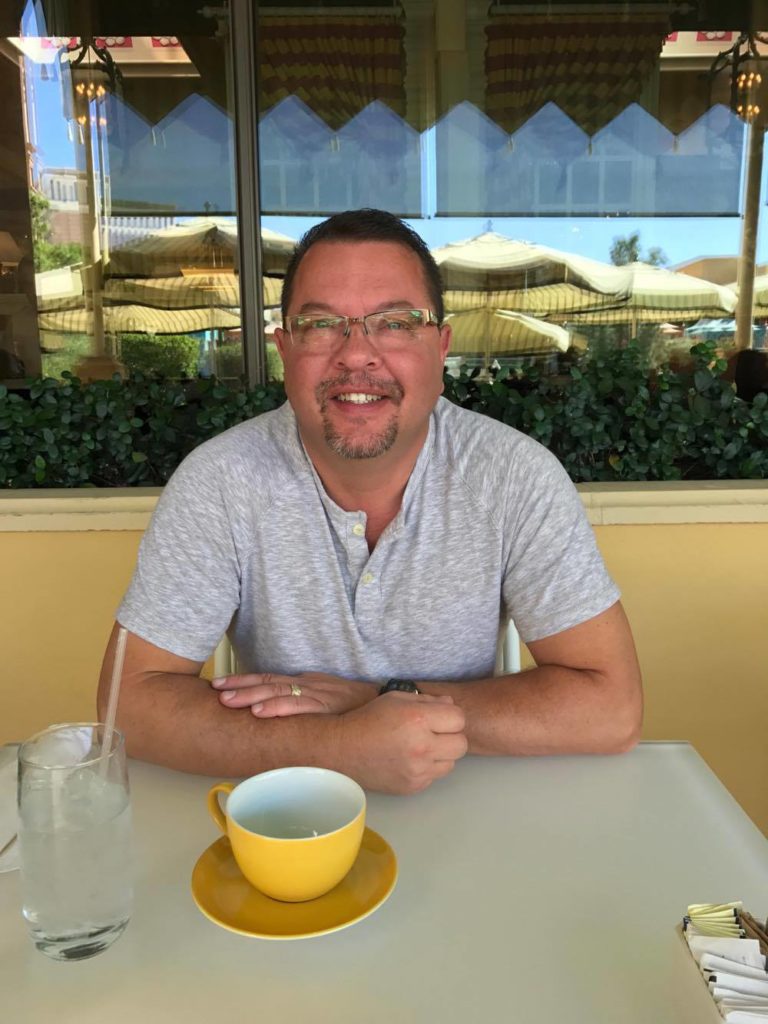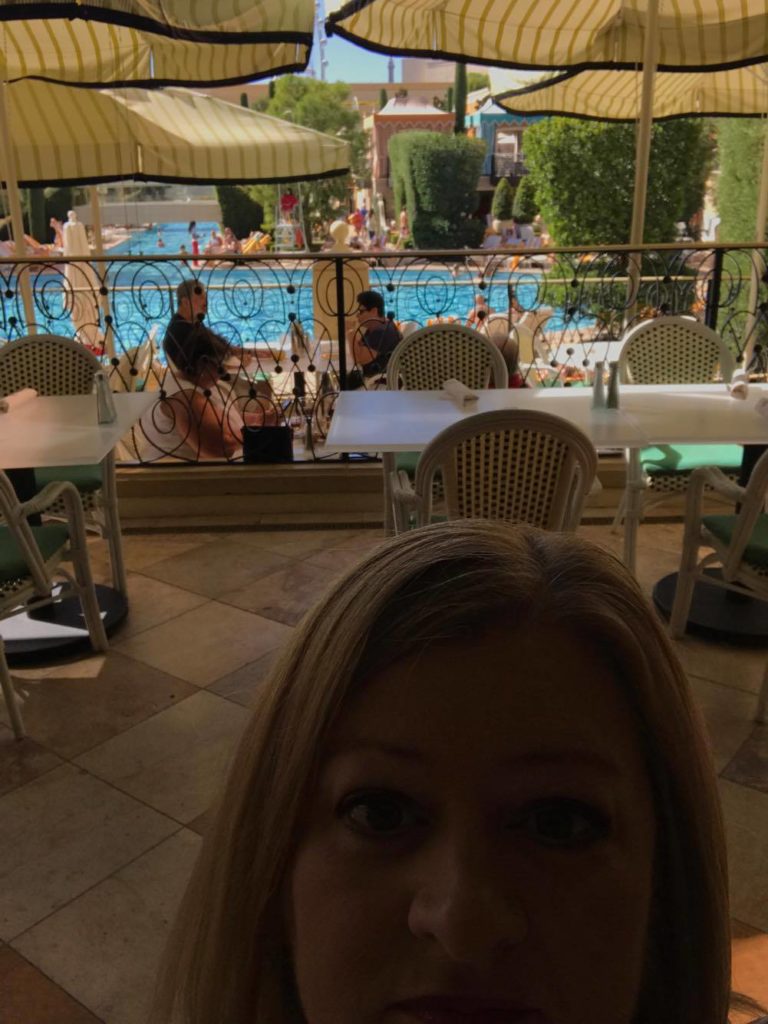 Fun to eat by the poolside, even if it meant we had to deal with smoke (that's a downside of Vegas everywhere if you're not a smoker, there's no escape).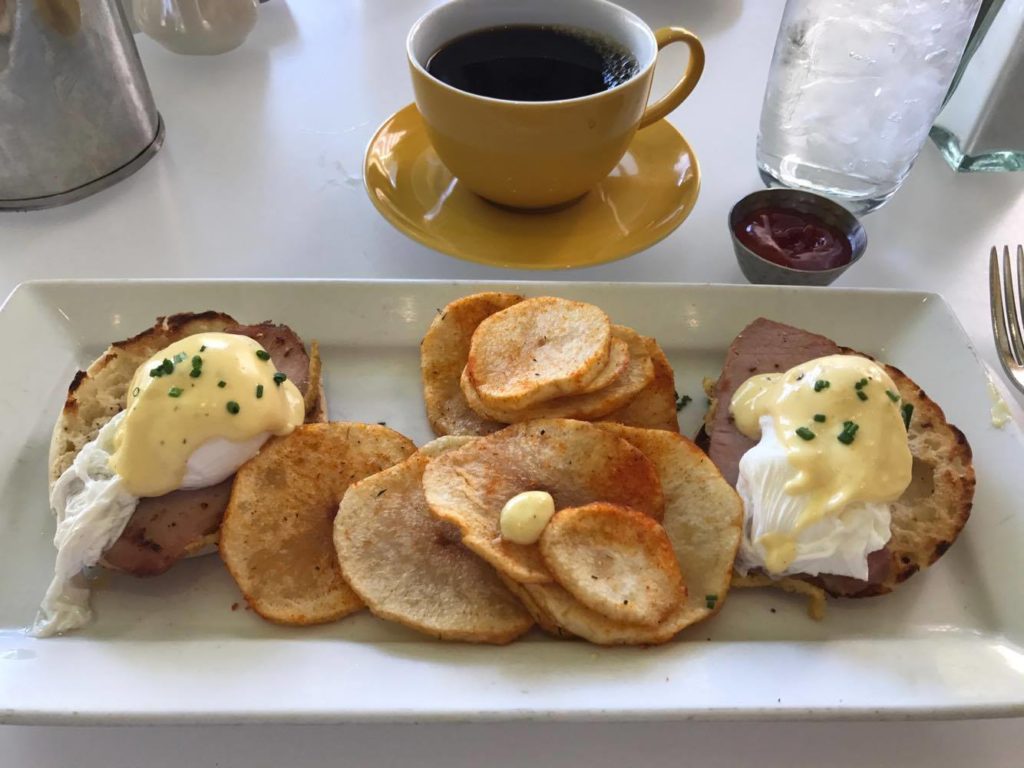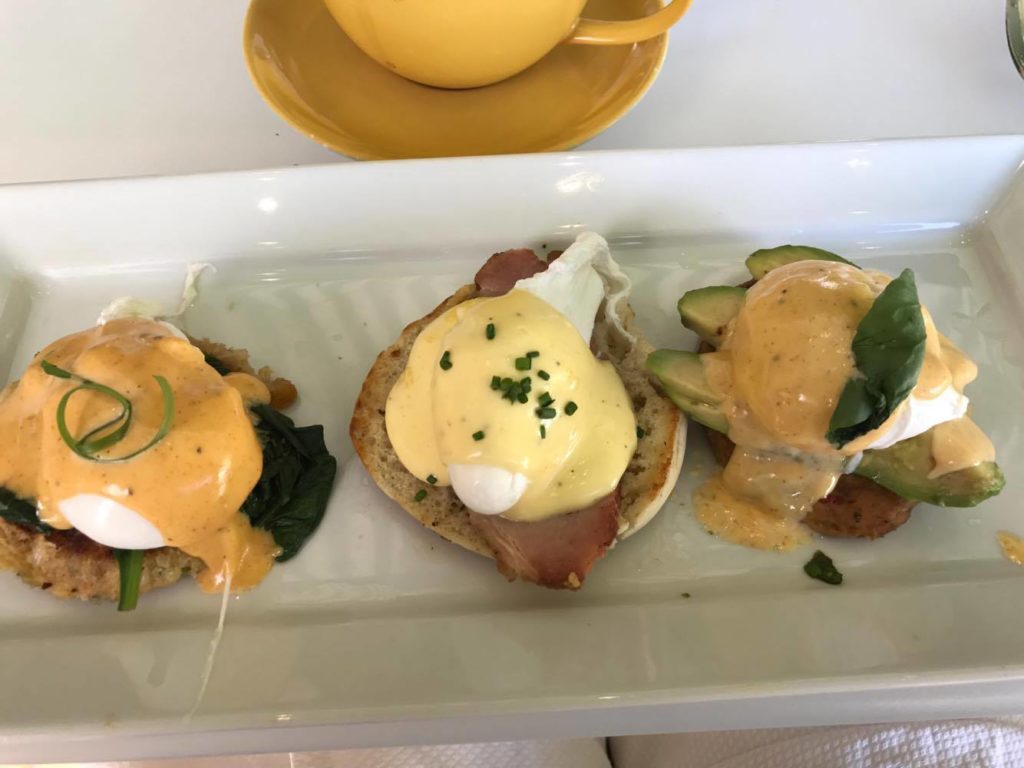 LeeRoy got the traditional Eggs Benedict which he really enjoyed, and I had the trio, which was amazing. The far left was on a crab cake with spinach, and the far right was on a turkey patty with avocado. Such a unique twist and the crab cake one was my favorite.
After that, we walked around the hotel and checked out some of the sights, then we camped on the patio off of the registration and read our books for a while.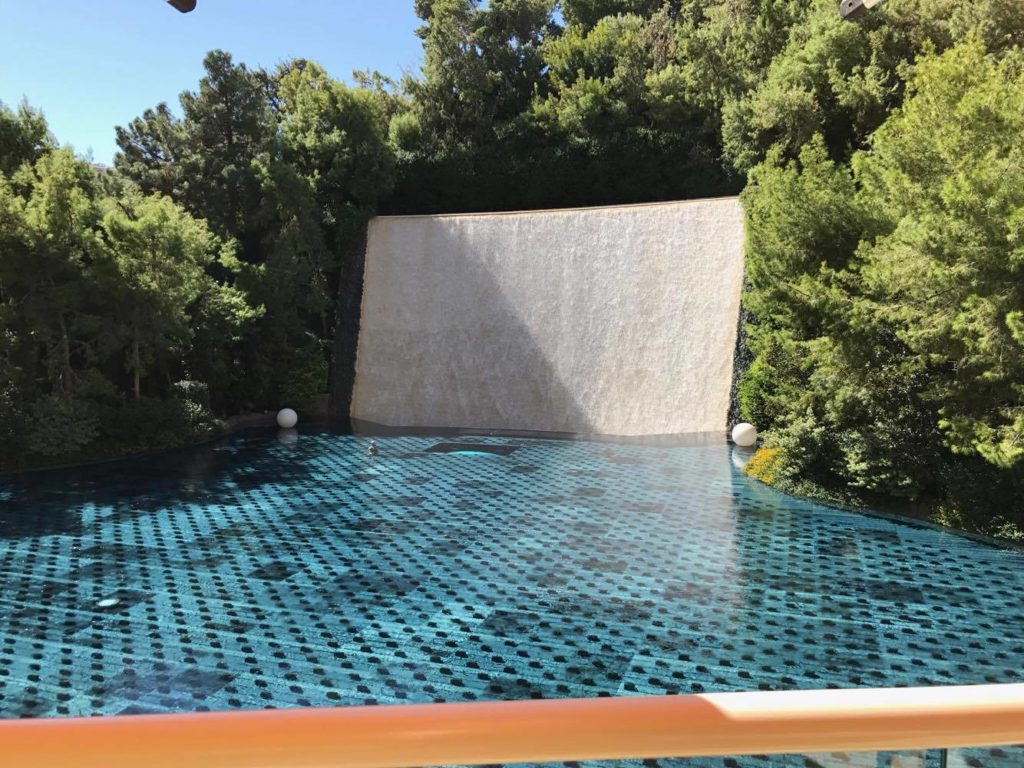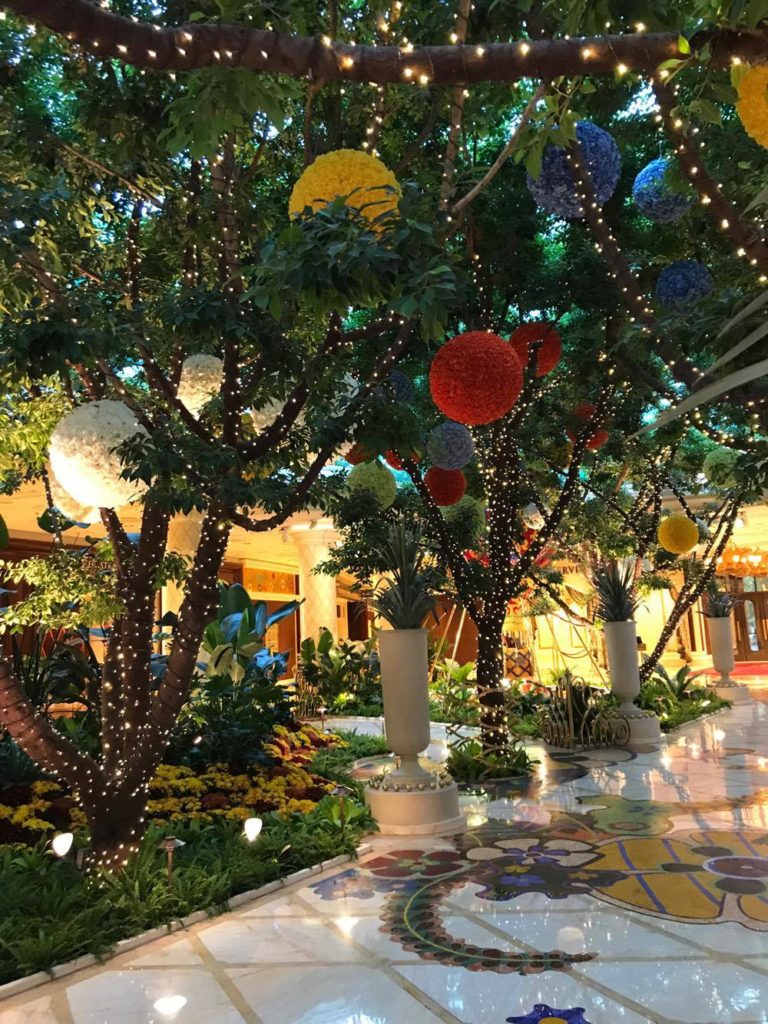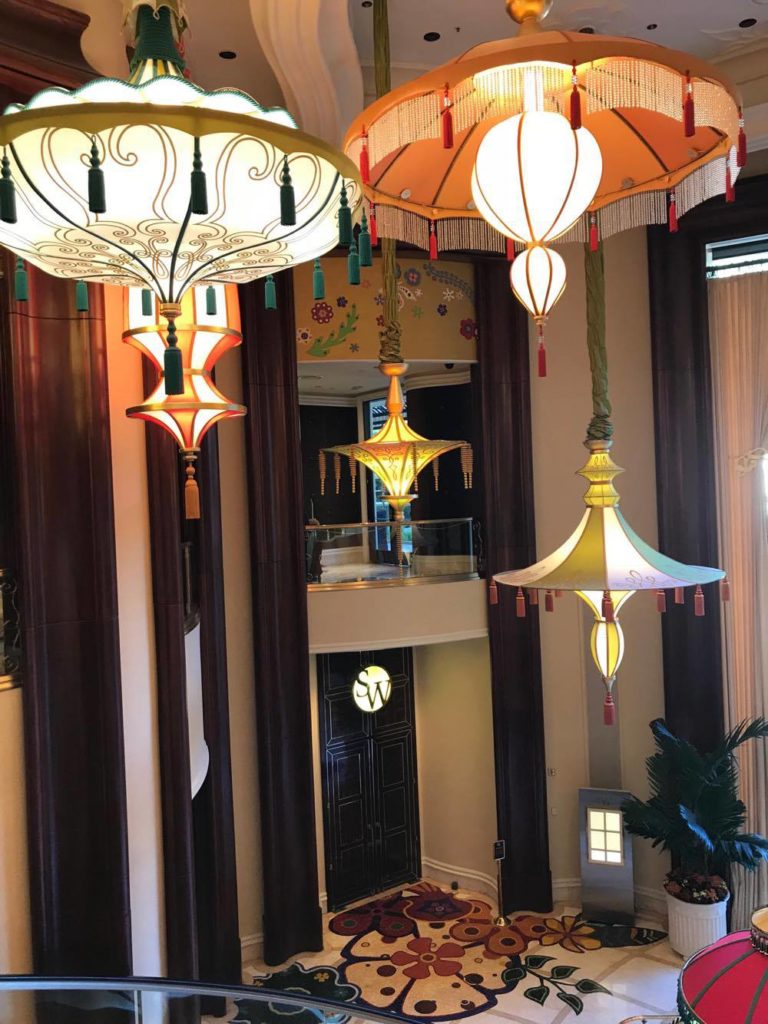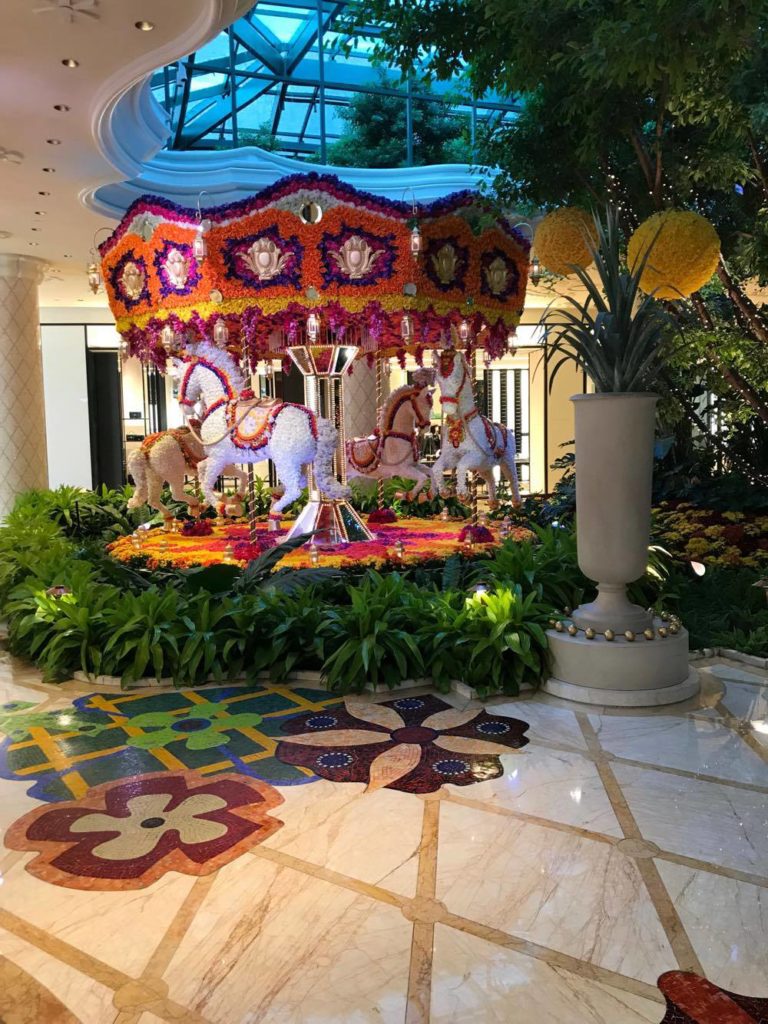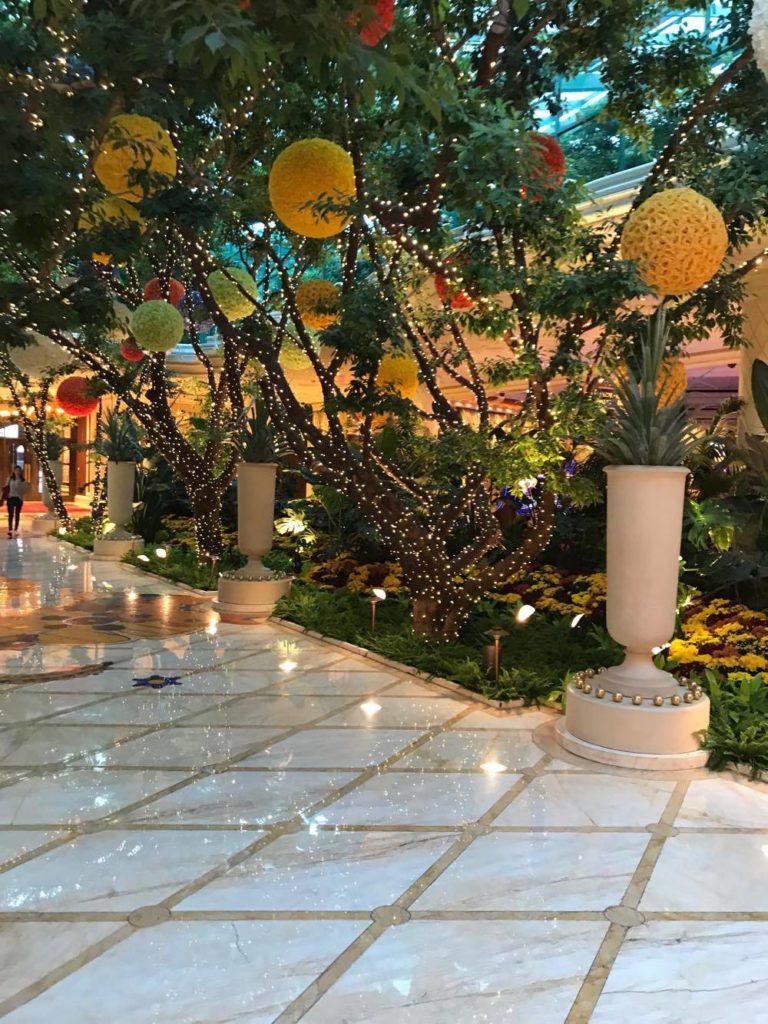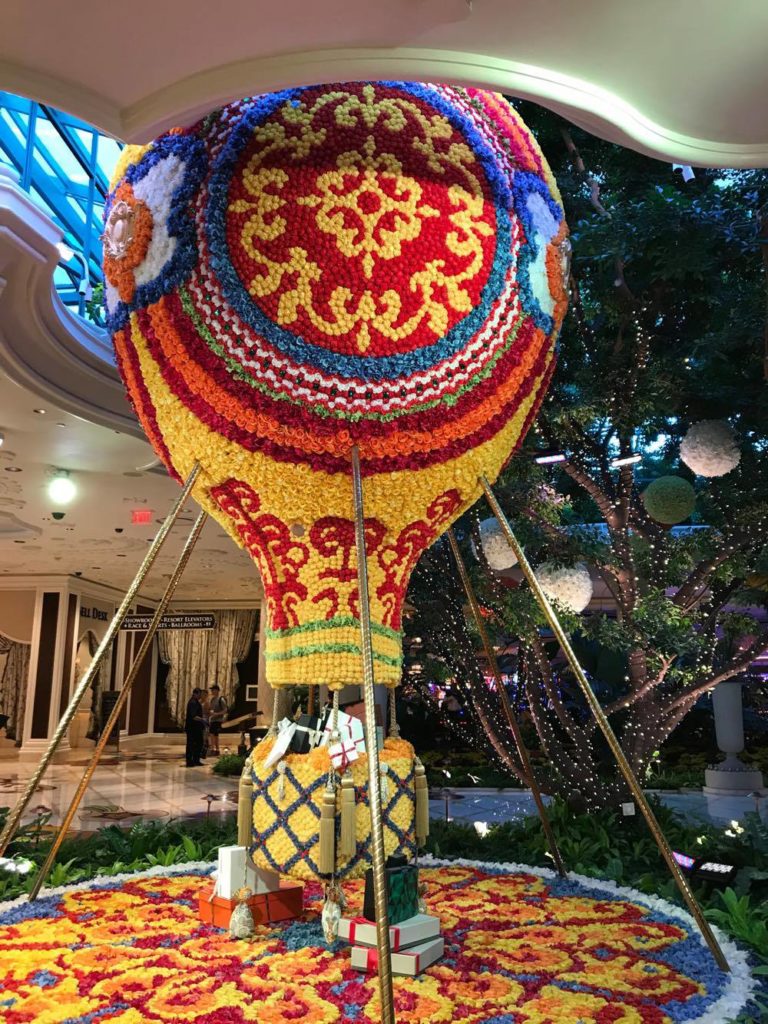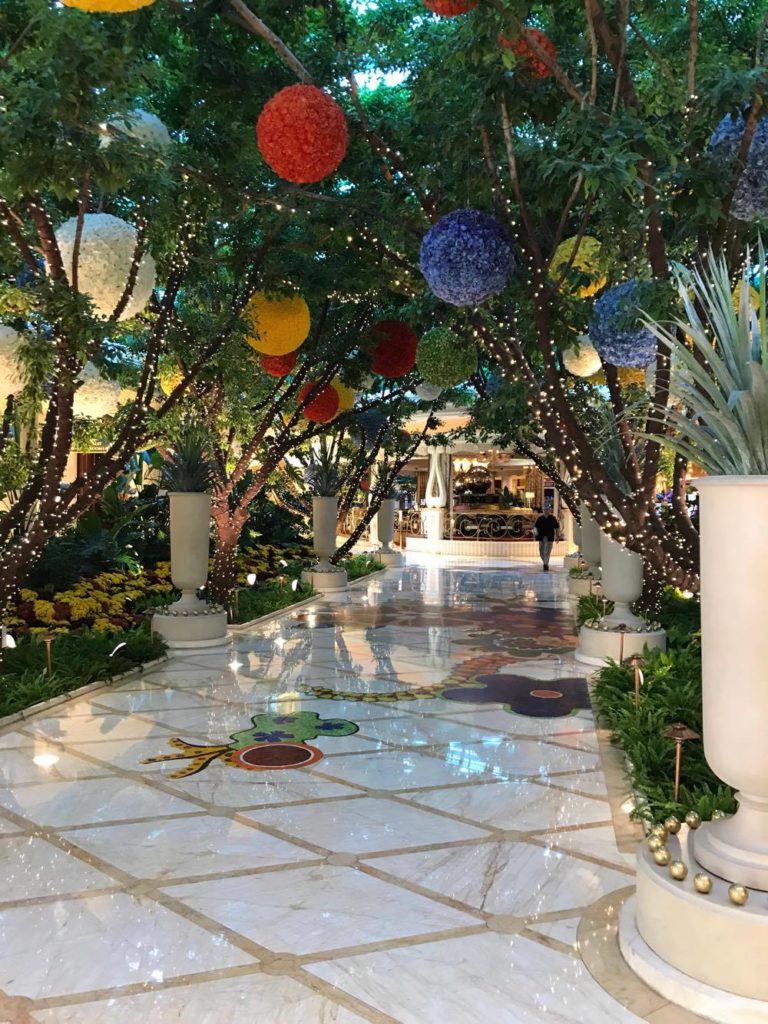 The reason we came to Vegas was for LeeRoy's company manager's meeting, and that included dinner each night. Saturday night we ate at Nacho Daddy in the Miracle Mile shops at Planet Hollywood hotel. I didn't take any photos, our dinner was kind of like an appetizer buffet. The barbecue chicken nachos were my favorite, lots of flavor and the queso was fantastic. It's a very casual restaurant, I'd like to go back someday and try a full meal. After dinner we decided to go find a show to watch. We stopped by the Tix 4 Tonight booth, but the lines were super long. We considered going to Brad Garrett's Comedy Club in the MGM, but after looking further into it we found that the headliner that night was Mike Tyson, and we didn't really think we could listen to him for an entire show. We decided just to go to the Tropicana and buy tickets for the Laugh Factory show there. Here are some photos I took on our walk down: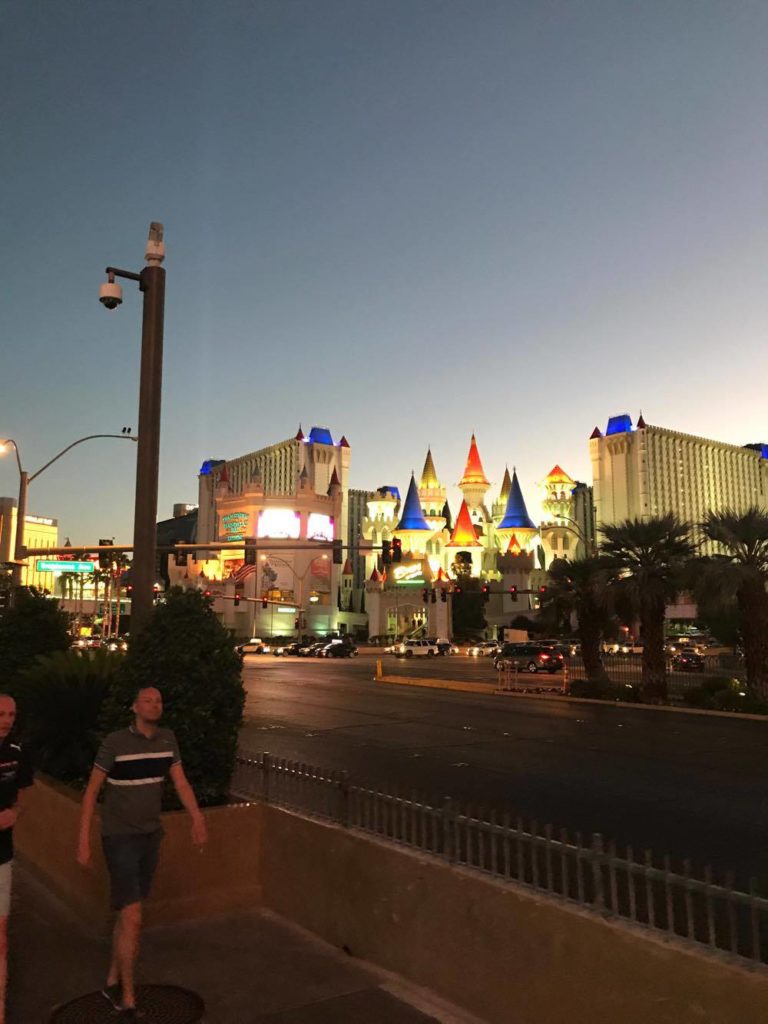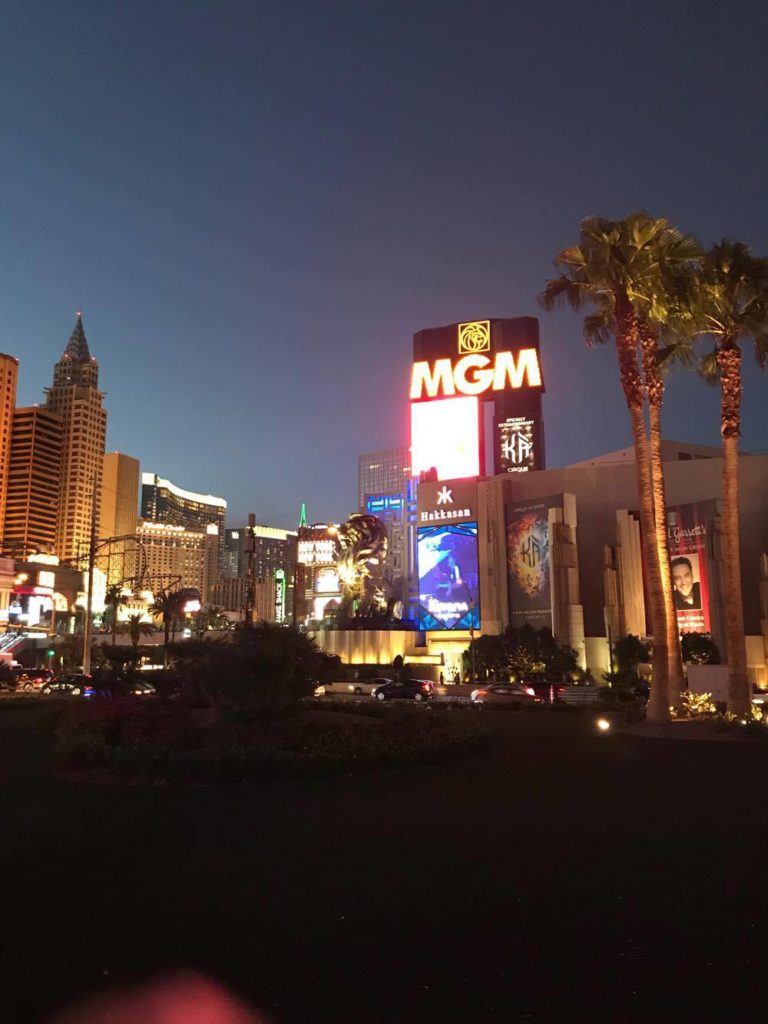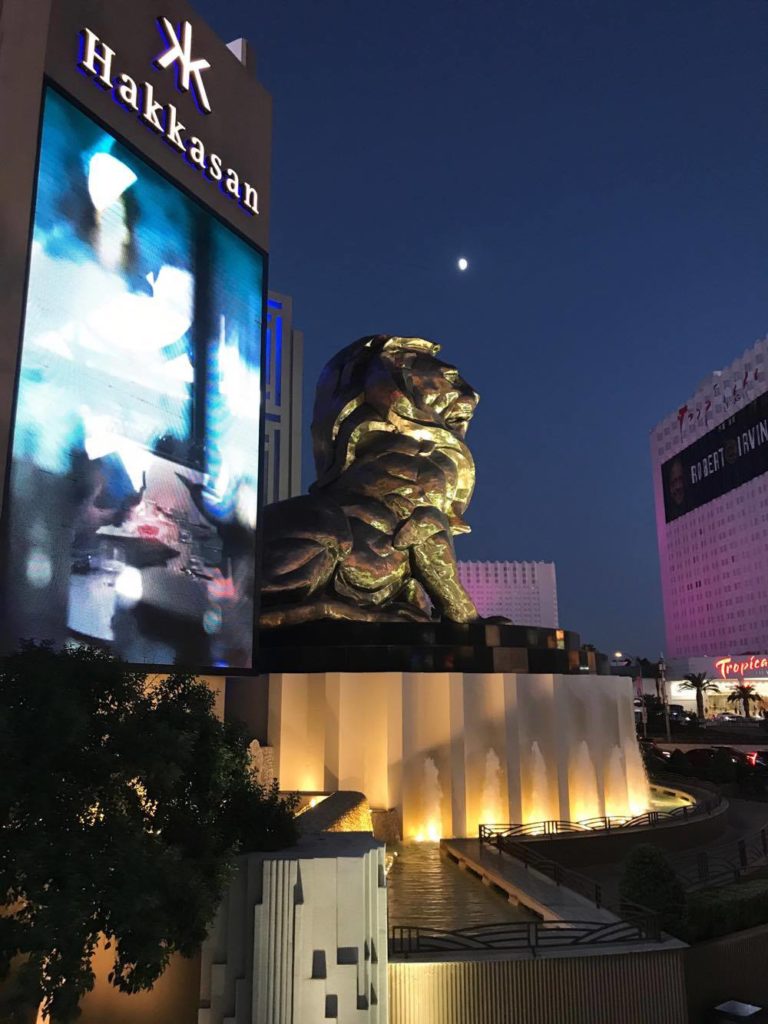 We had a little while before our show, so we hung out in the lobby bar at the Tropicana which, unfortunately, has really seen better days. The decor is a bit stuck in the 80s and could definitely use an update. We ordered wine, which was a huge mistake. Our first glass was totally undrinkable, and they said "Oh, we just don't know how long the bottle has been open" so they gave us glasses from a new bottle–ugh, still bad. We ended up just leaving them because it wasn't worth the hassle.
Due to our early arrival we got a font row table at the Laugh Factory, which we shared with a newlywed couple from Dallas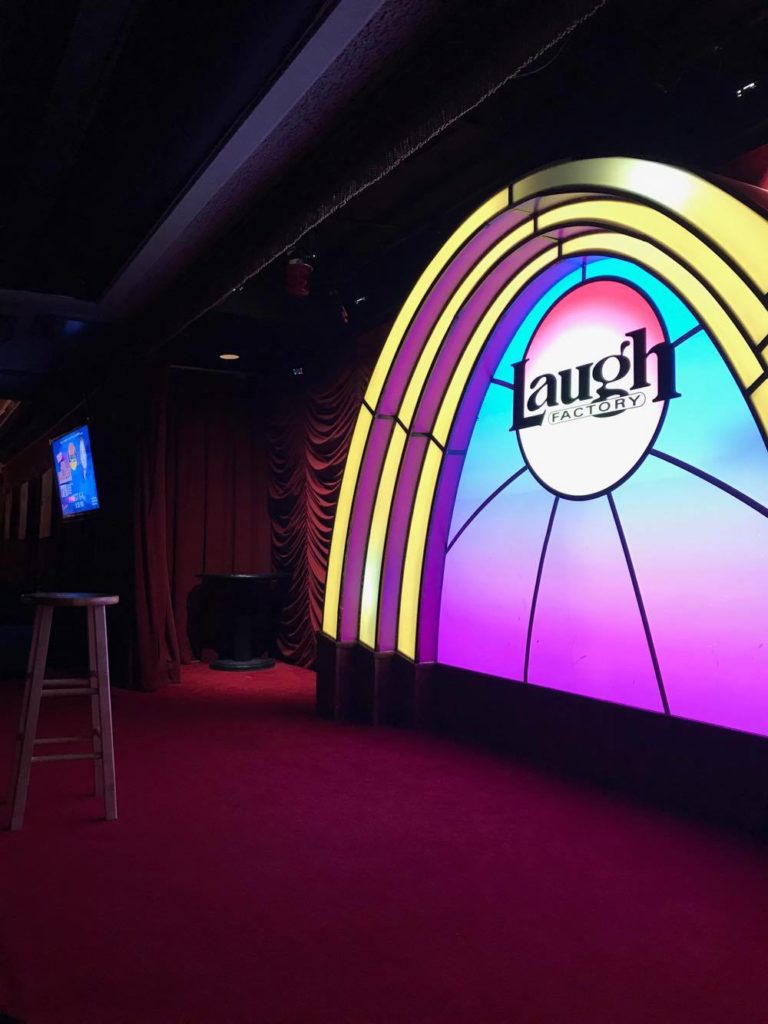 There were three comedians, definitely not a family show, but hilarious all the same. I was afraid that being in the front row would mean they would pick on us, but they didn't thank goodness. The tickets were fairly affordable, so if you're looking for something funny and aren't afraid of adult content, The Laugh Factory would be a good choice. After we got back to our hotel, we were starving (remember: appetizers for dinner) so we went to Allegro Restaurant in the Wynn. Oh my, the food was amazing. Not sure if it was because we were so hungry, or because the food was good (probably both) but I had seafood risotto and the mussels, clams, scallops, and fish with it were cooked perfectly–tender, not rubbery or chewy which is always my fear. LeeRoy had the lasagna which also was fabulous. I left my phone in the room so we could have a quiet dinner, but regretted not being able to take photos because the food was beautiful as well as delectable.
Sunday Highlights:
Sunday morning, LeeRoy had a meeting so I went to breakfast at the Terrace Pointe Cafe. I had the homemade granola with fresh berries and Greek yogurt: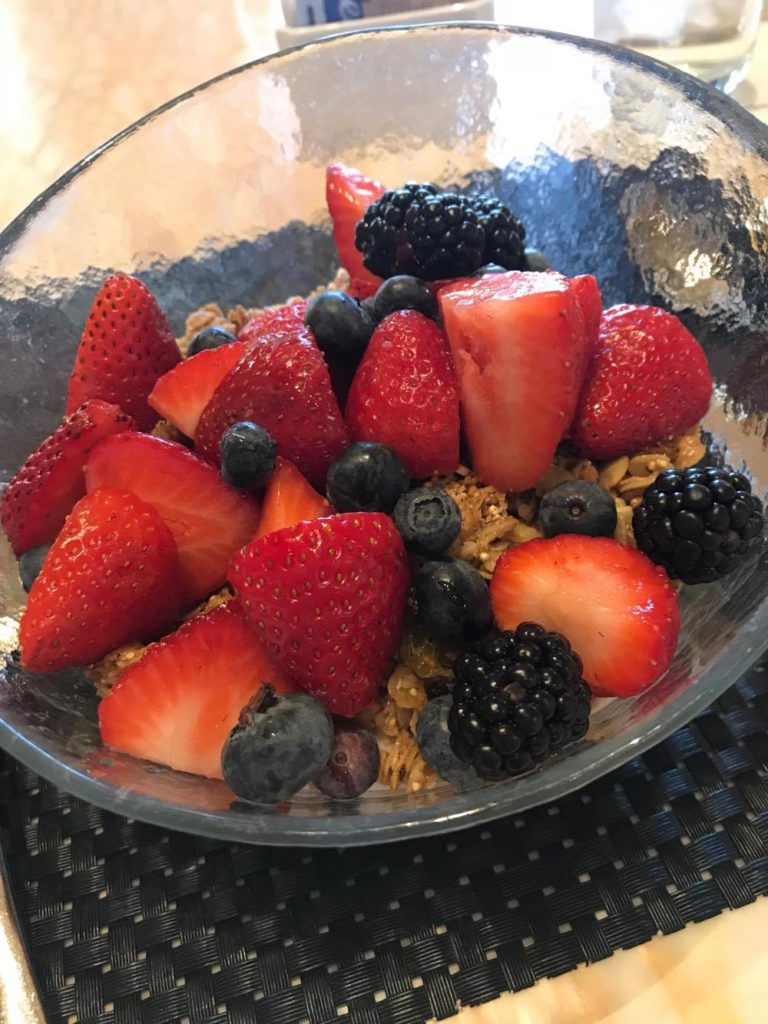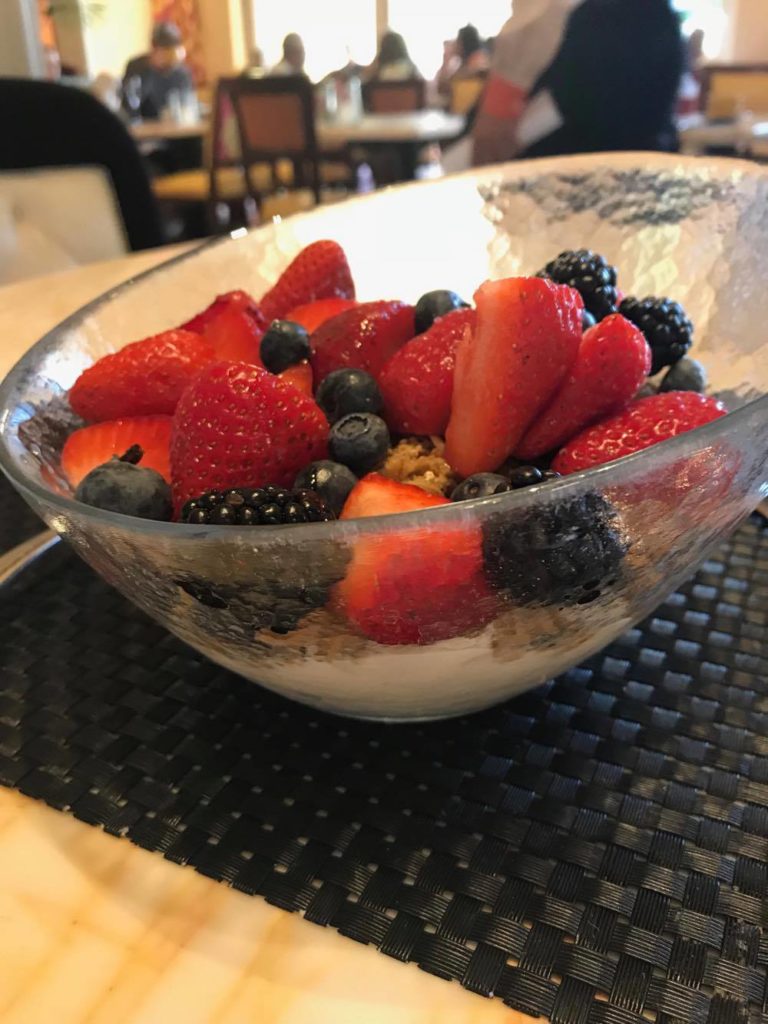 It was so good and so filling–packed with pumpkin seeds, dried cranberries, and had amazing flavor. I loved it so much I had it again on Monday morning for breakfast.
After the meeting was over, the company had rented two cabanas out by the pool, so that's how we spent most of the rest of the day. We lounged in the sun and hung out in the pool, had some drinks and food, it was an amazingly relaxing day. The pool at the Wynn is probably the best hotel pool I've ever experienced. It is SO big that there is no shortage of chairs right next to the pool. I have never been anywhere where you didn't have to fight for lounge chairs, this was a first and made the experience so much better.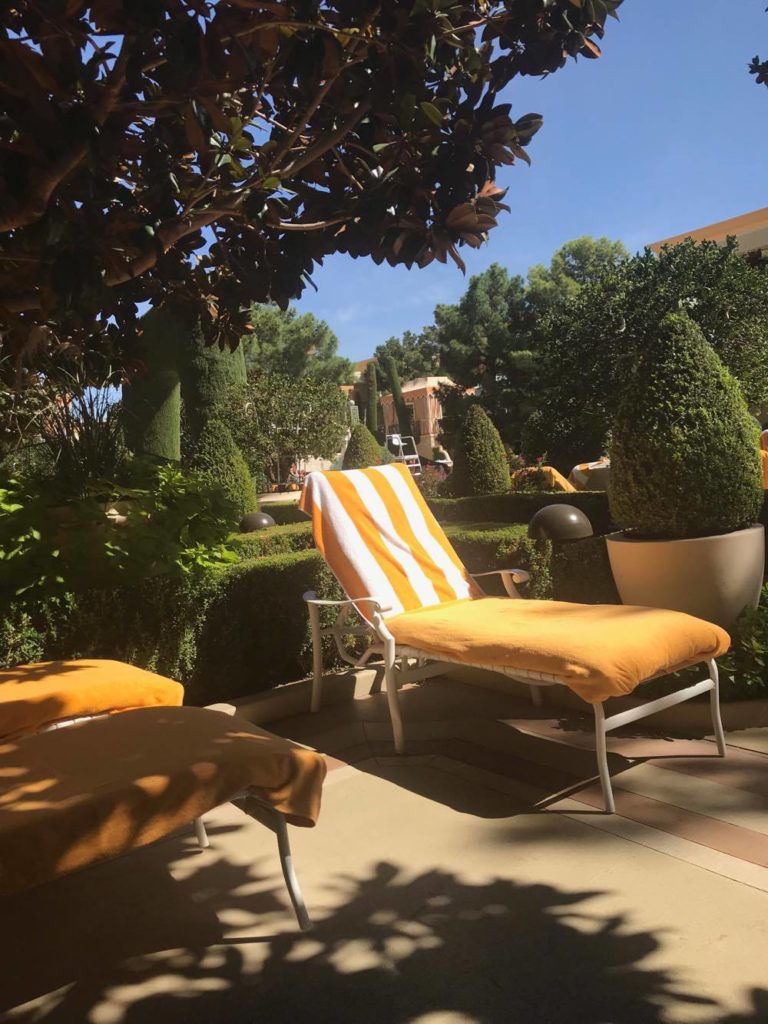 Our dinner this night was at Margaritaville, where we had the upstairs to ourselves. The restaurant was ok, nothing spectacular. For the second year in a row, LeeRoy left his phone in the cab, so we had some serious maneuvering to do in order to get it back. Thank goodness for honest people turning it in to the cab driver. I didn't take any photos of the food, but I had the jambalaya (not good, about 95% rice) and LeeRoy had ribs (sweet and tough). The key lime pie for dessert was good though. After the meal, the Seahawks game had started and we weren't gung ho to stay in the restaurant to watch. We decided to walk back and see if we could find a place to watch the game along the way. We were attempting to find a place that had both the game playing and a decent beer selection, but alas, we had to settle yet again for the game plus mediocre beer choices in the Venetian.
Made it back to our hotel around 9:30, got ready for bed because we were fairly worn out. Turned the lights off around 10:15. Both of us turned our phone ringers off. Noticed that we heard lots and lots of sirens right as we were turning out the lights, but thought, "hey, this is Vegas, sirens are pretty normal."
The Bad Part of our Trip
At 12:15 AM I woke up to hear LeeRoy talking. My first thought was that he was talking in his sleep, but then he stood up and started talking louder. He said "No, we are at the other end of the Strip. We were asleep." He then hangs up the phone and said that it was our son Logan, saying that there was a shooting down at the Mandalay Bay. My first thought was "That is where Andrea and Robert are staying!" We turned on the TV and the news ended up being much worse than a shooting at the Mandalay Bay. Logan had finally gotten through to us on LeeRoy's work phone, the only phone that we didn't turn the ringer off. Both of our phones had multiple missed calls, texts, Facebook messages and everyone was frantic with worry that something had happened to us. We called my mom and Grace, the two most worried, and assured them that we were ok, and found out that Andrea and Robert were at the Jason Aldean concert and had witnessed many people being shot. I received a text message from Andrea saying that a woman had been shot in the face right in front of them. They hid at first, and then ran for their lives as the bullets were raining all around them. They were able to run to a safe place where their daughter Sarah came and picked them up.
Later, we found out that Andrea had called my mom as they were running away, frantically telling her that they had escaped but the shooting was still active at that point. We watched the news for another two hours after that, as the shooter's location was discovered and he was found dead. It was just utter chaos, no one knew if he was acting alone, no one knew if there were others running around the Strip with guns. Rumors were flying hot and heavy on social media. We later (the next morning) discovered that many of our group had stayed behind to watch the game on that end of the Strip and ended up being locked down inside of restaurants and hotels for many hours until the all clear was given for them to return.
After I was assured that Andrea and Robert were back home and physically safe, had assured friends and family that we were all right, we were able to fall into a fitful sleep for a few hours.
Monday–the aftermath
LeeRoy had to go to a meeting Monday morning. We went down to breakfast but neither of us were very hungry. I talked with Andrea and told her we would find a way to their house, but she said they had quite a few things to do. Eventually they received a call that they were cleared to return to the Mandalay Bay to gather their things and get their car. She sent me these photos taken from their room: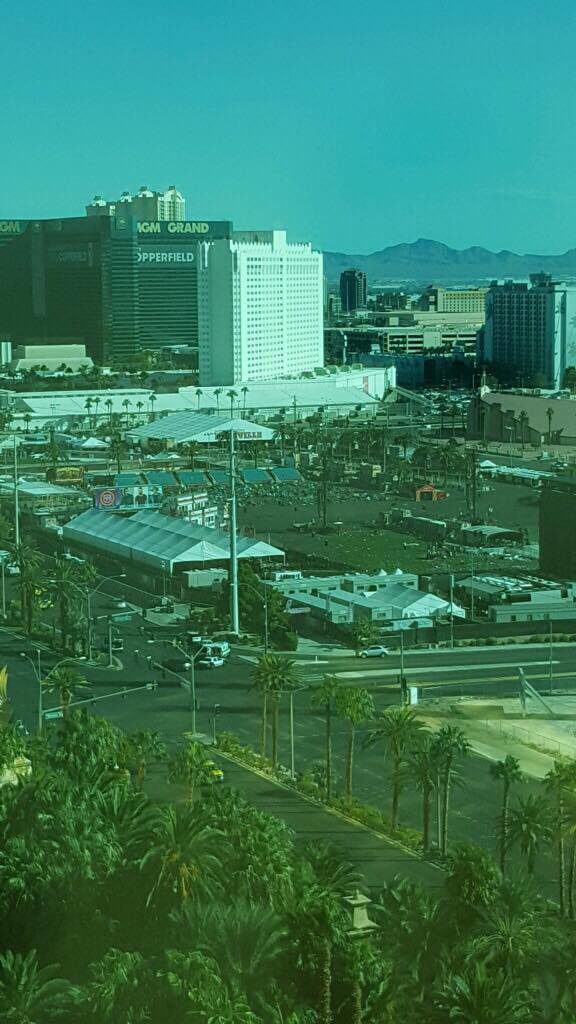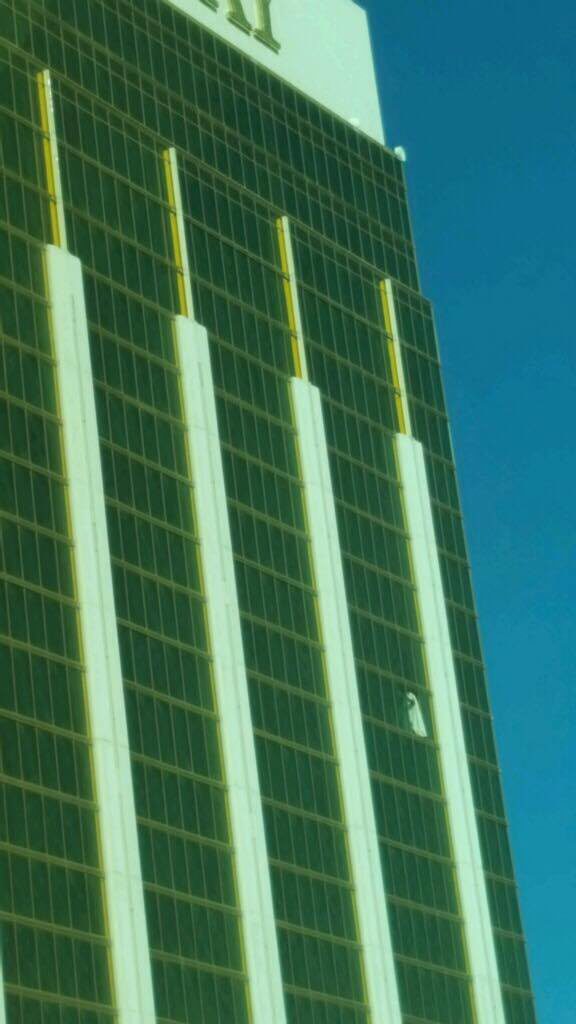 This was a horrendous, frightening time for them. Yet, the human brain is so self-preserving that Andrea admits that she doesn't remember very much. She and Robert have gone to meet with a trauma counselor, but this is not an immediate recovery. As their brains attempt to process what they saw, they have strange flashbacks and visions that don't make sense. The terror of being in that situation is unimaginable to me, and at this point it is fairly unimaginable to them as well.
We spent the entire afternoon out by the pool, trying to settle our minds and thoughts. Praying for those who were affected, trying to make some sense out of something that was so senseless.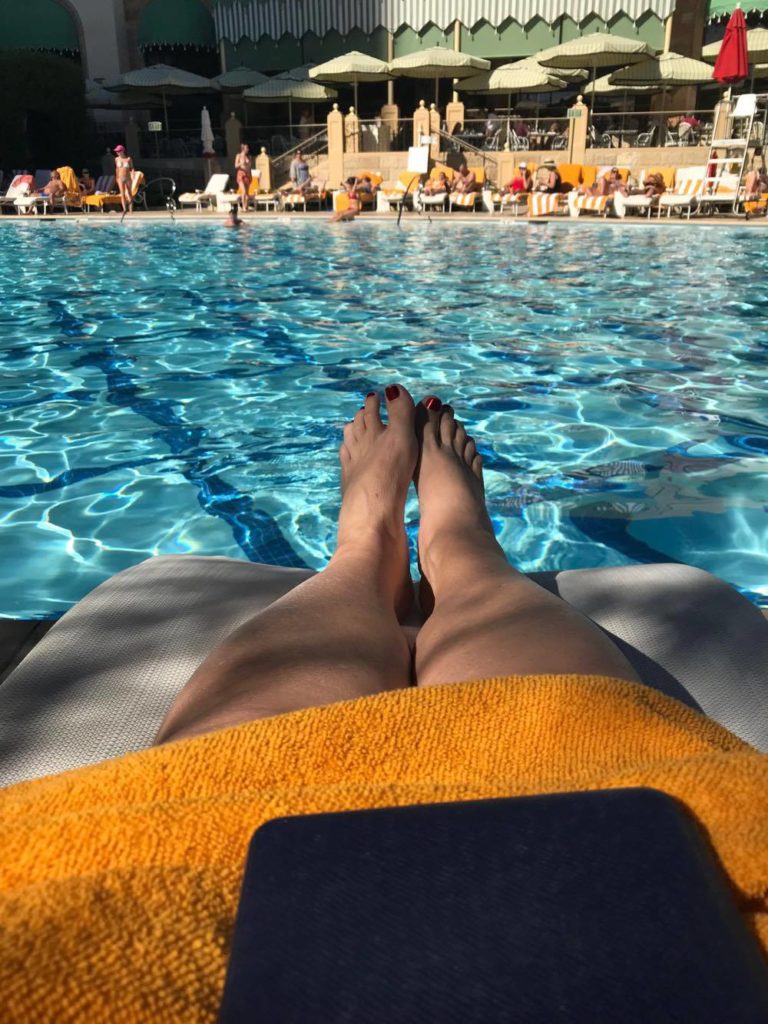 Monday night we had our last company dinner, it was held at the Hash House a go go in the Linq. The walk down there was somber. There were police and police vehicles lined up and down both sides of the Strip. They were stationed at the entrance to each casino and parking garage. Most hotels, including the Wynn, had stations set up at every door to check all bags, and they had employees with metal detecting wands scanning each person before they were allowed in the door. I'm sure fears of copycats were at the forefront of everyone's minds.
Hash House had really excellent food. It was nice to be in the company of friends and spend time together after such a harrowing night. The portions of food are HUGE, and they even dialed them down a little for us (especially the desserts according to our wait staff).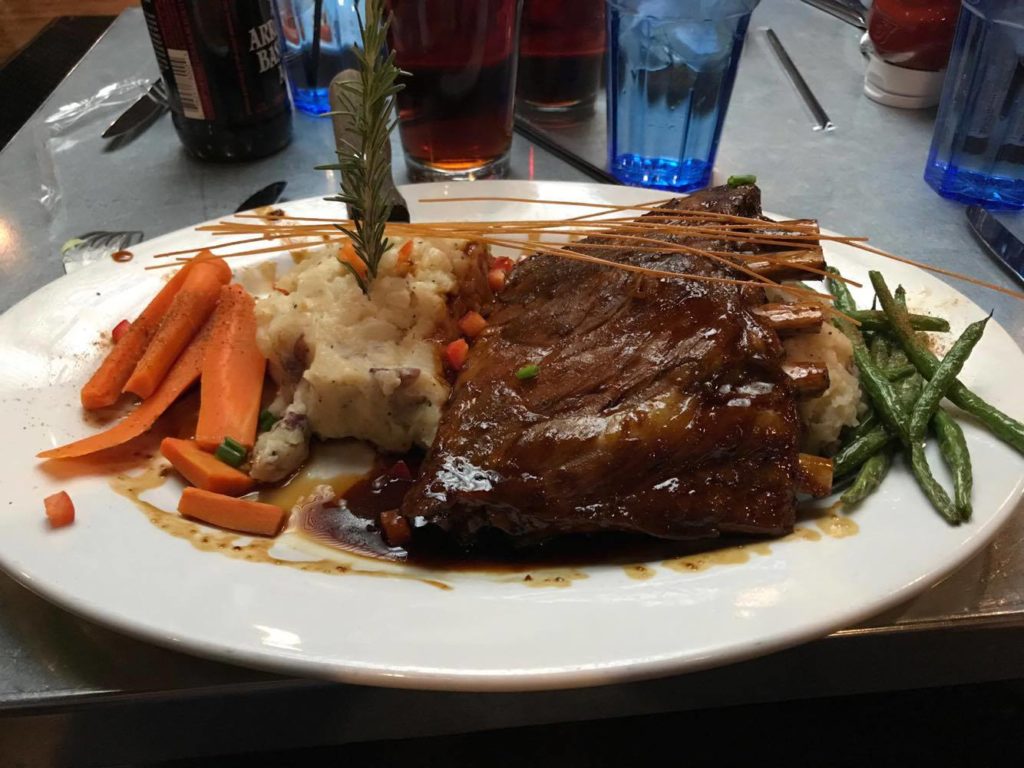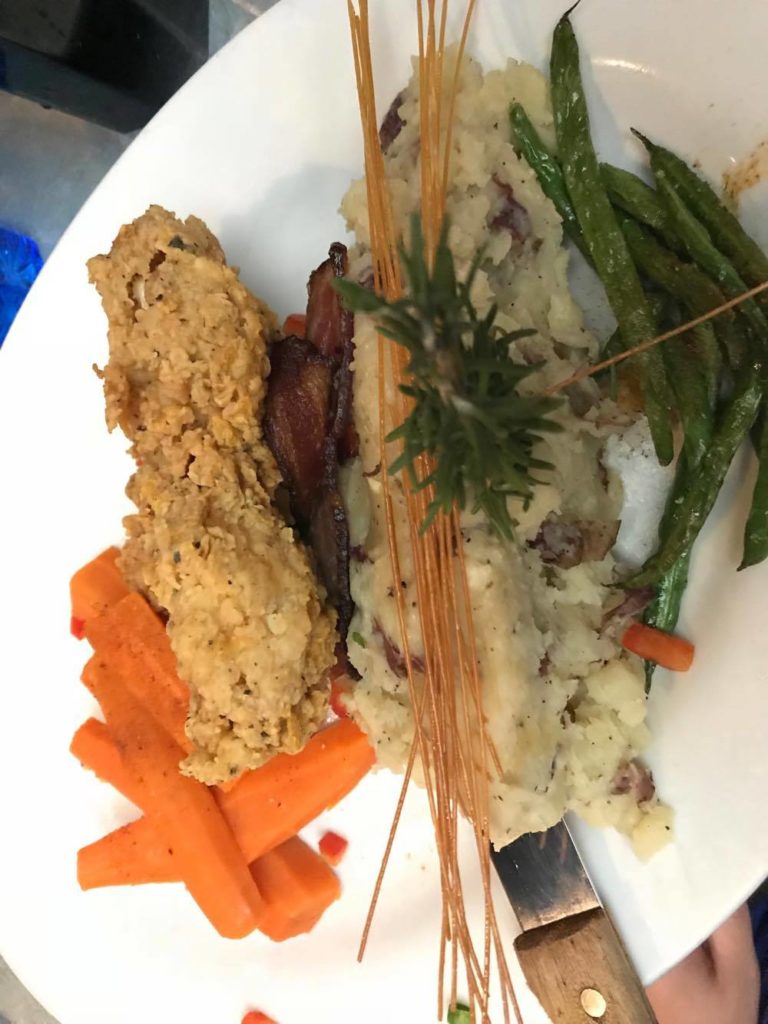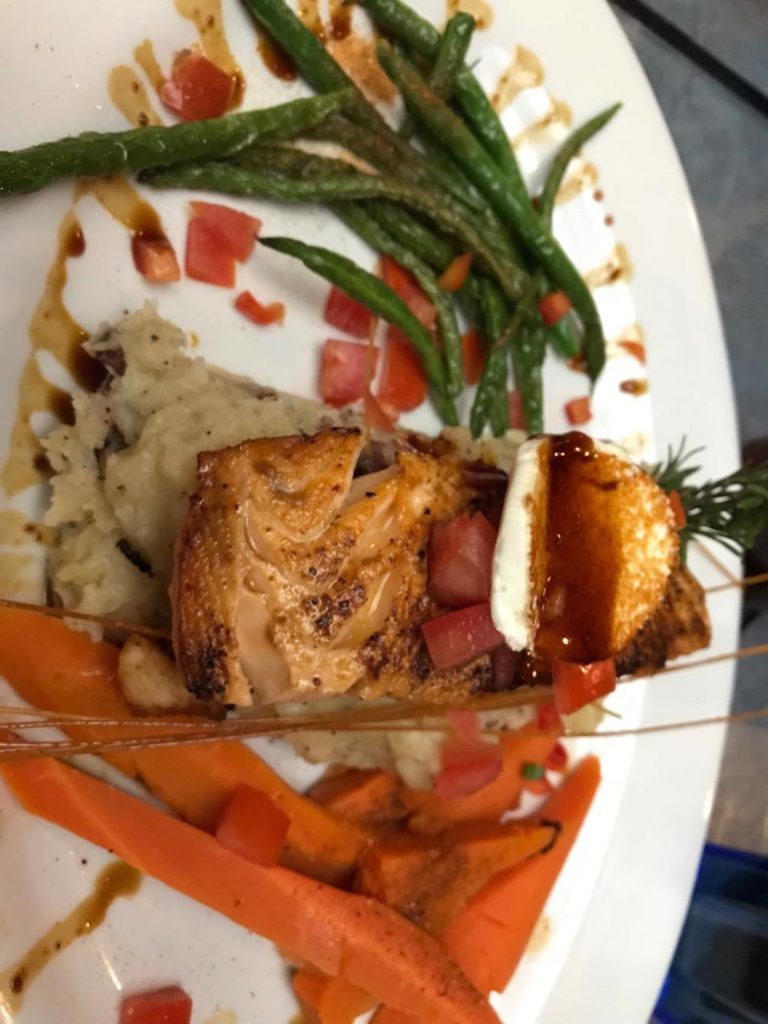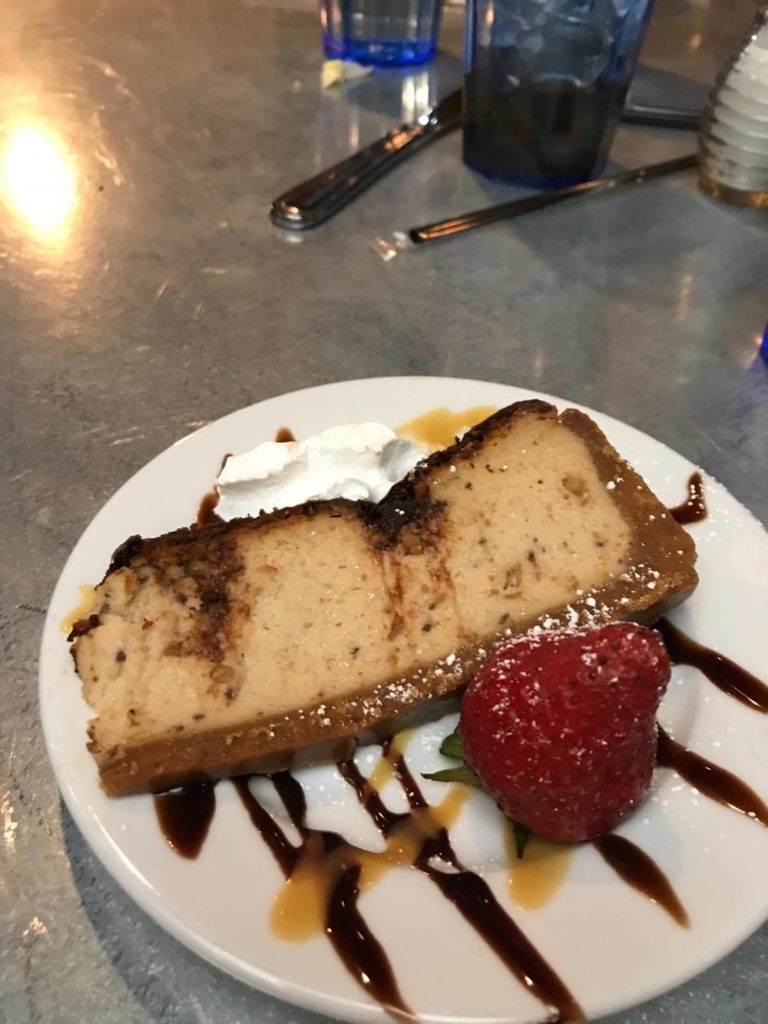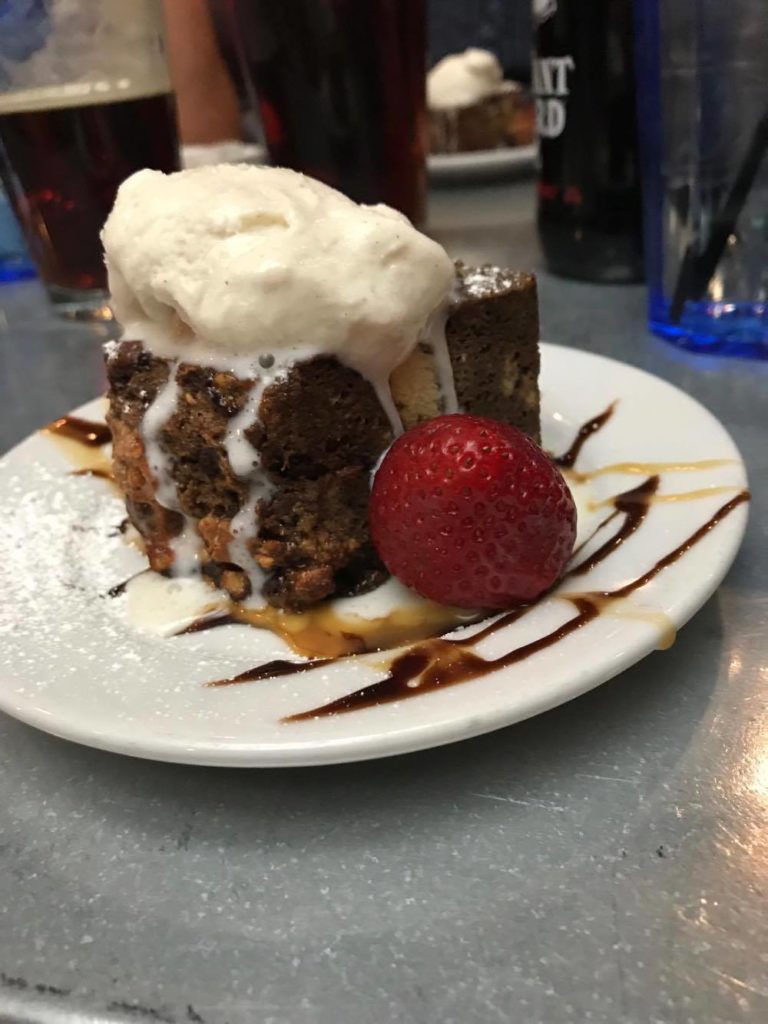 The food was, if anything, major comfort food. It was exactly the kind of food everyone needed after such an emotionally trying time.
Walking back to our hotel, and during the ride to the airport the next day, we saw signs of support and encouragement. People were telling law enforcement officers "thank you" for looking out for our safety, and for their fellow officers running into the fray the night before to try to keep everyone safe from harm.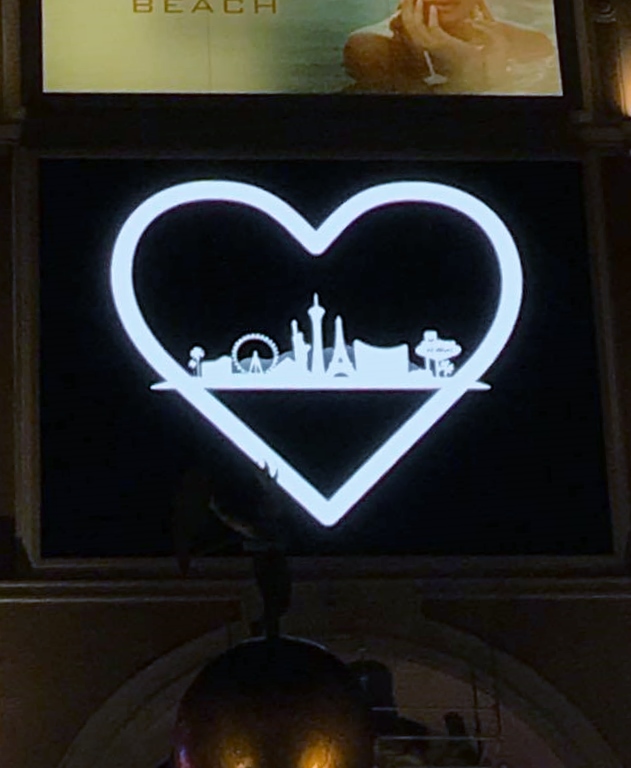 This is a trip to Las Vegas tinged with good memories and some very bad ones. I am beyond grateful and thankful that Andrea and Robert are physically all right. I'm crushed at the loss of life and the injuries sustained. I cry out to God about the evil in this world. I pray that those affected by this terrible event will be healed physically, emotionally, and spiritually as they process everything they experienced and witnessed.
Psalm 34:18  "The Lord is near to the brokenhearted and saves the crushed in spirit."