After searching for a restaurant in downtown Seattle in which to enjoy a celebratory birthday lunch, I happened upon some reviews for Asian Fusion restaurant Wild Ginger, and everyone in the family agreed it sounded fantastic. Our son is attending college in Seattle, so we have many opportunities to explore restaurants and activities in the area.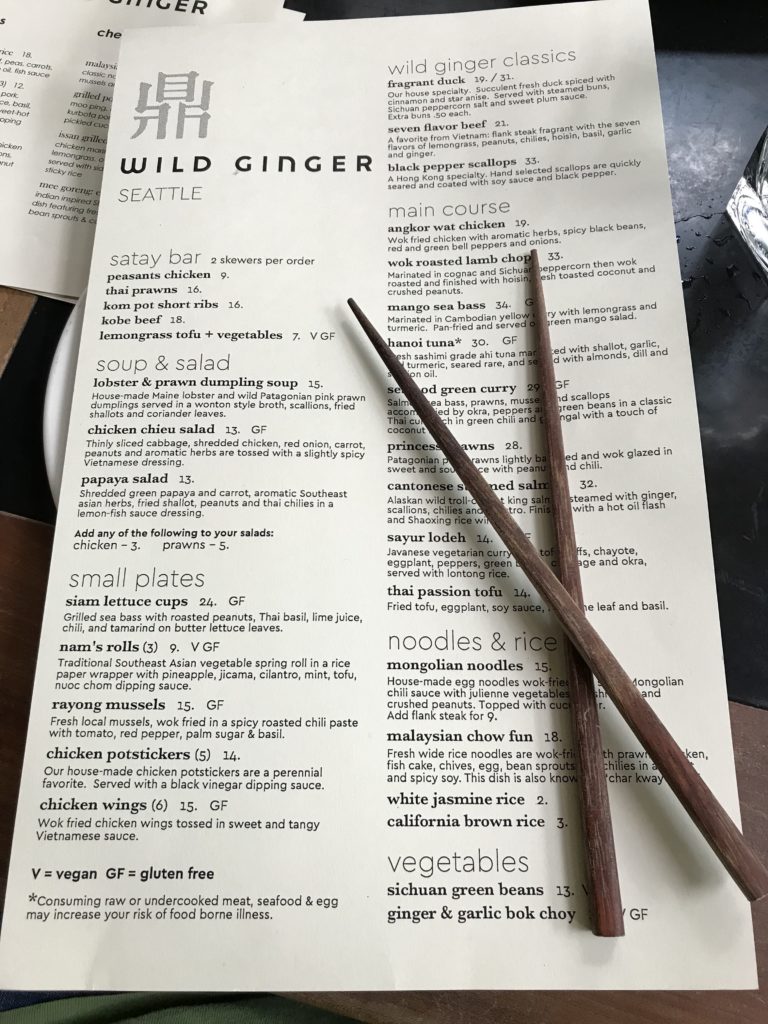 I made a reservation via Open Table (free, easy), although even for a Saturday lunch we probably didn't need one. The place was busy, but not packed and there was no wait. Yet since it was no inconvenience to book online, and I could let them know we were celebrating a birthday in advance, it seemed easiest to do that. We were seated and had a chance to order drinks. The restaurant has an extensive wine list with wines at all price points, but as it was lunch, we ordered soft drinks.
We started with two small plates as appetizers: chicken potstickers and chicken wings.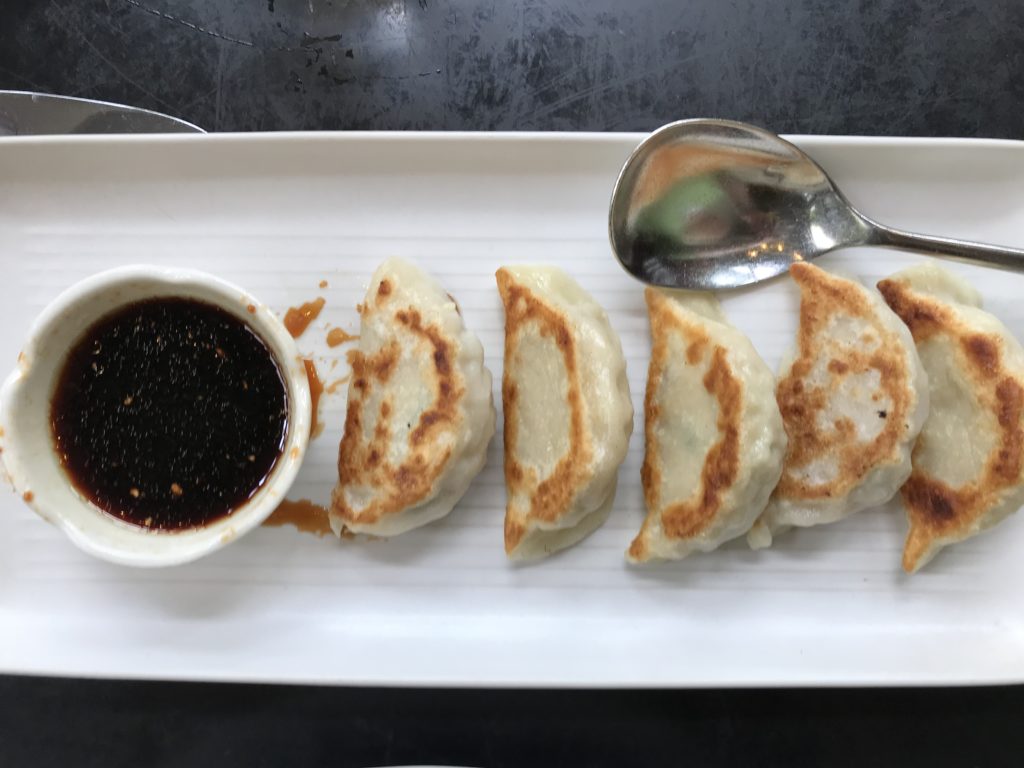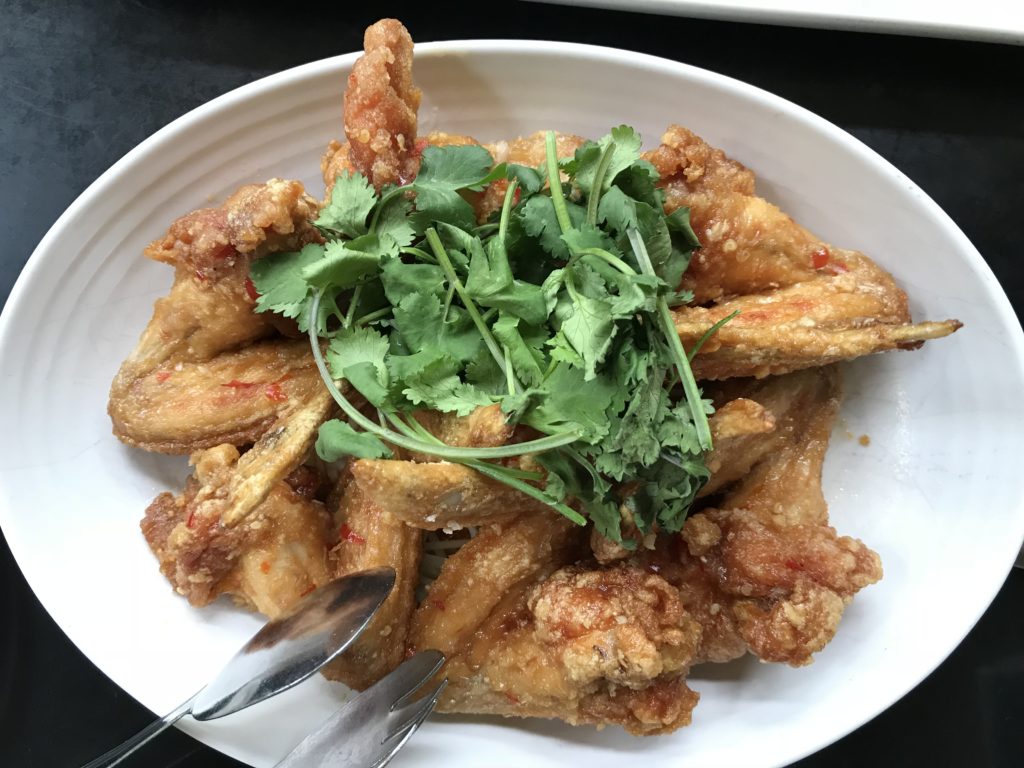 Both dishes were very good, the dipping sauce for the potstickers was amazing–perfectly tangy and sharp. The wings were very large and not overcooked at all. The spicy slaw underneath was an excellent addition to the meal as it gave a bit more spice to balance out the wings. The dishes look pretty substantial, and they were, but for four of us it didn't seem like an overly large portion.
We asked our waiter for recommendations for main dish choices. All meals are served family style, you get a large bowl or plate with the item and plates with which to take as little or as much as you like. We took all of his recommendations for ordering.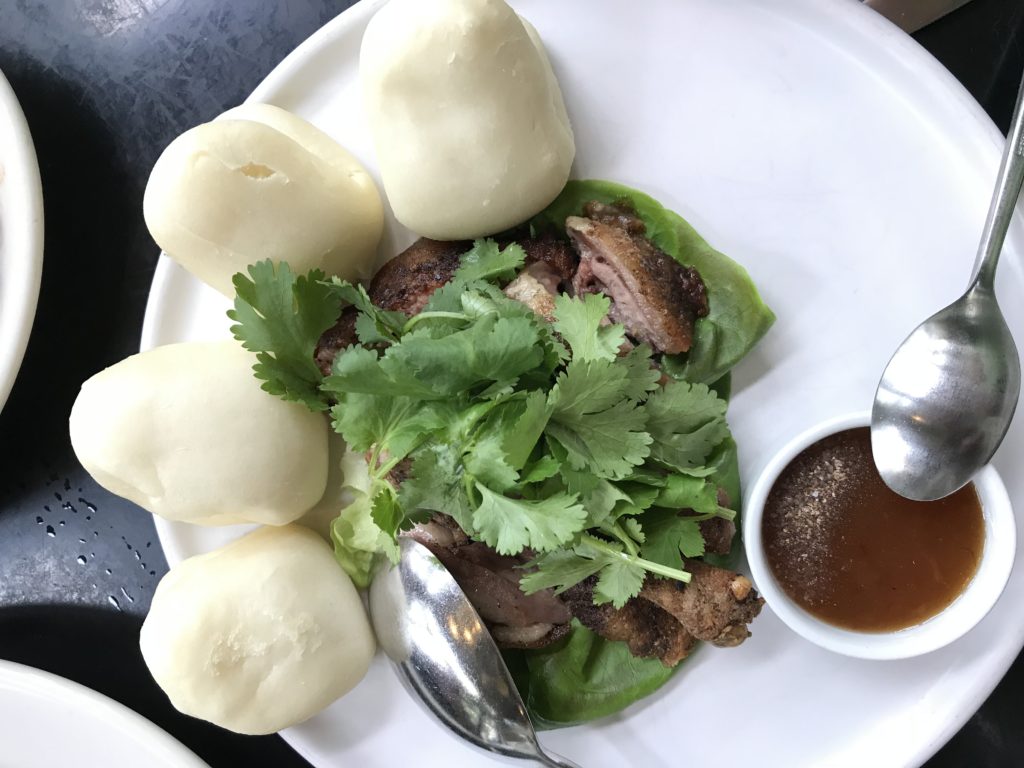 The Fragrant Duck came in either large or small, and we decided to get the small since we were ordering four main courses. The duck comes with steamed buns, cilantro,  plum sauce, and duck pieces perfectly cooked with the fat rendered on the outside. There is a spicy cinnamon and star anise coating on the outside of the duck which is complimented by the plum sauce. We all agreed that we could have eaten even more of this dish. All of the components together were fantastic. Personally, I could have been fine without the bun, the duck itself was so delicious that it was incredibly enjoyable all by itself.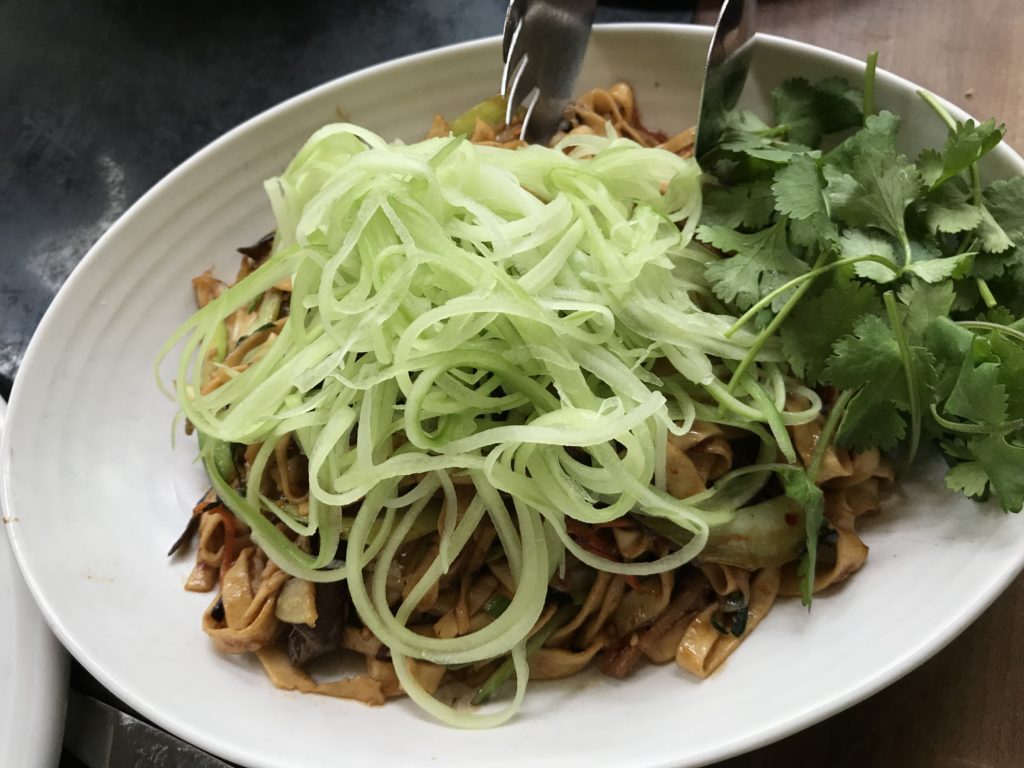 It's difficult to get the scope of this dish because I failed to take a photo without the cucumber strands on top. The cucumber is meant to be a refreshing bite to cleanse the spice from the chili sauce, but none in my family are very big cucumber fans, so in retrospect we should have asked them to leave it off. We did have them add flank steak, which was a great choice, because it added a pop of flavor to the dish. The egg noodles are made in house, and they were perfectly cooked with a nice bite. The dish is filled with various vegetables and the chili sauce is nicely warm, but not overly spicy so it doesn't overpower the dish.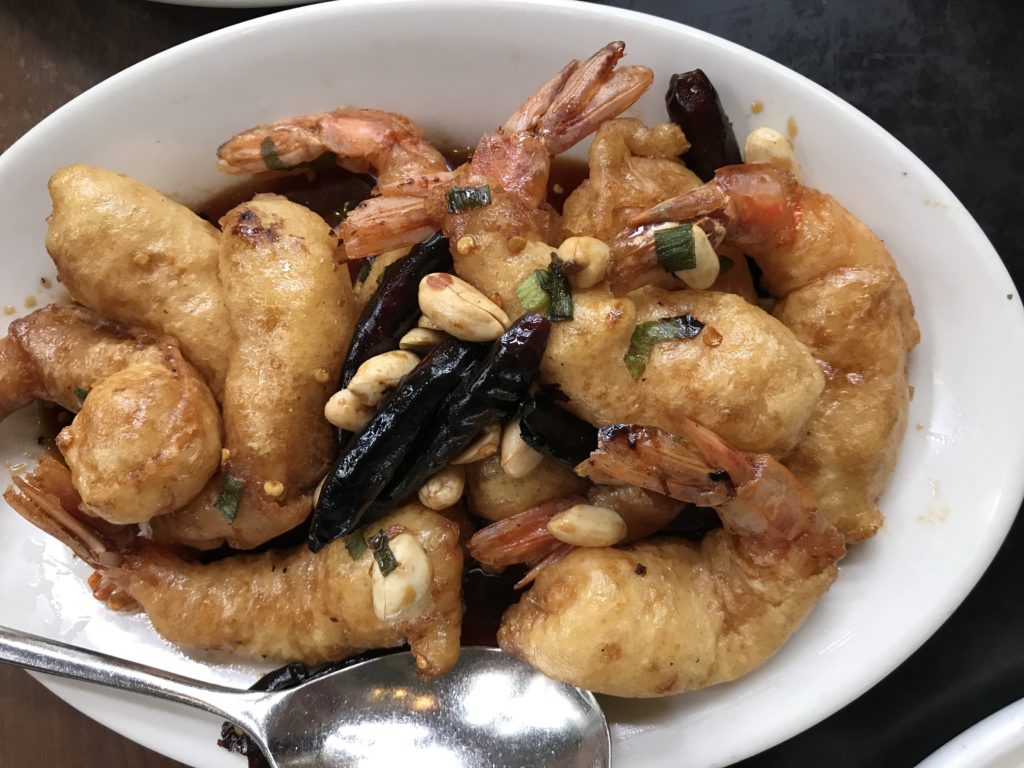 The princess prawns are large battered prawns with a light coating of sweet and sour sauce, chilis, and peanuts. Overall, this was probably our least favorite dish because the prawns were a bit heavy on the breading. The menu description says "lightly battered" but these were more on the "medium" to "heavy" side. The flavors were still quite good, and the prawns themselves were cooked well, not overcooked at all. The sauce gathered on the bottom of the bowl, so it was important to stir it around to get all of the sweet and sour flavor on the prawns.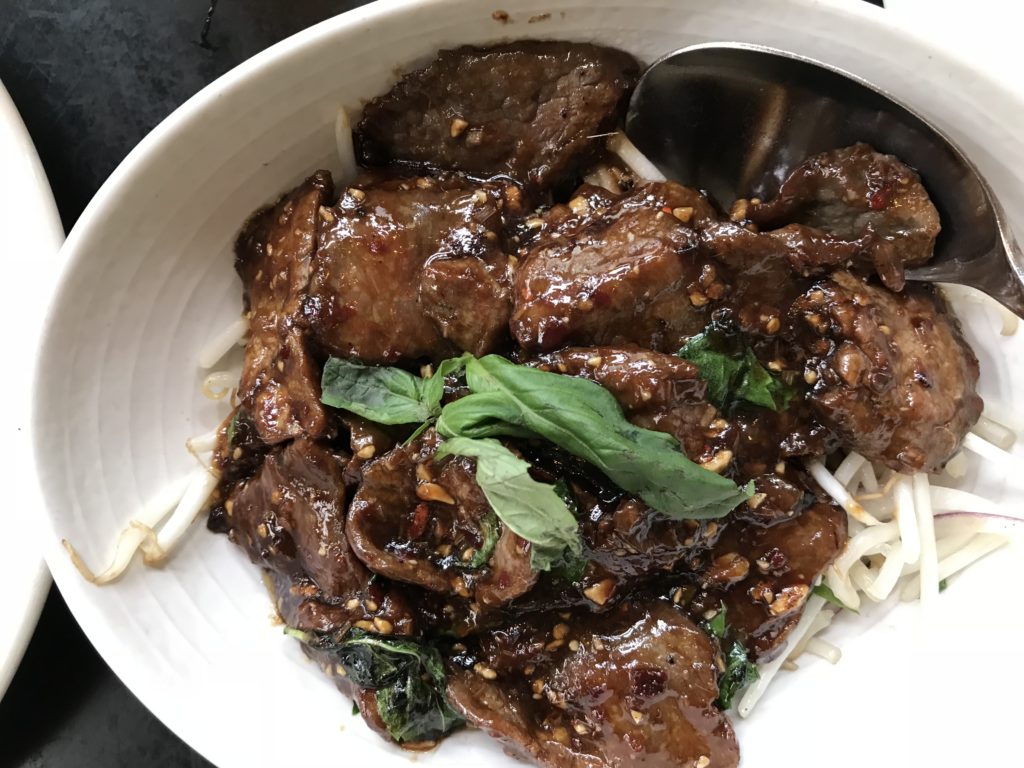 Another favorite dish of the day was the seven flavor beef. Smoky, spicy, sweet, and tangy all wrapped up into a lovely dish with tender beef. The sprouts on the bottom gave a nice cool crunch to balance everything out. The waiter recommended (which we did) stirring it all together before eating, and that was a fabulous suggestion, because otherwise we would have just eaten the beef off the top and missed out on the balance of the crunchy sprouts. This is definitely a dish we would order again. According to the menu, this is a Vietnamese dish with flavors from that region.
After each course (appetizers and after the main dishes) the waiter brought out hot towels with which to clean off our hands. This was very welcomed because it was difficult to avoid getting something on our hands as some things (like the duck) were meant to be eaten with them. Once the meal was complete, the staff brought out a bowl of mango sorbet complete with candle for our birthday celebrant. We all took a taste and agreed that it was delicious and tasted just like being in Thailand (where we ate a great deal of mango).
We were stuffed after this full meal, and the weather was wonderful so we decided to take the short walk to Pike Place Market. It was quite crowded there, but we were able to make a tea purchase at MarketSpice Tea. All in all, it was a delightful day to spend a birthday in Seattle, and Wild Ginger is a restaurant we will return to again soon.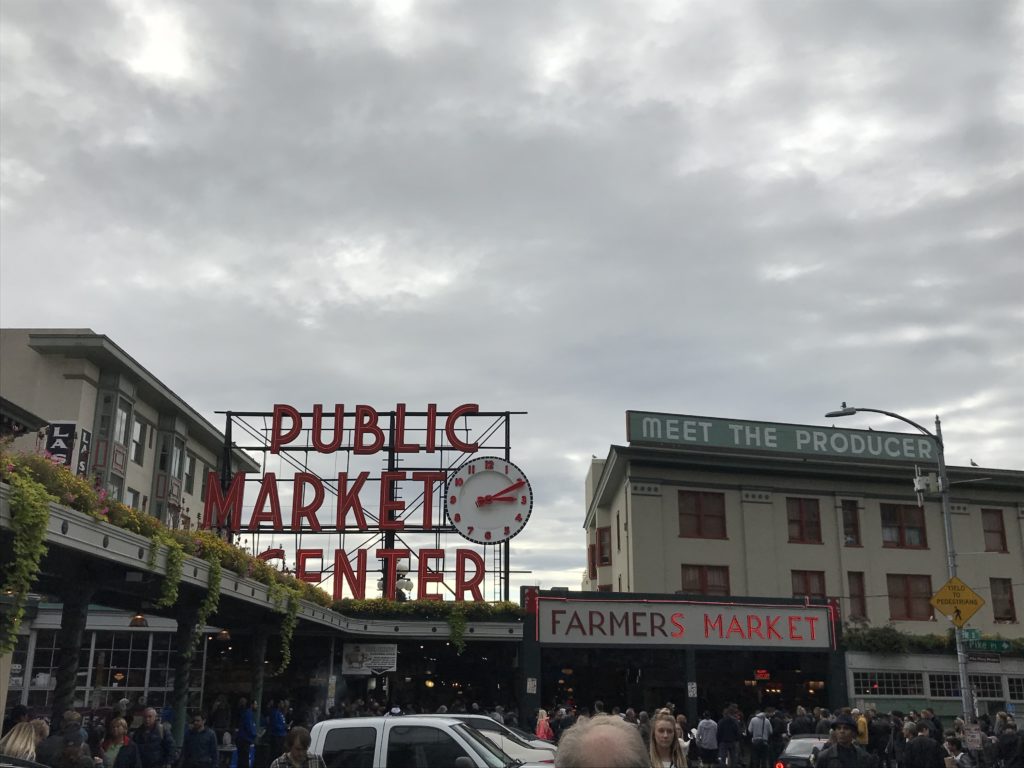 There are numerous parking garages on the streets all around Wild Ginger, so finding parking was very easy. Downtown Seattle as a whole is quite walkable, so it's easy to park your car and then walk all over. Pike Place Market gets very crowded, especially on weekends, and so going early is a good suggestion to heed. You could go there first and then end your day with a delicious meal at Wild Ginger.