These rolls are my go-to food to take to new mothers or someone who has had surgery and needs a meal. They are also great for nights where you have people in and out of the house (like Halloween or before a sporting event) where everyone wants and needs to eat, but you aren't all doing it at the same time. When I make this recipe, I make my own pizza dough. I make it so often that it's much easier for me to make it from scratch than to purchase it frozen/canned/refrigerated. I'll put the recipe below, it is a sourdough recipe, I have a sourdough starter that I have kept going in my refrigerator for over 5 years. If you don't have access to starter, the recipe still works without it, just not quite as tasty and you might have to add a bit more water.
Pizza Crust Dough
November 2, 2017
: 2 Full Sized Crusts, 12 4-ounce crusts
Ingredients
1 Tablespoon Fast Acting Yeast (I use SAF instant yeast)
1 cup Sourdough Starter
12 oz. warm water
1 1/2 teaspoons salt
1 Tablespoon olive oil
4-5 cups of unbleached all-purpose flour
Directions
Step 1

Combine yeast and water in the bowl of Kitchen-Aid, Bosch, or other heavy duty mixer with a dough hook. Stir in sourdough starter, salt, and oil. Gradually mix in flour until dough holds together and is no longer sticky.

Step 2

Cover and let rise in a warm place until doubled in size.
After making the dough, I divide in half and roll out into two rectangles, roughly 14 x 20 inches. (You see I'm not perfectly exact, if you use the Pillsbury variety it might be more even)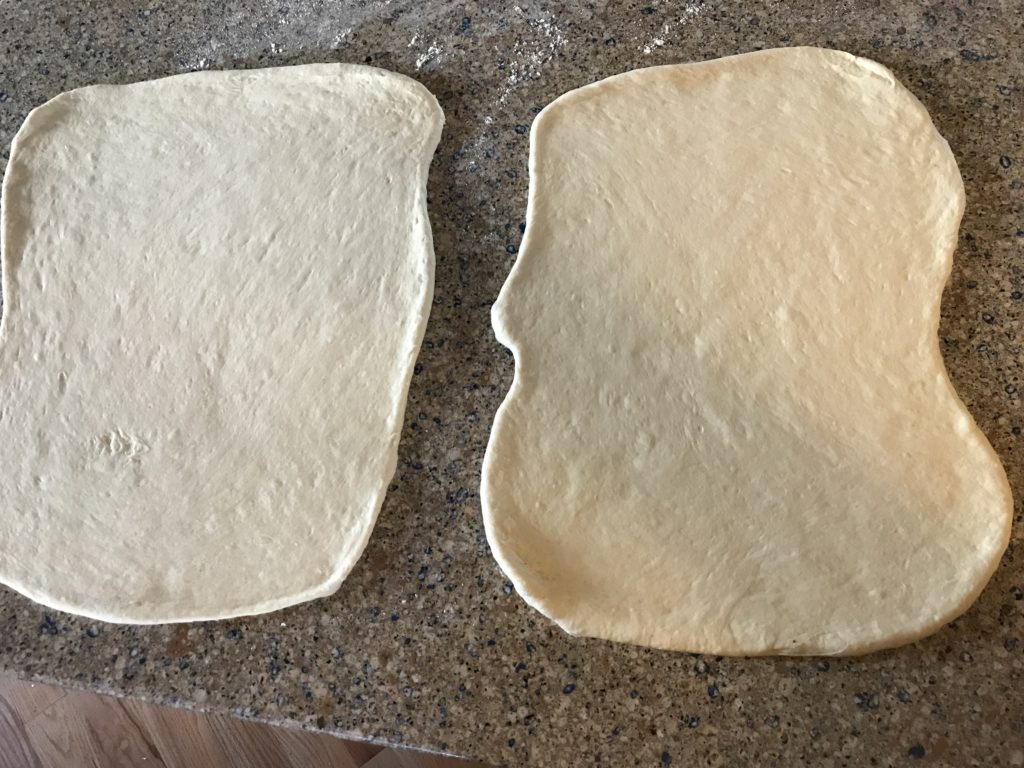 Layer one pound of sliced ham, divided between the two pieces of dough
On the second layer, spread slices of Swiss cheese over the two: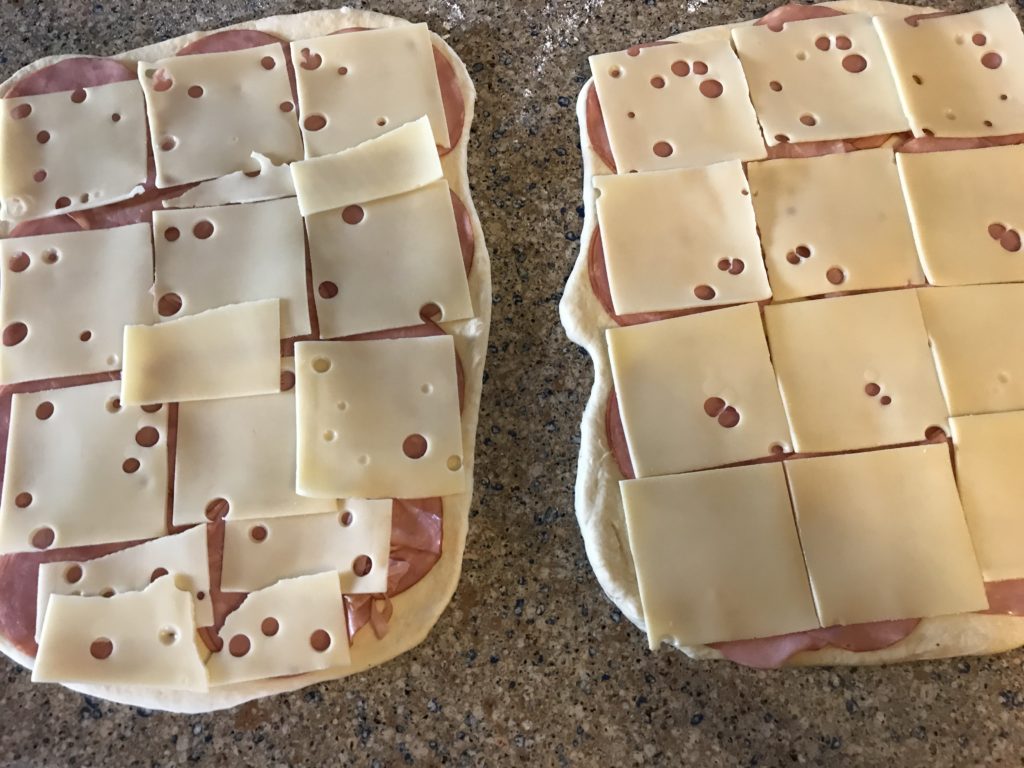 Roll up from the long side in a cinnamon roll type fashion: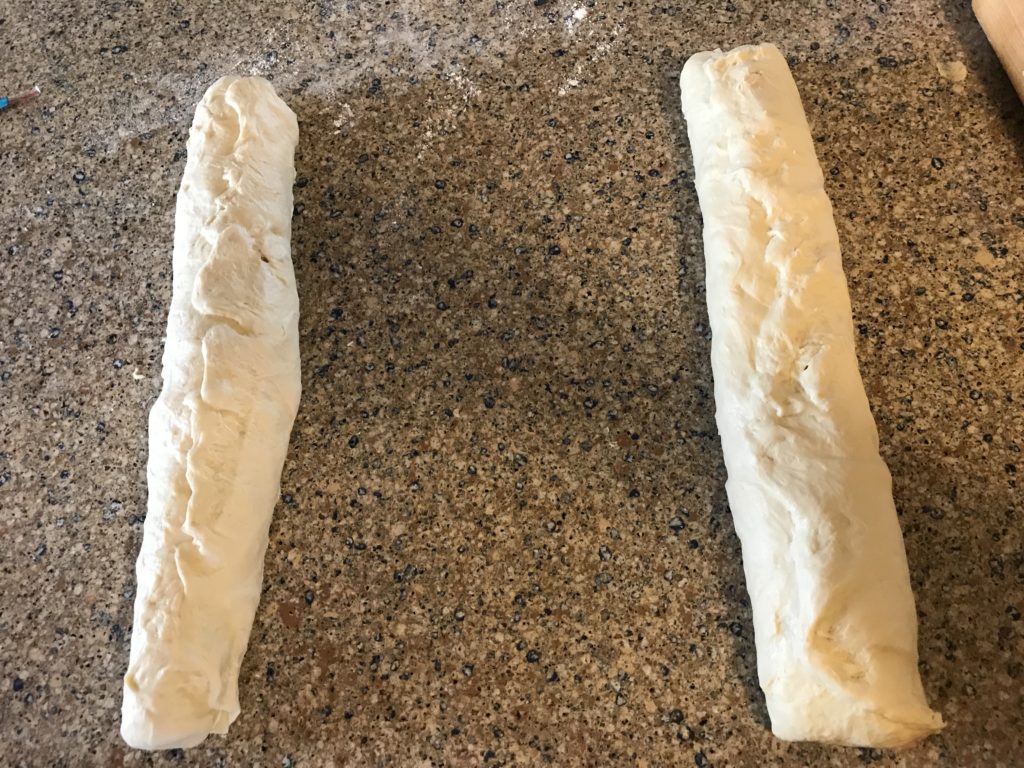 Slice each log into 12-14 equal sized slices and layer in a 13×9 inch baking dish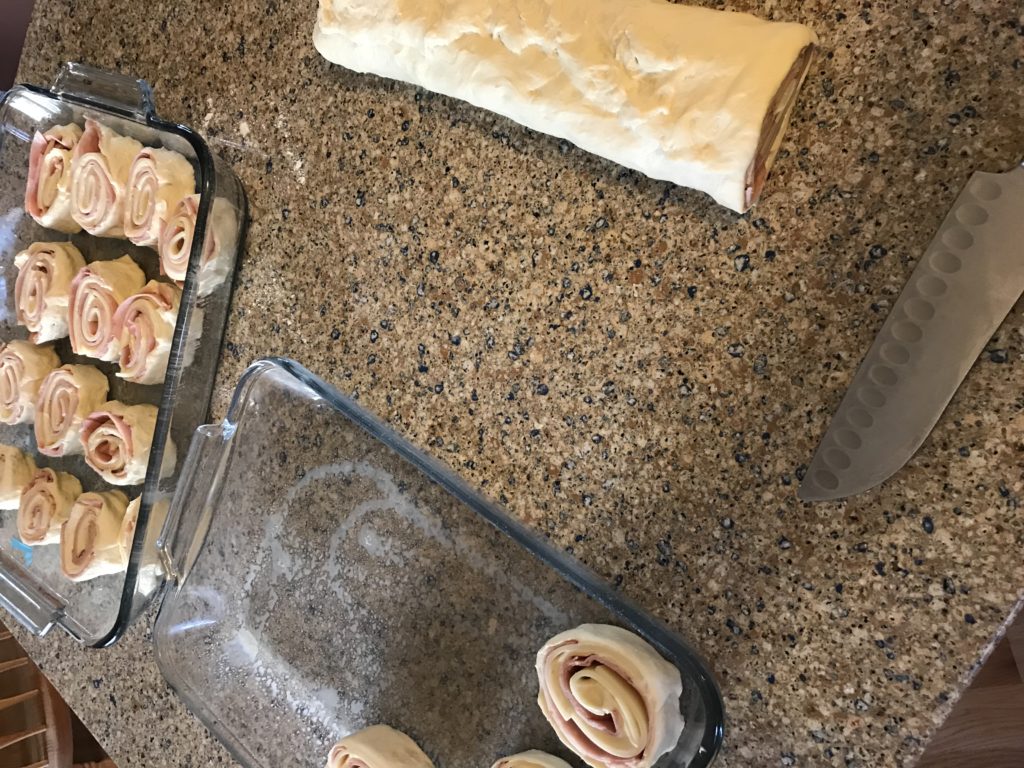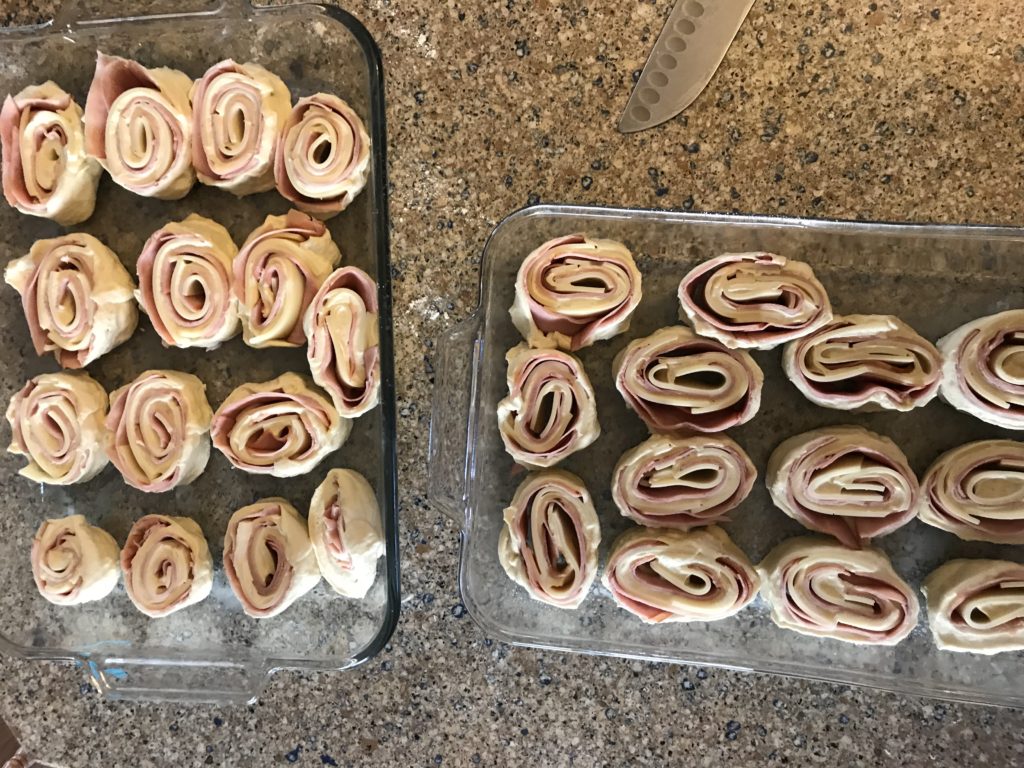 In a small saucepan, combine butter, Worcestershire sauce, brown sugar, and mustard and cook over medium heat until butter is melted, whisking regularly.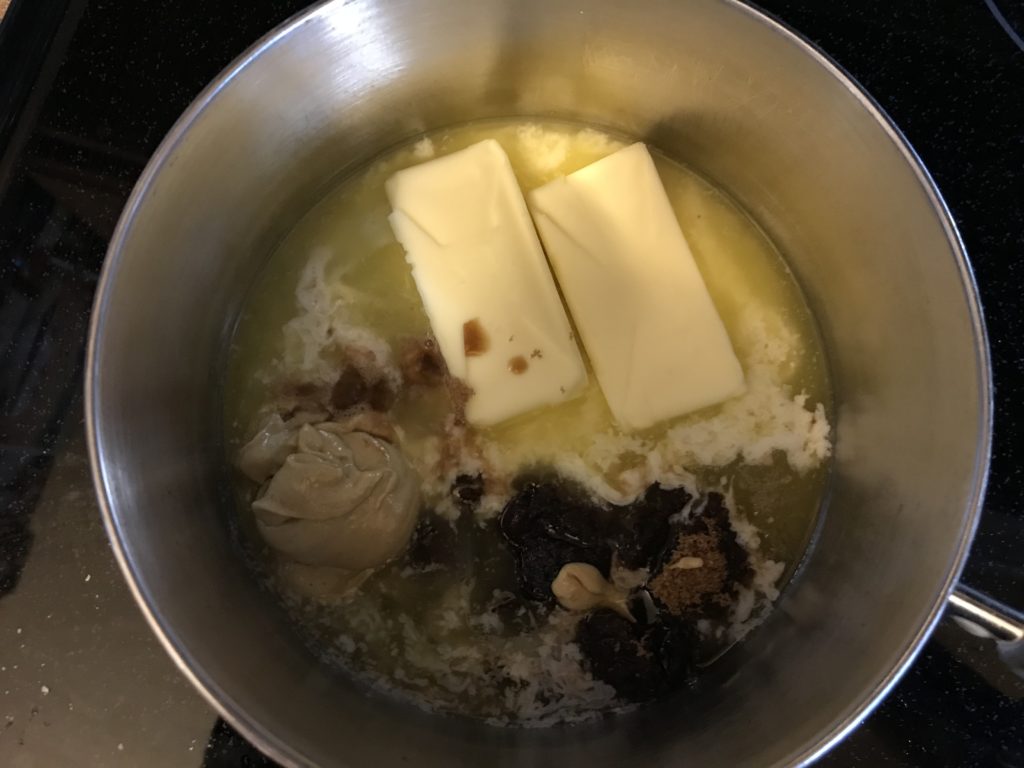 Evenly distribute over the top of the rolls in each pan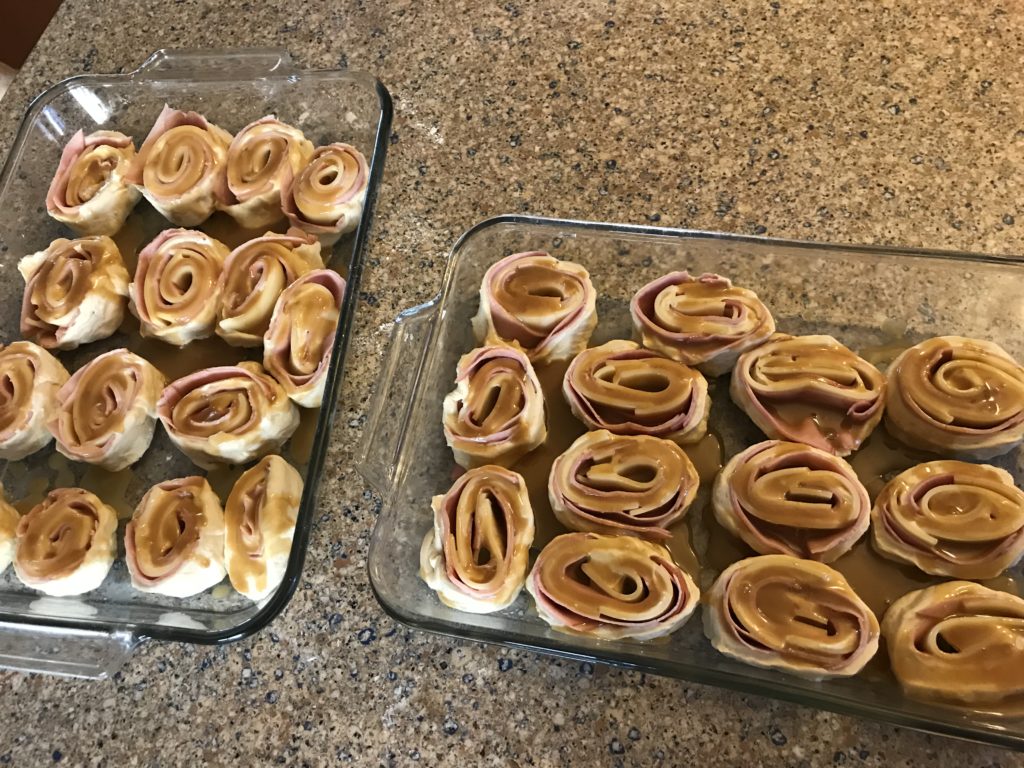 Bake for approximately 30 minutes or until set and slightly browned, serve warm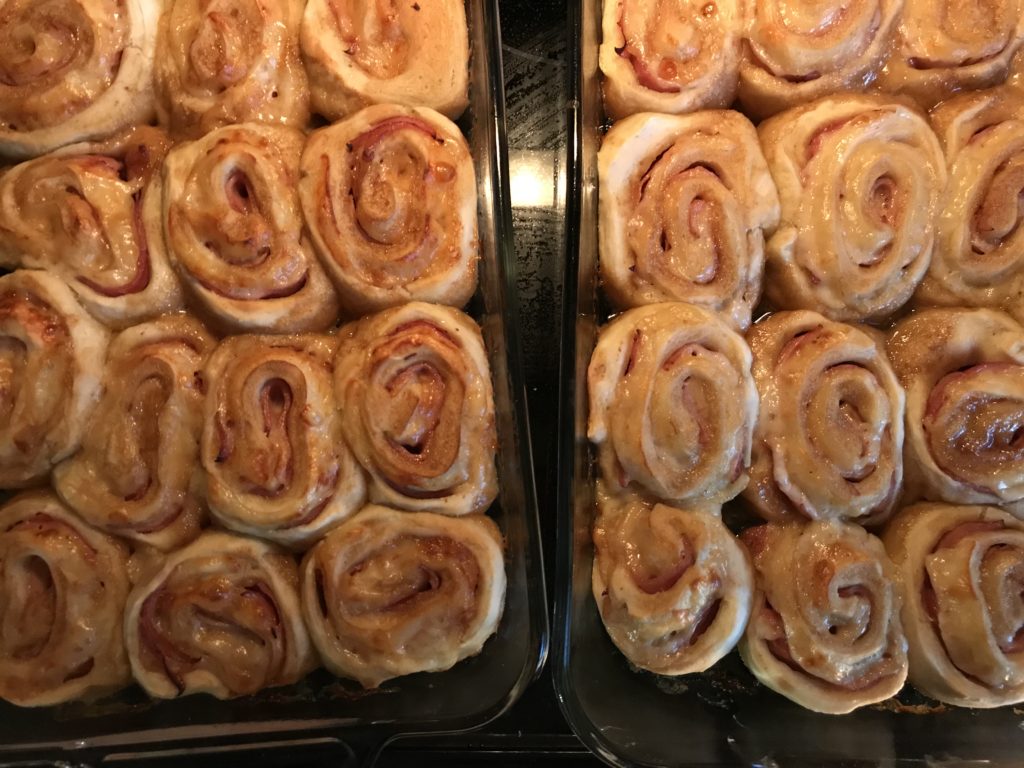 Hot Ham and Cheese Spiral Rolls
November 2, 2017
: 24-28 Rolls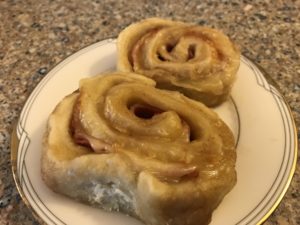 Ingredients
1 Recipe Pizza Dough or 2 Cans Pillsbury Pizza Dough
1 lb. sliced Ham
18 oz. sliced Swiss Cheese (approx 24 slices)
1 cup butter (2 sticks)
2 Tablespoons Worcestershire Sauce
4 Tablespoons Brown Sugar
2 Tablespoons Dijon Mustard
Directions
Step 1

1. Make pizza dough according to recipe and let rise, or unroll two Pillsbury pizza dough pieces

Step 2

2. Preheat oven to 350 degrees F, spray two 9×13 inch baking dishes with non-stick spray

Step 3

3. Divide dough in half, rolling into approximately 14 x 20 inch rectangles

Step 4

4. Divide ham between two layers

Step 5

5. Divide cheese slices between two layers, spread over ham.

Step 6

6. Roll each lengthwise, like a cinnamon roll.

Step 7

7. Slice into approximately 1-inch slices, each will be 12-14 rolls, spread in prepared baking dish.

Step 8

8. In a small saucepan over medium heat, combine butter, mustard, brown sugar, and Worcestershire sauce. Whisk the mixture regularly and cook until butter is completely melted.

Step 9

9. Divide butter mixture over the top of the rolls in each pan.

Step 10

10. Bake for 25-30 minutes, until rolls are lightly golden and set in the middle.

Step 11

11. Serve warm, or reheat later. Store in refrigerator.